Living the Writer's Life: Matthew Troncone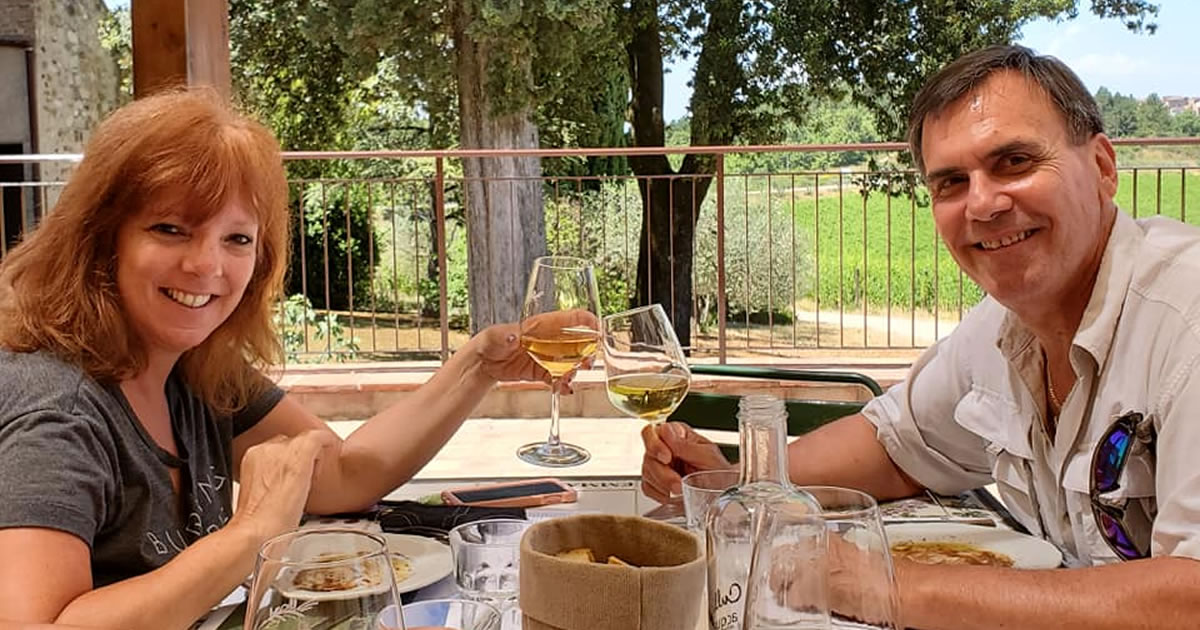 Matthew and his wife Debbie in Tuscany, Italy last year having lunch at a family winery.
How did you get started with copywriting?
Prior to copywriting I was a stockbroker and entrepreneur. I owned child care centers, bread routes, and an ice cream store, where I made homemade ice cream, cakes, and ices. I have always liked real estate investing, and currently have a New Jersey license. My wife and I invest in houses to fix and flip.
We have been married for 35 years, and have three children and six grandchildren. I earned a degree from the Rutgers Cancer Institute of New Jersey. My degree comes from being a cooperative patient, donor, survivor, and now a supporter.
In 2007 I was diagnosed with melanoma, stage 3. While I was recovering from surgery, I received a letter from AWAI introducing the Six-Figure course. I started studying that course and applying what I learned to my sales letters. I sent out letters and postcards for the material handling and logistics company I was working for at the time.
In 2010 the melanoma came back. It had metastasized. I was told, "Get your affairs in order" and given three months to live. This was the longest three months of my life. I am called a miracle to this day by the nurses, doctors, and oncologists who cared for me.
While home recuperating from treatment, I started studying the Six-Figure course again. I knew that if I could not go back to work, I needed a plan B.
What types of clients or projects take up your time lately?
I really like retainers. It usually works out best for the client and the copywriter. Everyone knows what to expect. Since the end of 2019, I have been focusing on smaller projects that I can complete quickly.
I focus on web content and emails, and these days everyone likes video. I have also been working with clients to make sure the content on their websites is ADA compliant. For example, if we produce a video, it must have captions for those who are hearing impaired.
Since it's one of your specialties, what features does a really great marketing video need to be effective?
I approach my video projects as if they were movie trailers. Highlight the best parts of the product or service in the least amount of time. Just like you do with a sales letter, you need to capture the prospect's attention quickly. Another particularly important part — often overlooked — is the audio, the timing of the sound effects, background ambience, and so on.
I understand that a lot of your clients are in the health and medical niches. Can you talk about the importance of "speaking their language"?
When I was first diagnosed with cancer, I wanted to learn as much as possible about the cancer, the treatment options, and follow-up nutrition.
One of the things that has helped me was learning to ask a lot of how, why, and what questions when talking with the doctors and nurses. This helps to get a different opinion.
I also like to strike up conversations with people who have special talents. I like to find out how they got to where they are right now and let them share their journey or story.
I remember many years ago, reading a book about being a better salesperson. It said that when you enter a place of business, you do not ignore anyone in that company, from the person cleaning the floor to the president. I still follow that advice today. In fact my wife says, "You'll talk to anyone."
How do you make the most of your writer's life?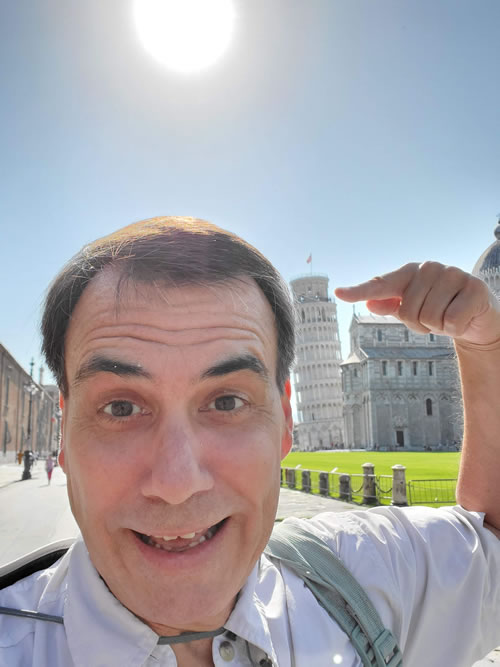 Matt pushing the leaning tower of Pisa.
Spending time with my wife, kids, and grandkids. I also enjoy reading, and volunteering for my homeowner's association.
Any advice for new writers trying to gain their first clients?
Find a subject you like. It will make doing research and writing much easier if you know about the niche.
Do you have a favorite quote?
"I like my coffee black and my mornings bright."—Terri Guillemets
Matthew's Living The Writer's Life story was originally published in Barefoot Writer. Click here to learn more about how you can start living your dream writer's life too.
What help do you need to move forward with your version of the writer's life? Let us know in the comments below so we can help guide you in the right direction.

The Barefoot Writer
Discover a lucrative style of writing that will give you as much freedom as you can have while earning a great income at the same time. Learn More »

Published: December 12, 2020