5 Ways to Renew Your Enthusiasm for Writing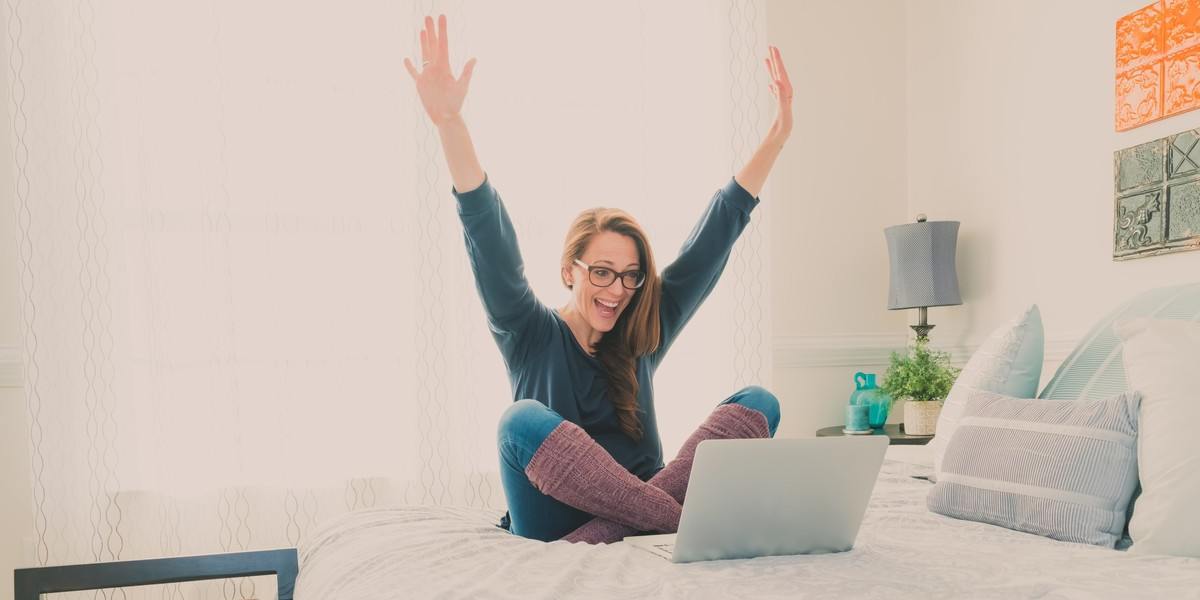 From an early age, I've loved to read. Books spark my imagination. They're my escape. They help me learn new things.
Yes, I was the kid who even read encyclopedias. My grandma had a set, and I loved the thick, smooth pages and the vibrant illustrations.
But, as much as I love to read, I also go through periods where I'm burnt out … where it takes weeks — sometimes even months — to finish a book. All because I've lost the joy of the words, and I stop reading.
Has that ever happened to you? Has it happened to you as a writer?
Have you ever gotten stuck in a rut, burnt out, and lost the joy of words as a writer? Where you can't bear the thought of writing yet another welcome email, product description, or blog post?
That, too, has happened to me. I dare say it happens to the best of us.
But, we don't have to fear it, because there are things you can do to renew your enthusiasm for web writing … to renew your love of the words and the process.
1. Connect with fellow enthusiasts.
I recently joined a new book club, and it totally re-sparked my joy of reading. I get the same spark of energy when I connect with fellow writers at conferences and in online groups.
There's power in numbers, and a synergy happens when you connect with other people who are as enthusiastic about something as you are.
So, connect with other writers and talk about writing.
Good places to start are AWAI groups on social media platforms like Facebook and LinkedIn.
Also … consider attending virtual conferences, webinars, and networking events, where you can connect with fellow web writers. Are there any upcoming AWAI live events that you can plug into?
2. Re-read a favorite.
I have a few favorite books I enjoy re-reading now and then. Doing so always reminds me of why they're favorites. It also renews my love of reading.
Books about writing can also renew my enthusiasm for writing. But, even better is re-reading a favorite course or program.
I bet you have at least one course you've gone through as a web writer that inspired you. One that got you excited about web writing in general or about a specific kind of writing project.
Go back and read through it again. Or, if it's a video class, re-watch it. It's interesting what new things you'll learn the second, third, or fourth time around with the experience you've gained since the last time you went through the training.
By the way, this is a good opportunity to reflect on how far you've come as a web writer and to celebrate the success you've had since you first went through the training.
3. Learn about new industry trends.
The web is constantly evolving, so life is never boring as a web writer. When I feel stagnant or in a rut, learning about the newest Google update or about new trends in email marketing gets me excited about writing again.
My go-to sites for learning about industry trends — in addition to our own Wealthy Web Writer and AWAI — include Hubspot, Digital Marketer, Social Media Today, and Smart Insights.
Of course, you can always simply search for "digital marketing trends" to find new sources of inspiration and excitement that work for you.
4. Try something new.
The new book club I joined has me reading a memoir … a book I probably wouldn't have picked up on my own. And, I'm enjoying it! It feels a bit like stretching new muscles as I wrap my brain around a different writing style and tone.
Stretching our writing muscles by trying something new can be inspiring and re-energizing, too.
For example, if you're feeling stuck in a rut of writing blog posts, try writing a few product descriptions or a welcome email autoresponder. Find something in your browsing history or in your email inbox and ask yourself, "How would I have written this?"
And, then do it!
Open a Word document and put your own spin on something you've read. Or, grab your favorite pen and write something by hand.
Think of this exercise as a warm-up jog to get the blood flowing before a race. Or, perhaps like priming the pump to get water flowing.
Once you get the words flowing with something new, it can be easier to also get into the flow of whatever writing has got you feeling like you're in a rut.
5. Appreciate the rut.
Yes, you read that right … appreciate the rut. Be thankful for it. Embrace it.
Because without a rut every now and then, we wouldn't fully appreciate how great our writer's life is.
So, recognize the rut for what it is … a phase. A season. Maybe a nudge from your subconscious that you've been on autopilot for a while and need to regain focus.
As a writer, I tend to process things better when I write them down. So, I sit down and start writing. "I'm grateful for feeling like I'm in a rut because …"
And then, I keep writing until I can't think of another thing I'm grateful for as it relates to my rut.
This exercise isn't about pretending I'm not in a rut. It's not about seeing the world through rose-colored glasses.
It's about acknowledging the rut … feeling the feelings … while at the same time choosing to see if I can figure out what insights the rut can give me about myself and my writer's life.
Take action …
Did you notice that each of these five things requires doing something? Getting out of a rut requires action.
These five strategies are certainly not the only ways to get out of a rut and renew your enthusiasm for web writing. But, they work for me. And, I hope they'll help you, too.
Jack Canfield says, "It's surprising how many people get bogged down in the analyzing, planning and organizing stages, when what they really need to do is to simply take action."
So, pick something, and — in the words that Nike made famous — just DO IT!
And, if the first thing you try doesn't quite get you all the way out of your rut, do something else. Keep at it until you get your enthusiasm back.
Your web writer's life is worth it. You are worth it.
Drop me a comment and tell me what action you're taking first.
This article, 5 Ways to Renew Your Enthusiasm for Writing, was originally published by Wealthy Web Writer.

The AWAI Method™ for Becoming a Skilled, In-Demand Copywriter
The AWAI Method™ combines the most up-to-date strategies, insights, and teaching methods with the tried-and-true copywriting fundamentals so you can take on ANY project — not just sales letters. Learn More »

Published: February 17, 2021