Living the Writer's Life: Rob Gramer
This Jiujitsu Black Belt Ditched a "Boring Life" for Adventure!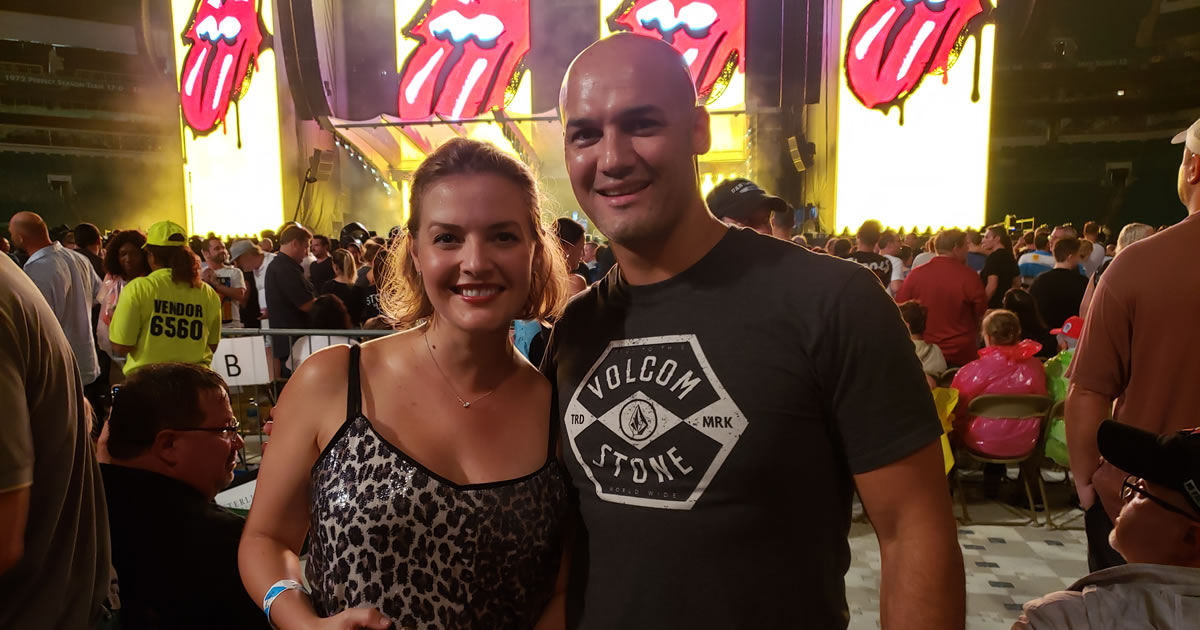 Rob and his wife check out the Rolling Stones in Miami.
Sitting around a conference room at his old engineering job was never going to be enough for Rob Gramer. He craved something more … a career where he could engage his curiosity, make serious money, and WIN. Lucky for Rob, he found an early mentor in copywriting legend Mark Ford and was able to build a brand new career. Today, Rob is a successful direct-response copywriter with multiple controls for large companies. Here's his story …
What finally made you decide to switch to copywriting from your old engineering job?
Oh yeah, I remember that like it was yesterday. I was sitting in a meeting room. Everyone was talking about some guy's new calculator watch. They were just milking the clock. Not caring about working … producing … just wasting time to clock 40 hours a week and collect a check.
Multiply that by 30 years until retirement. What a boring life. So I started looking for something that would engage my curiosity and make money, too. I found copywriting. And the rest is history.
What type of writing do you do now?
The kind of writing where you get the money! Direct-response long-form copy. Up until recently I wrote health copy for Dr. Sears. Newsletters, supplements, beauty products — I've written controls in each category for him, for both direct mail and online. Now I write financial copy for a firm called Legacy Research.
Mark Ford was a huge inspiration and mentor for you. What was one of the biggest lessons he taught you?
"Huge inspiration" is the understatement of the year. I probably wouldn't be in the business if it wasn't for him. He was my first mentor.
I asked him, "What's the top skill a copywriter could have?" He was more eloquent than this, but he said, "Presentation of proof." Emphasis on the word presentation. Meaning how you lay out your proof to your reader is just as important as the proof itself, if not more so.
You had a weight loss control that beat a very long-held control from an A-list copywriter. What did it feel like to see it succeed?
It felt awesome! Other than the money, the part about this business I like is that you can win. Far too many careers are simply pressing buttons, turning bolts, and following the playback others have laid out. Not this one. You are on the playing field. And winning feels good.
You said, "You don't write sales letters, you build them." What do you mean by that?
It's a mindset for accelerating the research and writing process. What I mean is that most sales letters have similar components in them. Headline. Proof elements. Offer. Things of that nature. Think of it like a car. A car has wheels. It has a frame. An engine. A steering wheel. So if you want a car, you have to assemble the components together.
So that's step one. Identify what components go into a successful sales letter. If you can identify most of these components, you research for those individually to begin building your sales letter.
You've got a black belt and 20 years of experience in jiujitsu. What's a lesson you've learned from this sport that applies to writing?
I learned that as your strength begins to leave you, and fatigue begins to set in, panic is soon to follow. You make dumb mistakes, and essentially you beat yourself.
This directly correlates to writing. Most people go full bore at the beginning of a project. And as a result are dead in the water before the project is even midway through. That's why writing feels like a slog for many people. You need to conserve your energy so you finish strong.
What do you think are the most important things new writers can do to find success with their writing careers?
Find a mentor. Find someone who can teach you the ropes. Take a junior position writing if you can. If not, get hired in a direct-response company for any position. Sweep the floors if you have to. Just get close to the action. Barring that, get training like AWAI offers.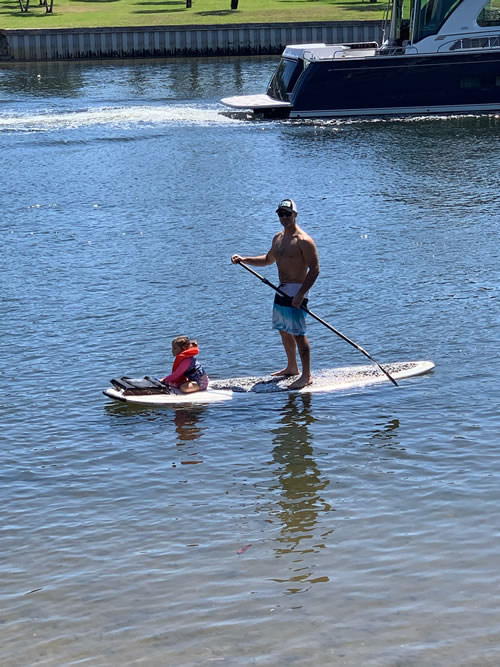 Rob paddleboards
with his daughter
near their Florida home.
You and your family live in Florida. What does a fun family outing look like?
Yeah, we're lucky. During the pandemic, when everyone was locked inside, my 4-year-old daughter and I would take the paddleboards out … paddle up the Intracoastal Waterway … and build sand castles on the beach.
Rob's Living The Writer's Life story was originally published in Barefoot Writer. To learn more about how you can start living your dream writer's life too, click here.
What help do you need to move forward with your version of the writer's life? Let us know in the comments below so we can help guide you in the right direction.

The Barefoot Writer
Discover a lucrative style of writing that will give you as much freedom as you can have while earning a great income at the same time. Learn More »

Published: March 20, 2021