Living the Writer's Life: Christian Nix
Writer Makes Six-Figure Income
in Just 10 Hours per Week!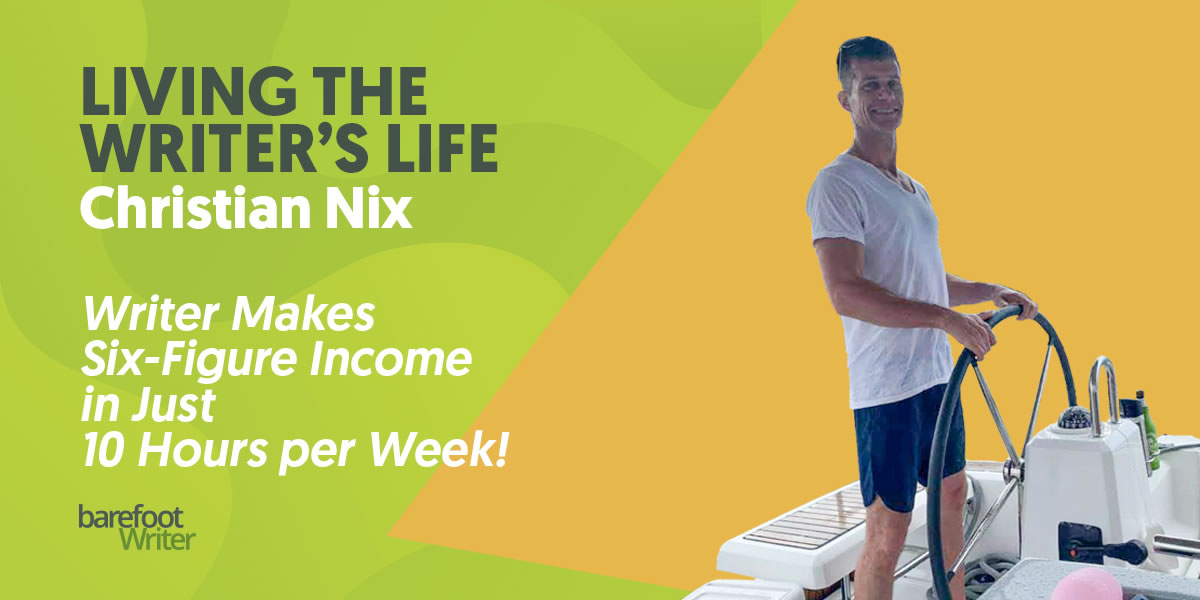 Most people who have a thriving medical career wouldn't think of starting over. But Christian Nix was looking for a change. He was already dreaming of launching his own business, and needed the copywriting chops to make it happen. Today, Christian makes a six-figure income with just 10 hours of work per week! Plus, he shares his amazing story of how one idea helped launch his copy career.
Could you share a little bit about your transition from Chinese medicine to copywriting?
I had been working on cruise ships, and I finished my career doing acupuncture at sea in 2017. I had an interest to move into being a writer. I was creating a company to teach doctors about implementing acupuncture within hospitals.
I was in a mentor program with AWAI. I turned in a piece of copy that somebody got ahold of … who sent it to somebody else. And through a series of very bizarre coincidences I got hired in March of 2018. My employment right now is with an Agora company, writing financial copywriting packages at Legacy Research.
Did you know a lot about investment strategy when you started with them?
I was super interested. I was actually a customer of Legacy. I knew that being a financial copywriter was probably the best chance that I would have to succeed. It's a super-competitive gig. I couldn't believe my good fortune when I got hired.
As for the idea of writing financial copy, I knew nothing. I just knew that because I wanted to do it so badly, if I gave it my best shot, chances are I would not be a failure. I was 46 when I got hired. And changing careers at that stage in your life, it's not a common thing to do.
What has you so excited right now?
Two main things: I'm able to manage a very lucrative but not time-intensive side business that still keeps me tied to medicine, thanks to learning how to do online marketing with my own information products. I would guess that that side business takes 10 hours a week. And that is a bona-fide six-figure income just from that, which has everything to do with selling my own digital product.
Obviously, it takes a little while to get there, but that launched in 2019. So I'm genuinely happy that my medical knowledge did not disappear with the change in career. Because I get a lot of satisfaction from being able to help folks.
But the story I want to tell you about my time at Legacy is that one great idea really did make my career. I came up with an idea, and the promotion I wrote did a little over $9 million in 2020. And then the cart just closed on Tuesday a few weeks ago, after we did a webinar for that publication that landed at a little over $20 million! It is currently the third-highest launch webinar total in the history of Legacy, which is really saying something.
That was three months of work, though it was not all my doing. The senior writer actually got it across the finish line. So I'm very fortunate that I had a chance to peek over his shoulder. That is a real, true, life-changing amount of money for a little old copywriter like me. I feel very lucky to get a chance to do that.
So you're getting royalties on this webinar?
Yep.
Congratulations! What do you see as the most important personal characteristics a copywriter needs to be successful?
Not being afraid. I'm 49 this year. Other people figured out how to write good copy who were older than me. You should believe that you can too. I would say that's a good message for people, young or old.
You cannot write in this niche without a pretty obsessive interest in investing and making money, and reading how, and understanding.
I understand you're in Puerto Rico right now?
I'm taking a vacation. I actually have not taken a break since I started.
I took my sailboat to the eastern end of the island, and I just dropped it in a new location so I can store it next to the boat ramp where I can take it out very quickly. So I'm going to take a few weeks and hopefully go sailing. It's very beautiful. I'm going to go snorkeling and diving, and just really, really enjoy myself.
Christian's Living The Writer's Life story was originally published in Barefoot Writer. To learn more about how you can start living your dream writer's life too, click here.
What help do you need to move forward with your version of the writer's life? Let us know in the comments below so we can help guide you in the right direction.

The Barefoot Writer
Discover a lucrative style of writing that will give you as much freedom as you can have while earning a great income at the same time. Learn More »

Published: June 26, 2021