Living the Writer's Life: Pauline Longdon
Australian Copywriter Learns from the Best but Misses Her 'Mates in the States'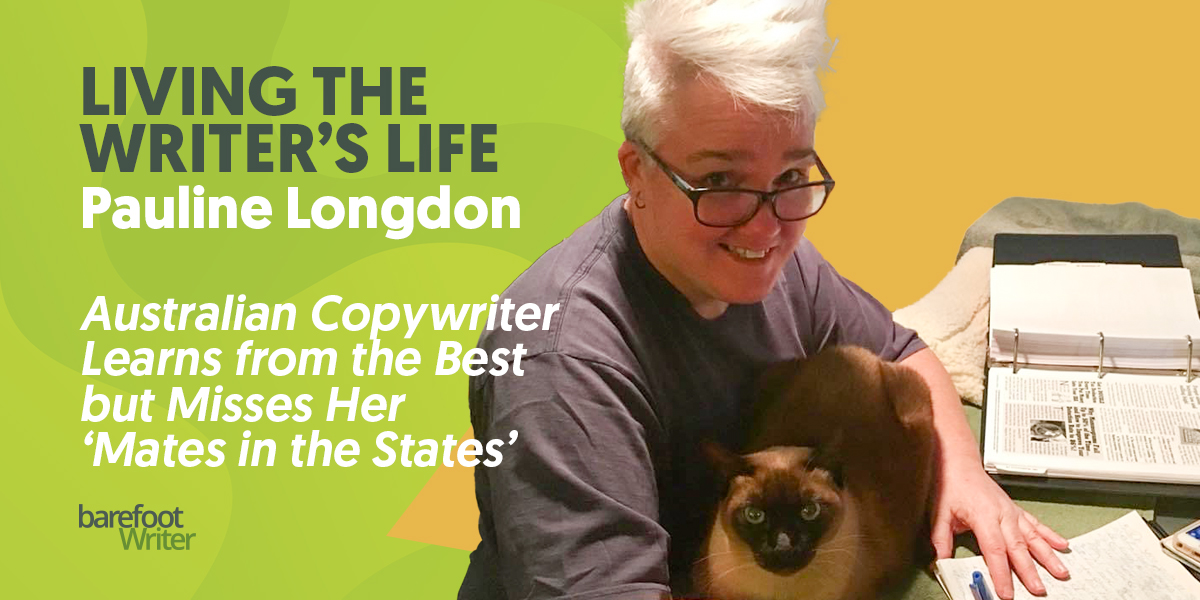 Pauline does her copywriting homework with her "copycat" Bailey.
Pauline Longdon's favorite quote is "I haven't come this far to only come this far." In a way, this perfectly describes her journey to date as a copywriter. She doesn't stop striving to serve her clients, reach new goals (seven figures now!), and connect with her global network of colleagues and mentees. Pauline's continued drive toward success has landed her coveted spots learning from the top A-list writers in the industry. Enjoy!
We last interviewed you in 2016, when your career was starting to take off. What have you been up to since then?
I have crammed a lot into that time.
Apart from going to AWAI Bootcamps each year, I went to an AWAI Financial Writer workshop with Clayton Makepeace in Denver. I did Carline Anglade-Cole's Kick Butt Health Writing course. And Parris Lampropoulos chose me to be one of his copy cubs.
They are three copywriters I always wanted to be trained by … Clayton, Carline, and Parris. And it happened. But only because I didn't wait for things to come to me. And I got way out of my comfort zone.
I have also had the opportunity and pleasure to speak on some prominent stages. I love speaking and would love to do more of it. I also launched my weekly "Knowledge Nugget" email and released a podcast with my partner, Rae.
Being a copy cub is a humbling and grounding experience. Not only has my writing improved exponentially because of Parris, but the thinking behind my writing is much clearer too. As copywriters, we need to truly understand the person we are writing to better than they know themselves.
What's it like working from Australia?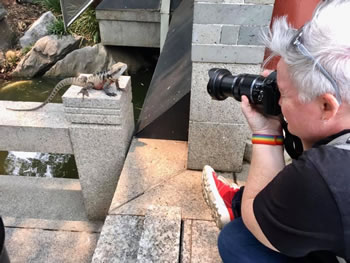 When Pauline's not writing,
she's often taking pictures.
Here, she photographs
a water dragon.
Working from Australia is great. I am close to my family, and I enjoy the lifestyle here. I live in Queensland, which is like Florida.
I usually have a good mix of U.S. and Australian clients. I have mentees from all around the world. I love that I can have a robust global business. Most of my colleagues are in the U.S., which makes it hard at the moment, because I can't travel. I miss my mates in the States.
When you're not learning, what types of projects keep you busy?
I do a lot of copywriting coaching and mentoring these days. But it's important to me to keep my copy skills sharp, so I do a lot of writing for clients, too. I'm eclectic as a writer and mostly write for things that interest me.
You had to be creative for a recent financial client, right?
I had to think way outside the box. I needed to create a marketing asset for the company to target multimillionaires and billionaires to raise capital for an investment fund (we are aiming to raise a few billion dollars).
So I structured our marketing around an elegant, direct-response-style pack (similar to a Dan Kennedy–style "Shock and Awe" pack) that is doing the job it's meant to do. We are well on our way toward exceeding our original target.
Over the years, what have been some of the hardest lessons for you to learn?
Don't compare yourself to other people. Most people hyper-inflate their results and skills. Just be true to you.
Don't expect other people to help you or do things for you. Become self-reliant, and if you get help, that's great … and if you don't, it's no sweat. Your success is in your own hands!
I spent a lot of time trying to find where I fit in the broader copywriting community. Hang out with people who celebrate you, not tolerate you.
What advice would you give to new writers who are feeling overwhelmed or nervous about starting their writer's life?
You need to have an "unshakable why" that will help you ride through the good times and the hard times. There will be hard times that will make you seriously doubt yourself. Knowing what you are doing this for and why you're doing this will help you keep moving forward.
Get help when you need it. Mentoring has been a game changer for me.
The best investment you will make is in yourself. But you need to do the work. Small, consistent actions will get you to your goals without getting burnt out.
Pauline's Living The Writer's Life story was originally published in Barefoot Writer. To learn more about how you can start living your dream writer's life too, click here.
What help do you need to move forward with your version of the writer's life? Let us know in the comments below so we can help guide you in the right direction.

The Barefoot Writer
Discover a lucrative style of writing that will give you as much freedom as you can have while earning a great income at the same time. Learn More »

Published: June 19, 2021