3 Trends in UX Copywriting Happening Right Now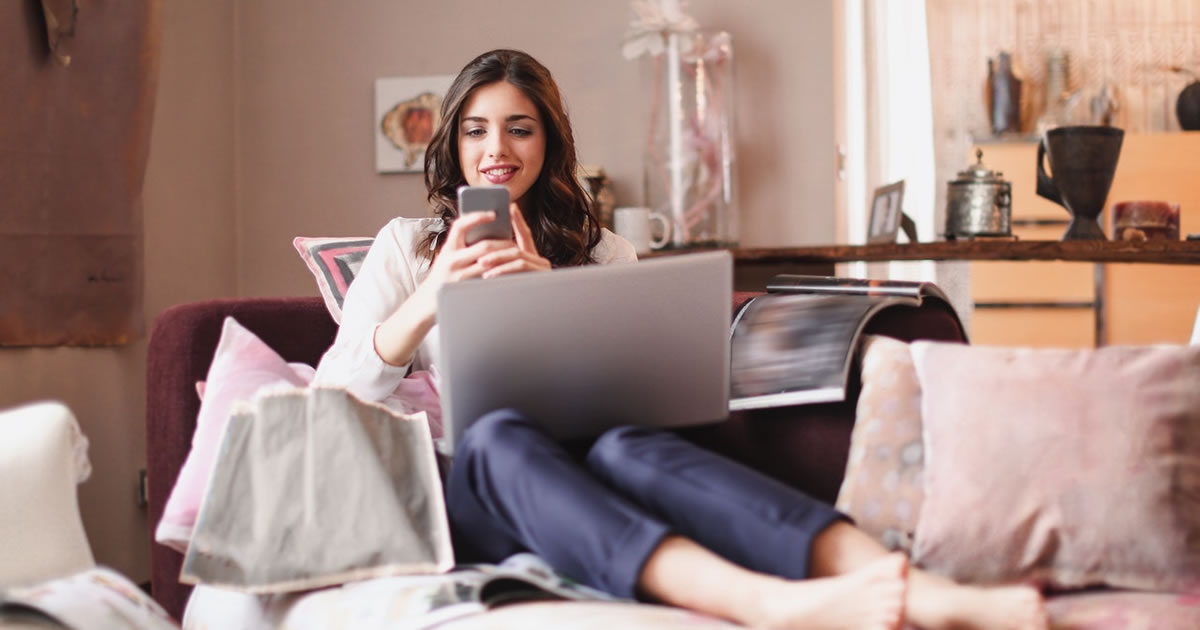 Remember the days before mobile phones? We'd go for a picnic in the park and talk to each other … we'd walk down the street, catch someone's eye and smile.
But wherever you look now, people are on their phones … at home, at work, in the park, walking down the street, everywhere! Heads down, lost in their own private online bubbles.
What are they doing?
Well, they're obviously using their mobile devices. And chances are, they're buying something online.
This new breed of shoppers is savvy … and skeptical.
They won't put up with a poor online shopping experience any more … they now have choices. If one website provides a poor experience, they know there'll be others which do provide them with a positive, seamless experience.
And they're searching for detailed information before they buy … straightforward answers to their questions, solutions to their problems. They don't want hypey sales pitches. They want the facts.
If we back out and take a big-picture view here, we see three major trends:
The move to mobile.
The growth of e-commerce, especially since the global pandemic.
A new breed of online shoppers who are savvy and skeptical.
Smart marketers understand the significance of these trends. All three mean one thing — UX (user experience) copywriting is now more important than ever.
Why? Because businesses need to be available on mobile devices, provide a seamless purchasing experience, and speak to their prospects in a straightforward, conversational tone.
How do they achieve these goals? By making the user experience seamless, smooth, and intuitive … by engaging the services of a UX copywriter.
A UX copywriter ensures every online interaction is a positive and intuitive experience for the user. Their job is to iron out any wrinkles along a user's journey.
This means more sales, more repeat customers, and more profits for the business.
Let's take a closer look at these three major trends in UX … and why they're a golden opportunity for you to launch your career as a UX copywriter.
Trend #1. The Move to Mobile
In 2017, mobile online traffic overtook desktop traffic for the first time, according to Broadband Search.
If a business website isn't mobile-responsive, then they're potentially losing over 50% of their market. Ouch!
As you're no doubt aware, the browsing experience on a small smartphone screen is very different to browsing on a desktop. What works great on a desktop can be virtually unusable on a smartphone.
This is where a UX copywriter steps in.
Rather than look at individual pages, a UX copywriter looks at the complete user experience. For example:
A prospect lands on a blog post about a specific product. Is the post easy to read on a mobile device?
What about the content itself … is it conversational?
Where do they go next and how do they get there?
Is there a link or button to a product or sales page?
If so, is the link easy to find and use on a mobile device?
Is the button text too long or unclear?
When the user goes to the shopping cart, is it clear and easy to use on a mobile device?
Everything a UX copywriter does is focused on the user. They look at the user journey through a website and eliminate any obstacles.
The move to mobile is an ever-growing opportunity for UX copywriters … and it's happening right now.
Trend #2. The Growth of E-commerce
Last year, Digital Commerce 360 reported that U.S. consumers spent $861 billion with online U.S. merchants. That's an astonishing 44% increase over 2019.
Not surprisingly, the pandemic was a large driver of this leap in sales revenue. But even without the pandemic, Digital Commerce 360 estimates it would have risen by around 15% year-on-year.
Impressive figures no matter how you slice and dice them! E-commerce is growing fast.
What does this have to do with UX copywriting?
Well, if the user has a poor shopping cart experience, then they won't be back … ever.
Consider this statistic from Statista. 88% of users in the world abandoned their shopping cart in 2020. That's 9 out of every 10 potential customers.
These stats are slightly skewed. Some people "mock buy" to check or compare prices and shipping costs.
But that alone should trigger alarm bells for marketers. It's an example of poor user experience. A user should be able to get pricing and shipping costs without having to "mock buy."
And when we dig deeper, it gets worse. According to Statista, here are the top five reasons why users in the U.S. abandoned their shopping carts:
Shipping costs too much – 63%
Discount code doesn't work – 46%
Order takes forever to ship – 36%
Have to re-enter credit card info – 30%
Have to re-enter shipping info – 25%
(If you're wondering why the numbers don't add up, users were allowed to select more than one option.)
These figures are astonishing. Almost one in every two people have abandoned an online purchase because the discount code didn't work. That's a huge missed opportunity in sales from something so easily fixed.
All five are bad user experiences. And a UX copywriter can fix 2, 4, and 5. In fact, a good UX copywriter will identify exactly these types of issues when they follow the user journey through the shopping cart.
Here we've only focused on the shopping cart … and look at the need for UX copywriters that we've already identified!
Imagine the opportunity when you include the entire experience across a brand … from first point of contact all the way through to the thank-you email after the user has made a purchase.
And with e-commerce growing so fast year on year, the opportunity for UX copywriters will only increase.
Trend #3. A New Breed of Shoppers
Online shoppers have evolved over the past few years. When e-commerce was relatively new, online shoppers had less choice and were more willing to put up with a less-than-ideal shopping experience.
Not anymore!
Now online shoppers have more options. If one website doesn't provide the experience they expect, they'll quickly move onto the next site. This is especially true of mobile users … they know what they want, and they want it now.
If a site is difficult to navigate, search results are unhelpful, or it has no search function at all, users will click away.
I'm sure you've done this yourself. I know I have, many times.
It seems everyone is in a hurry. If users don't get what they want immediately, they'll keep browsing until they find a site that works the way they want it to.
Smart marketers know the only way to keep people on their websites is to provide an excellent user experience. Near enough is no longer good enough.
So smart marketers are embracing the UX concept.
And part of the UX jigsaw is UX copywriting.
Smart marketers need UX copywriters to combine their persuasive writing skills with the concepts of UX, to provide the best possible user experience.
What does this mean in practice?
A UX copywriter will look at the big picture first. They look at the user's journey through the website. What are the sticking points? Where do users exit the site and why?
Then the UX copywriter will remove these sticking points.
So when the new breed of shopper lands on the website, they're more likely to stay on the site … more likely to make a purchase … more likely to become long-term customers … more likely to recommend the site to their friends.
And this means more profit for your client. No wonder UX copywriters command high fees.
Final Thoughts
The unprecedented uptake of mobile devices in recent times has opened a huge opportunity for UX copywriters. The
move to mobile,
growth of e-commerce, and
rise of a new breed of shoppers
have all combined to make user experience absolutely critical for every online business.
And as UX continues to grow, demand for UX copywriting grows with it.
Right now, UX copywriting is a relatively new field of copywriting. It's a new frontier, but one that's spreading quickly around the world.
Get in early and become a UX copywriting expert. If you do, you'll be busy for many years to come.
Do you have any questions about getting started as a UX Copywriting Specialist? Let us know in the comments.

The AWAI Method™ for Becoming a Skilled, In-Demand Copywriter
The AWAI Method™ combines the most up-to-date strategies, insights, and teaching methods with the tried-and-true copywriting fundamentals so you can take on ANY project — not just sales letters. Learn More »

Published: July 22, 2021