Free Webinar and Q&A:
The #1 Easiest Way to Choose a Copywriting Niche and Start Attracting Well-Paying Clients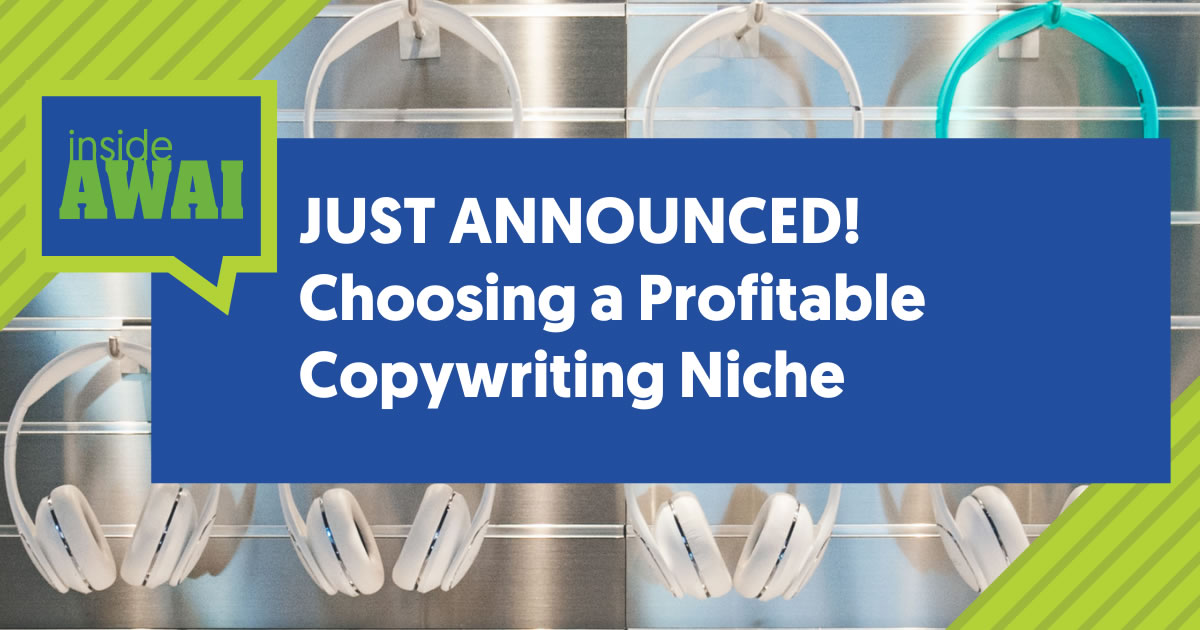 Whether you're just starting out as a copywriter or you've been working with freelance writing clients for a while, you likely already know choosing a niche industry/target market has many advantages …
It gives you focus, so it's way easier to market yourself. You become a more efficient and effective copywriter. And your clients instantly perceive you as an expert … which means they're more likely to seek you out, and will expect to pay you higher fees.
But how do you choose the RIGHT copywriting niche industry for YOUR freelance writing business?
Maybe you're stuck on several industries because they all sound interesting and fun …
Or you've narrowed it down to a handful, but you just can't pull the trigger to decide …
Or you've chosen one, but aren't confident it's the right one!
If this describes you, take heart. You're not alone. It's definitely one of the biggest hurdles we help copywriters overcome.
In our upcoming free Inside AWAI session, The #1 Easiest Way to Choose a Copywriting Niche and Start Attracting Well-Paying Clients, on Thursday, August 12, 2021 at 11:00 am ET, AWAI Learning Chief Pam Foster will show you a very simple approach to tackling this hurdle. By the time the hour is up …
You'll FINALLY know exactly how to choose your copywriting niche market, so you can get going on promoting yourself and attracting the right freelance-writing clients.
We'll reveal the #1 easiest way to choose your niche TODAY and become an instant expert in your field of choice.
Plus, we'll show you 7 steps to bring that decision to life so you can start attracting well-paying clients you truly want to work with!
We'll also make sure there's time to answer questions for you and your fellow attendees.
Access Instructions
To join the online event (a Zoom meeting):
Click Here to join the meeting from a PC, MAC, iOS, or Android.

Allow the Zoom launcher to open on your computer.

Here is a Video Tutorial on how to join a Zoom meeting

Once you have launched Zoom, you can then connect your audio.

Choose the option to connect by phone or computer.
If ONLY listening by Phone:
Call-in toll number (US/Canada):
US: +1-646-876-9923 or +1-669-900-6833 or +1-408-638-0968
Meeting ID: 848 3932 6266
International numbers available: https://zoom.us/u/dJeGq7t9e
*If you are having trouble accessing the webinar*
Try switching browsers. You may want to use Firefox or Chrome.
If you have any questions in the meantime, please call our Member Success Team at 866-879-2924.

The AWAI Method™ for Becoming a Skilled, In-Demand Copywriter
The AWAI Method™ combines the most up-to-date strategies, insights, and teaching methods with the tried-and-true copywriting fundamentals so you can take on ANY project — not just sales letters. Learn More »

Published: August 7, 2021