Living the Writer's Life: Amy Slagle
How Amy Slagle Found a Way to Enjoy Morning Coffee on the Porch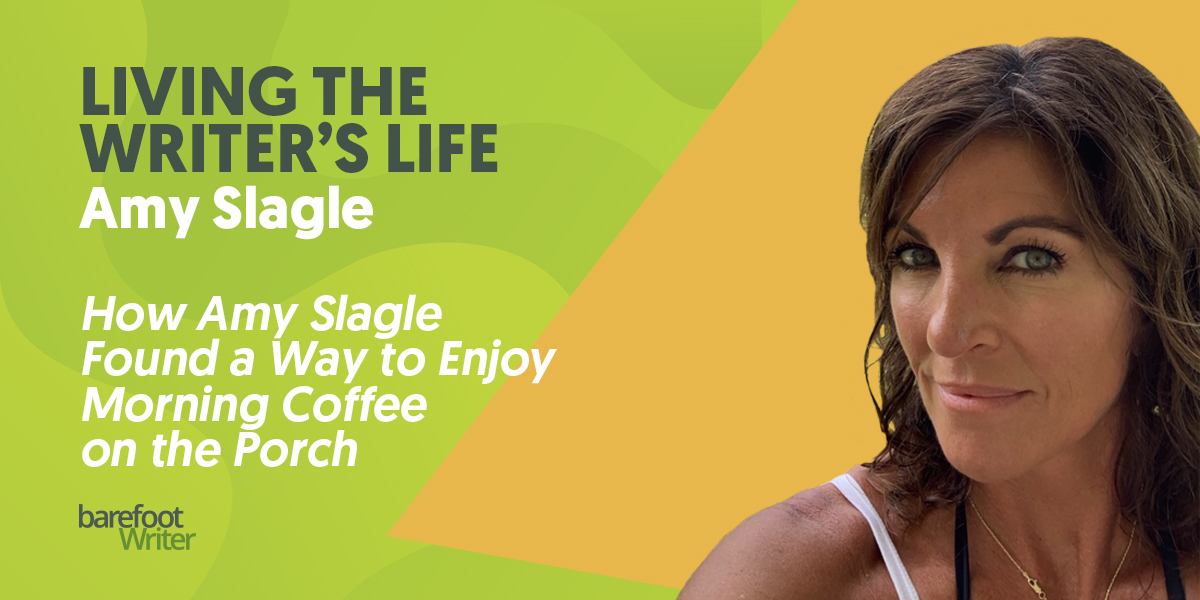 It was December 2019 when Amy Slagle decided to end her 13-year teaching career for the unknown world of freelance writing. Her guiding light during this transition was the training she received from AWAI — especially from Russ Henneberry's SEO Copywriting course. Now, just nine months after finishing the training, Amy has conquered her fears and is living her own writer's life. Learn how she went from teacher to content marketer in this special interview with AWAI's Jade Trueblood.
What was it like to finally make that leap into the writer's life?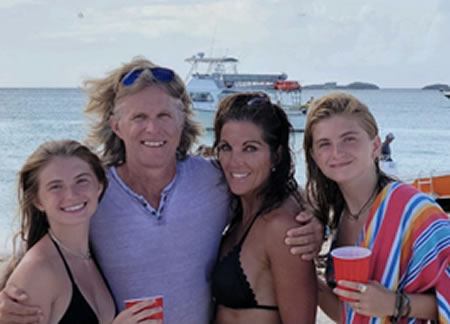 Amy with her twins and husband
on the island of Cayo Icacos,
a small, uninhabited island off the
coast of Fajardo, Puerto Rico.
I was a teacher for 13 years and had always loved writing. So in the 2019–2020 school year, I finally decided I wasn't going to renew my contract. I was going to go ahead and resign. I made that decision in January, and the school year ended in June.
So June, I knew I was out of a job, because I was making this big decision. But to go back a little bit, I started getting these emails from AWAI. I was like, "What is this? The writer's life. That is too good to be true."
I would just read them and I'd be like, "Ugh, I can't do that because it doesn't make any sense." I mean, it was probably a year of doing that when I finally made my decision: I was going to resign, and I was going to go forward with AWAI.
I took the Accelerated Program for Six-Figure Copywriting. I kept getting different certifications, and then I took the SEO Copywriting course with Russ Henneberry. AWAI's copywriting courses were my game changer because I really felt like I understood what I was doing.
Just so everyone knows … Amy won the spec challenge within Russ Henneberry's SEO certification. Did you have the confidence and the skill before that?
I was gaining the skill. I did not have the confidence yet. Russ is such a great teacher.
And now what does your client roster look like?
So now, I have two clients, and I'm working on a retainer agreement with one of them. I have two proposals out there right now that could really take care of me. As far as my workload, I don't know if I could take on anything beyond these two. And then the third that sends me a little bit here and there.
So this is all within nine months that your roster is full. Right?
Right. Yeah. And that's crazy.
I love that.
I feel much more confident about things now. I mean, still every conversation is a little terrifying, and every proposal is a little terrifying, and waiting to hear back at all is still terrifying. But I don't know if that'll go away.
What has been your biggest challenge up until this point?
I kind of hit a really big bottleneck when I was trying to figure out my niche. But everyone just really encouraged me to go ahead and plug into that, because everything is easier. I went with SEO copywriter for the education industry and created my website around that.
What has been your favorite thing about freelancing thus far?
Before life as a writer, it was always, get up, go, come home, do the evening thing with the fam, go to bed, start the next day, get up, go. On repeat every day. So instead, I get up and say, "Oh, I might just go sit and have a cup of coffee outside for a little while. And maybe I'm going to go write in an hour." That freedom of my schedule is wonderful.
When somebody asks you what you do, what do you say now?
I say I'm a content marketer. That's one of the things I learned in the Content Mastery course. Because I can easily follow up with, "I write content on people's websites."
Everyone understands the word "content," especially right now with everything moving online. People understand content on YouTube, content on TikTok, content on Instagram.
All of your original fears around this change have worked themselves out, right?
Right. And you're going to worry, and I think it's good to worry. But if fear grips you, it will stop you from moving forward. Don't let fear stop you.
Amy's Living The Writer's Life story was originally published in Barefoot Writer. To learn more about how you can start living your dream writer's life too, click here.
What help do you need to move forward with your version of the writer's life? Let us know in the comments below so we can help guide you in the right direction.

The Barefoot Writer
Discover a lucrative style of writing that will give you as much freedom as you can have while earning a great income at the same time. Learn More »

Published: September 18, 2021