I Scream, You Scream, We All Scream for … Email!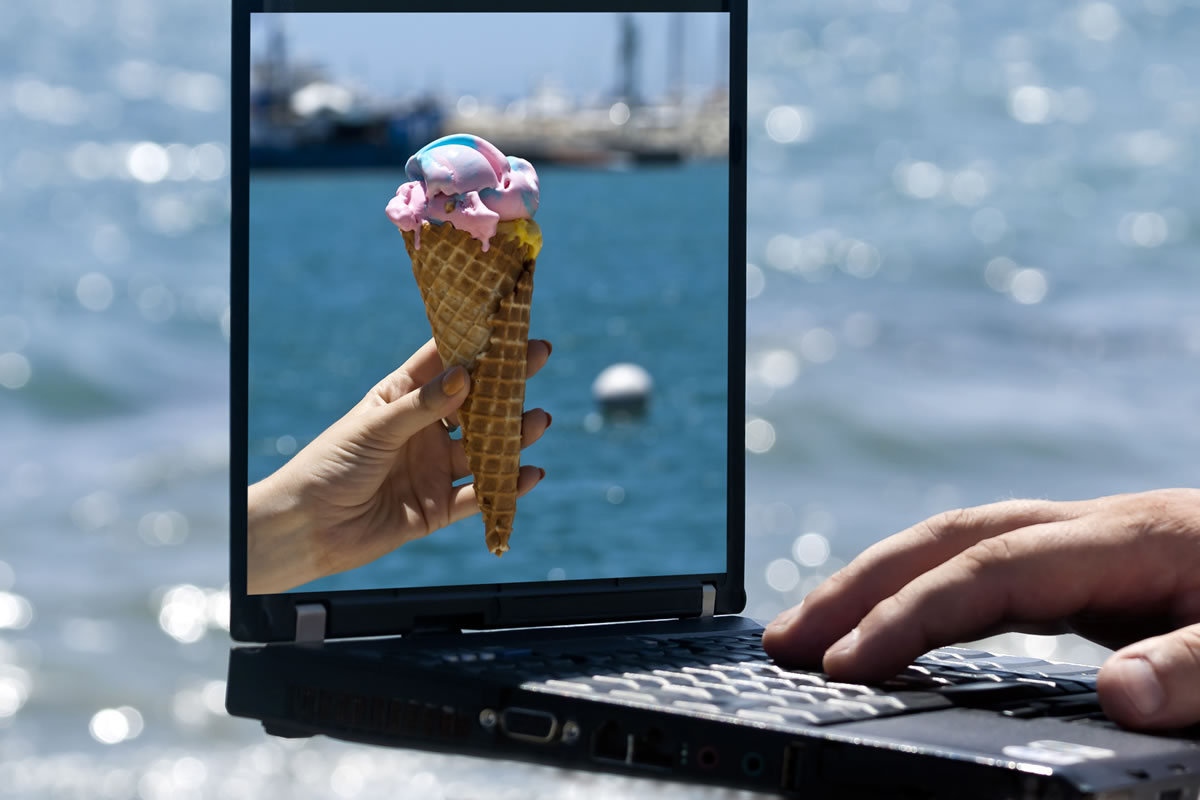 How many new marketing emails have you received today? I bet it's a high number.
According to Statista, there are about 320,000,000,000 emails sent each day worldwide. (That's 320 billion if you didn't want to count all the zeros.)
Can we all agree that despite the never-ending rumors, email marketing is not even close to taking its last breath? On the contrary, it is healthy, thriving, and growing by leaps and bounds.
For example, let's look at email activity on Black Friday alone. SendGrid has tracked how many marketing emails the platform processed on behalf of their customers on Black Friday and Cyber Monday since the company was founded in 2009. Here's their chart: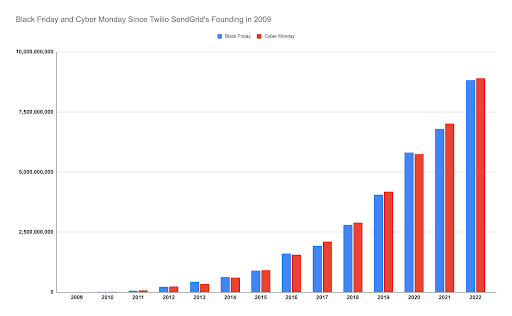 There were about 4 billion emails sent on Black Friday in 2019 through this email provider alone. That jumped 45% — up to 5.8 billion emails sent — in 2020.
That's 5.8 billion emails sent on just one day through just one provider.
By the way, SendGrid's average daily emails sent is somewhere between 1 billion and 2 billion. Just a drop in the bucket of the 320 billion total sent each day worldwide.
So, that 5.8 billion emails sent on Black Friday? Also, a drop in the bucket.
And not only are marketers sending more emails than ever before, but consumers are also opening them and taking action!
HubSpot reports that 77% of marketers saw an increase in email engagement during the past 12 months.
They also found that four out of five marketers would rather give up social media than their email marketing.
I'd say this is evidence of a marketing channel that's thriving. Wouldn't you?
Not only thriving, but hungry for writers who can write great email copy to feed the machine.
Speaking of being hungry …
31 Flavors of Emails
You know those ice cream counters where they have all the buckets of ice cream on display? There are always SO MANY flavors to choose from!
And while having so many choices can be overwhelming, the burden of choosing just one, for me, is eased by the knowledge that I can come back again and pick another flavor next time.
Writing emails is kinda like that.
Businesses across every industry send emails of all kinds to their customers and prospects. One day I may be writing teaser emails. Another day I may write emails that tell a story. The next day, another kind of email.
Some of my favorite clients sell digital information products like online courses. They need a lot of emails. And they need them in lots of different flavors.
For example, they need emails to:
Announce a product to their audience
Tease the product
Offer the product
Confirm the purchase of the product
Thank the buyer and tell them how to access the product
Deliver the product (often dripped out over several emails)
Upsell to the next suggested product
Just to name a few.
There are also emails that provide social proof or answer common questions. Emails that give updates on new content (new blog post or podcast episode, for example). Emails that give coupons or announce special deals.
There's a flavor of email for just about anything a business needs to communicate to their clients, customers, patients, and prospects.
You probably have many of these flavors in your inbox right now.
Let's prove it …
Email Scavenger Hunt
To let you see firsthand some of the different kinds of emails that are being sent every day, I invite you to participate in a quick email scavenger hunt.
Go to your inbox and see if you can find the following five common marketing emails:
Welcome Email — they're welcoming you to their company email list, maybe thanking you for a purchase or for opting in.
Teaser Email — they're selling you something, but you won't get the full details unless you click the link.
Announcement Email — they're announcing something, maybe a sale or a special deal.
Cart Abandonment Email — they're reminding you that you left their site and didn't complete the checkout process.
Time Is Running Out Email — they're letting you know that the clock is ticking, and time is running out on whatever they're trying to sell you.
You probably found more than one example of each of these flavors.
Now, let me ask you …
Can you write an email like those?
And would you like to be paid well for doing so?
The Email Writer's Life
Email copywriting was one of my first writing specialties. And it's still one of my favorites.
Here's why:
It's almost never "one and done." Clients need email on an ongoing basis, because businesses don't need one message — they need a series of emails … 5, 7, even 10 messages written at a time. And repeat business is MUCH easier on we writers than having to land new business all the time.
There's variety. I didn't actually count 31 different types of emails that I've written for clients. There may be more, or there may be less. But writing different kinds of emails keeps things interesting for me.
Emails are short, quick, and fun to write. Typical marketing emails are less than 800 words. And I find it fun to figure out what those 800 words should be to deliver the biggest impact for both my client and their reader.
The email writer's life is full of delicious flavor. And remember those 320 billion emails sent each day? That means the buckets of opportunity behind the counter are constantly being refilled.
There's a lot of work to go around … plenty of room at the counter. Care to join me?
To help you feel ready to start, check out AWAI's new How to Write High Impact Emails self-study training program. It will guide you through the basics of writing email for clients and help you build your confidence as an email writer. You'll even find tips on landing your first clients.
If you have any questions about writing emails, please let me know in the comments.
How to Write High Impact Emails
Learn how to write winning emails from one of the best email writers in the industry today. From writing subject lines that get noticed to "call to actions" that get results, it's all included in this home study program. Learn More »

Published: November 26, 2021