Living the Writer's Life: Ashly Kimball
Writer Uses Daily Instagram Posts to Connect with Top Prospects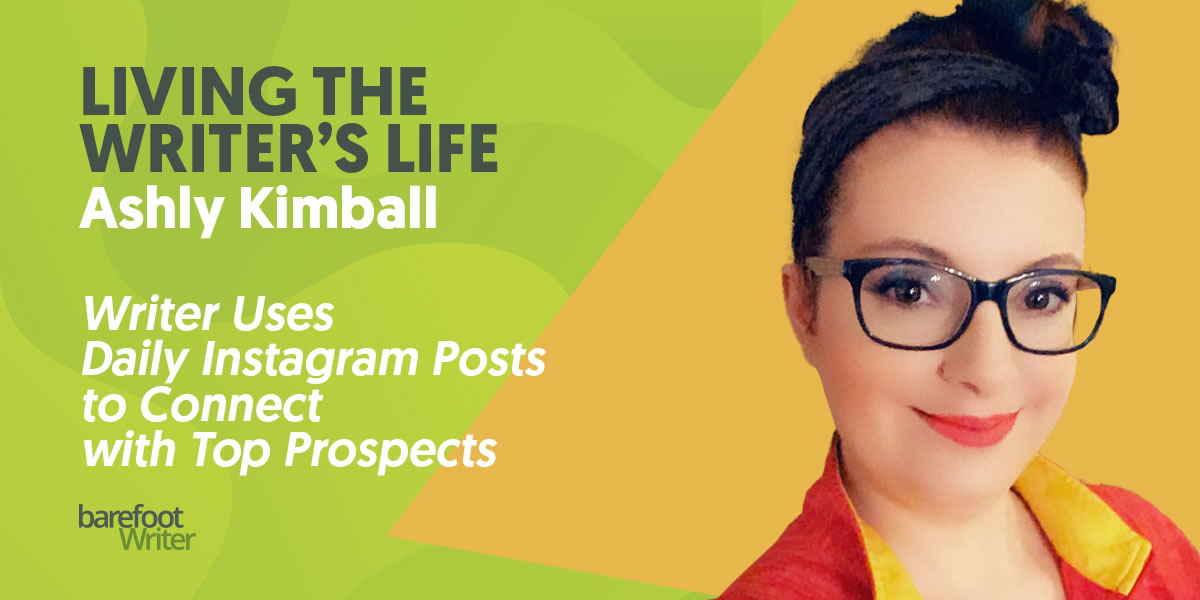 Ashly uses social media to connect with new clients.
Every morning, you'll find Ashly Kimball and her cat strolling down the driveway to get her mail. At the same time, she's holding a phone to record a quick business tip to post on her Instagram account. According to Ashly, this has revolutionized her business. Read on to learn more about how she uses social media to connect with her clients.
What was your life like before you found writing, and what inspired you to make the switch?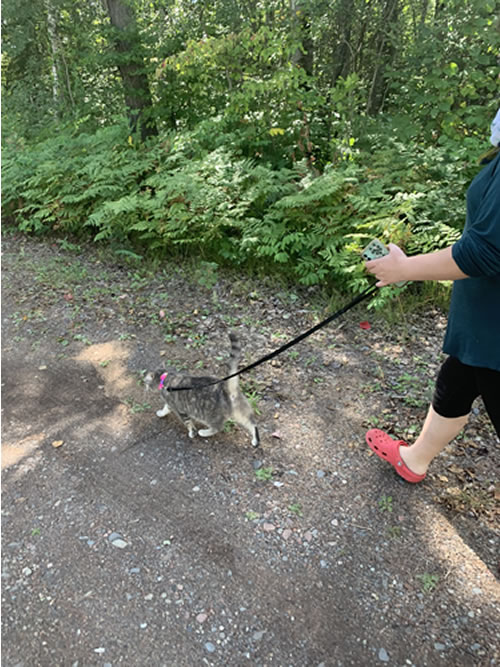 Every morning, Ashly walks
her cat down her long driveway
and records an Instagram
business tip on her phone.
I fell in love with persuasion and argumentation in high school when I joined the speech and debate team. Continuing to be inspired by the art of communicating, I studied the science of writing and media in college.
My mom passed away suddenly when I was 21, and writing became too painful. I put my passion away for a while and entered the corporate cubicle world. In the evening, I coached students on how to write, persuade, and use their voices.
While I was teaching them life skills, they were blooming into amazing young adults with powerful voices. But they also were doing something else. They were encouraging and inspiring me to pursue my own creative endeavors again, and I made the jump into professional writing.
What types of clients and projects do you enjoy working on the most?
I prefer doing a variety of projects to keep me on my toes. Lately I have been creating a lot of websites, sell sheets, and business cards.
During the first lockdown [of the 2020 pandemic], I studied graphic design and added it to my services. This opened all kinds of doors for my business. Now I help small businesses and entrepreneurs bring their dreams to life. The possibilities are limitless, and there's never a dull moment.
What are your greatest pieces of advice for new writers just starting out?
Explore and celebrate your uniqueness. Create systems that work for you. Don't get caught up in what everyone else is doing. If your business does what you need it to do, then your business is a success. Period.
The only wrong answer, in my opinion, is to get stuck in inaction. If I was restarting again today, the one thing I would do differently is I would be more intentional about building recurring revenue, whether with a product or a retainer model.
What are you most proud of with your writing career so far?
I have a small-business client in Denver who has some high-powered members on her board. I designed the logo, wrote the messaging, and created the sales collateral for her latest product launch.
A member of the Coors family complimented my work. And another board member now uses the brochure in the marketing class she teaches at the University of Colorado Denver as the standard of a great brochure.
I read on Facebook that you use social media to find clients. How does that work?
Networking and referrals are big for me. Each day I ask myself, What are you doing today to connect with a new small-business owner? Whether it's an email or a compliment on social media, how can I genuinely engage with new people regularly?
In June of this year, one of my clients wanted to become more confident with video content on Instagram. I love a good challenge, so I challenged her to a 30-days-of-reels (short-form video on IG) challenge. It revolutionized my business. Why pay for an ad when you can create a 30-second video that will reach hundreds or thousands of people for free?
Pro tip: I use the engagement from my reels to spark conversations through direct messages. That way the line of communication is open, and when I sell on my page, they have already DMed with me in the past, removing the barrier of DMing me for the first time.
Again, it is about building genuine relationships and then asking for the order. It's about genuinely being you and actively putting yourself in front of the right people who will want to take advantage of your offering.
What do you enjoy doing most during autumn and winter?
I'm very blessed to live in the woods of Northern Minnesota. I'm surrounded by gorgeous trees and wildlife. I spend a lot of time enjoying the outdoors. When I'm not outside, you can find me with a warm beverage and a book in hand and my beautiful cat Mercedes next to me.
Ashly's Living The Writer's Life story was originally published in Barefoot Writer. To learn more about how you can start living your dream writer's life too, click here.
What help do you need to move forward with your version of the writer's life? Let us know in the comments below so we can help guide you in the right direction.

The Barefoot Writer
Discover a lucrative style of writing that will give you as much freedom as you can have while earning a great income at the same time. Learn More »

Published: November 27, 2021