Freelance Writing Opportunities for All Stages of the Customer Journey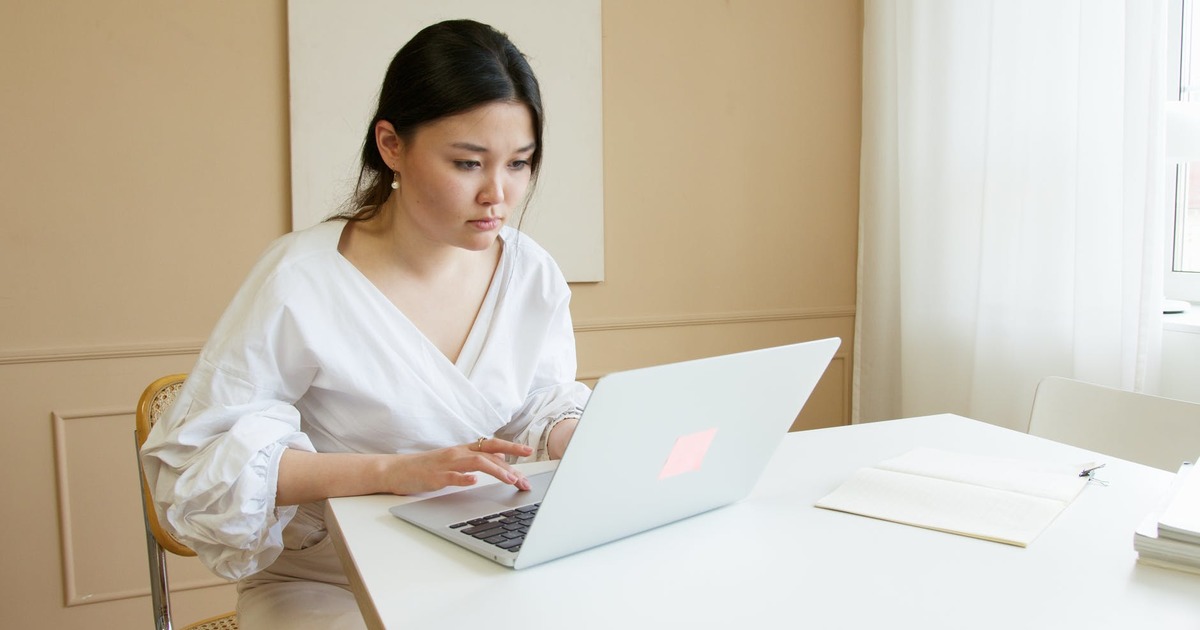 In the marketing world, there's a common phrase to indicate the customer acquisition and retention process. It's called the customer journey (or sometimes the buyer journey).
SurveyMonkey.com defines the customer journey as this:
" … the complete sum of experiences that customers go through when interacting with your company and brand. Instead of looking at just a part of a transaction or experience, the customer journey documents the full experience of being a customer."
While this journey involves many factors unrelated to copywriting — such as customer service, shipping and returns, product quality, etc. — clear, solution-focused, and inviting communications are essential along the way!
As a freelance writer, you can help your clients foster satisfying customer interactions through all stages of the customer journey, with messages that resonate and keep them happy.
And you can make a great living as a result.
To see what I mean, let's break down the above definition to walk you through the four main stages of "being a customer."
Take a look at this handy AWAI Copywriting-Content Continuum graphic to get an idea of all the projects clients need to make the journey as smooth and delightful as possible — moving prospects from awareness to buyer to a happy customer.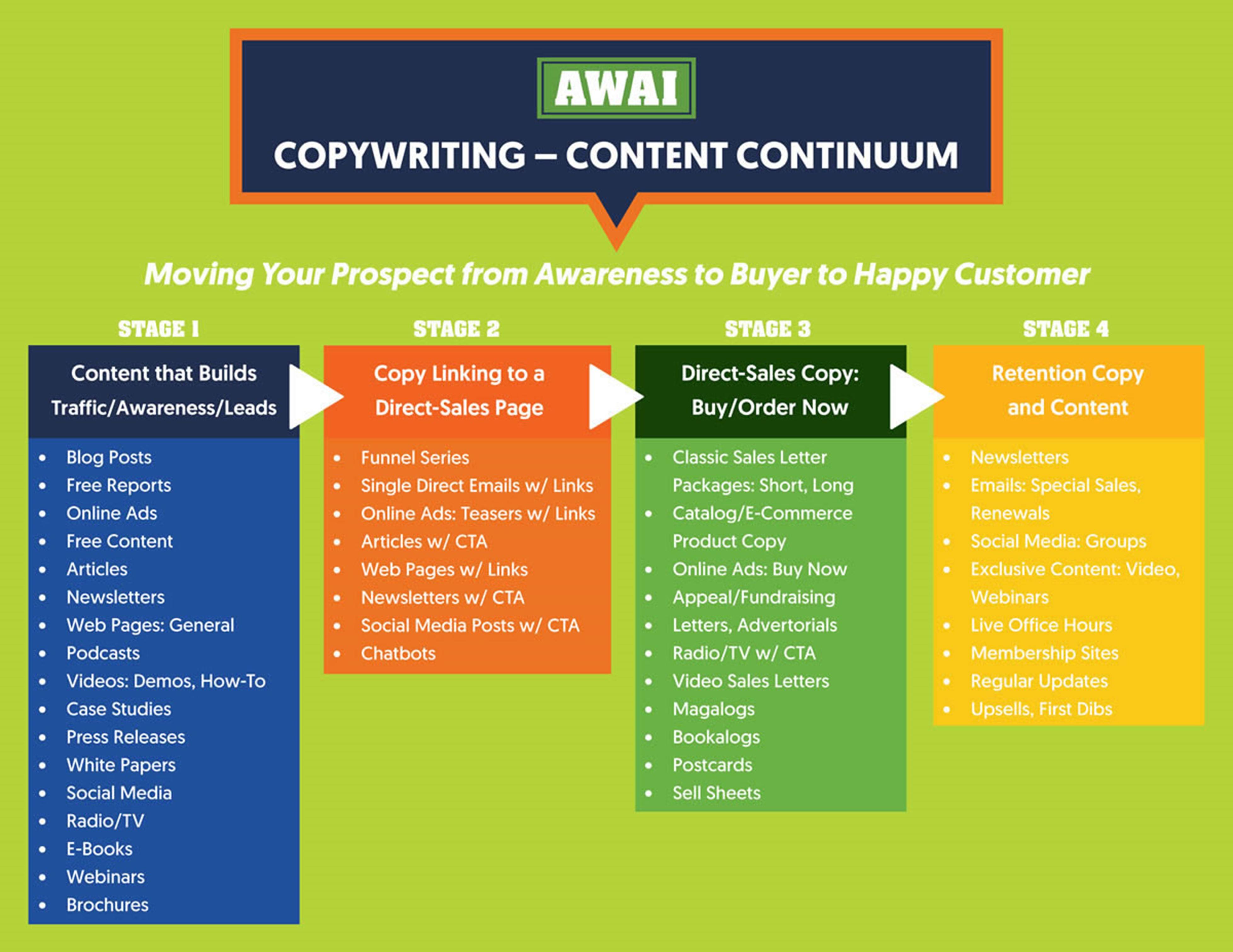 Download a printable version here!
As you can see, the "journey" begins way before a person becomes a customer.
So how do each of these stages work, exactly?
Let's take a closer look …
Stage 1: Content that builds traffic/awareness/leads
Most companies don't enjoy "top of mind" awareness with their potential customers unless they're well-known brands such as FedEx, Pepsi, Salesforce, etc.
Therefore, most companies need to connect with prospects by publishing appealing content that's 100% relevant to what they're searching for.
For instance, if a prospect is searching on Google for "affordable wedding ideas," and your client is a company that sells wedding décor, invitations, bridal party gifts, etc. — you could publish a super-helpful blog post for them, such as "10 Affordable and Charming Wedding Ideas for Any Budget."
This will attract prospects and bring awareness to the client's offerings.
There are two main ways businesses use writing to attract prospects:
Content: Helpful and uniquely informative blog posts, free reports, case studies, videos, newsletters, web pages, podcasts, press releases, and more …
Paid Advertising: Online ads placed in Google search results, websites, social media, e-newsletters, and other media. Traditional media ads (radio, TV, magazines, etc.) are also part of this mix.
This may be your biggest area of opportunity because most of these methods never end!
Companies need to continuously publish amazing content and test different ads to bring in more and more prospects. That's where you can be their hero while earning a steady income.
Stage 2: Copy linking to a Direct Sales Page
This is the stage where prospects are now aware of what the client does, but they haven't bought anything yet.
Perhaps they gave your client their email address in exchange for a free report, free newsletter, or other no-obligation connection.
Whatever it is, the client will need your help to make sure that the requested item is just as great as the first content that attracted those prospects.
In addition, you'll need to make sure you're directing those prospects toward products and services they may love so they BUY something.
Using that wedding client again, let's say you helped your client with a campaign to sign up prospects for a free "Affordable Wedding Ideas" e-newsletter sent out once a week.
Each e-newsletter (you'll be writing) includes free tips and stories, but also a special discount or other offer on a great wedding product.
Prospects like that offer and click to the next stage.
Stage 3: Direct-sales copy (buy/order now)
At this stage, prospects have seen a product, service, or other offers they like … and they want to see if it's truly for them. They might even have their credit card in their hand at this point, just about ready to buy.
But first, prospects need to be convinced, without hesitation, that this is the right solution for them.
This stage involves sales letters (online and direct mail), product sales pages (think of e-commerce or catalog sites), ads, and more … leading to an immediate purchase.
As a freelance writer, you can make sales happen at this point with unique, benefit-rich copywriting that's irresistible to prospects. The copy is helping the prospect picture himself enjoying the promise and benefits of that product … with proof that it's real … and with a satisfaction guarantee.
Imagine what you can do for clients in this stage: bring in the big bucks!
Once a prospect becomes a customer, they move to the next stage …
Stage 4: Retention Copy and Content
The customer journey isn't complete when a sale is made.
Your client will need to help those customers understand how to use whatever they purchased.
Plus, they need to keep those customers informed and enjoying all the benefits that were promised.
And those happy customers will likely enjoy OTHER products or services your client offers.
This means there's an ongoing need to communicate with customers in delightful ways, to retain them.
You can help your client do just that through exclusive "insider" e-newsletters, emails, social media groups, webinars, and much more.
This is just a partial glimpse into all the marketing materials you can be writing for a single client throughout the customer journey.
Our Continuum chart includes 46 projects you can be writing, but there are many others!
Check out our AWAI State of the Industry Report and Copywriting Pricing Guide packed with insights and fee ranges on 80 different freelance writing projects you can potentially be writing for clients — many of which are great for beginners!

The AWAI Method™ for Becoming a Skilled, In-Demand Copywriter
The AWAI Method™ combines the most up-to-date strategies, insights, and teaching methods with the tried-and-true copywriting fundamentals so you can take on ANY project — not just sales letters. Learn More »

Published: July 28, 2022