Living the Writer's Life: Rachael Gray
Veteran Writer Shares Surprising Advice About When It's Okay to "Hustle"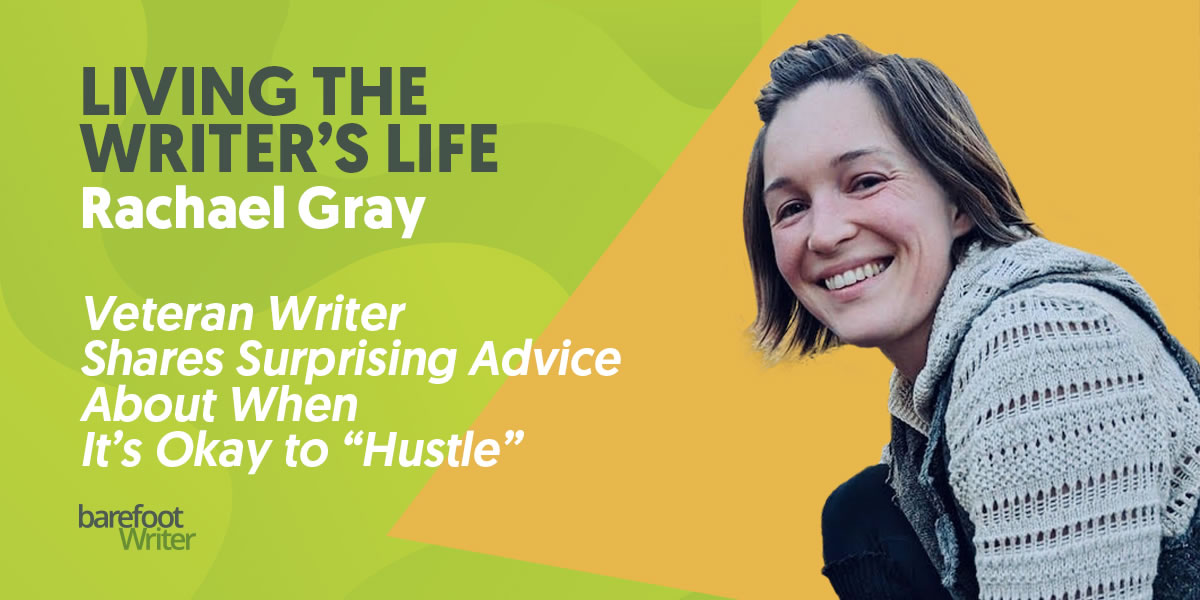 When she first started, this young woman took the copywriting world by storm — achieving incredible success while still in her 20s. Today, her name is a bit different and her outlook on life has evolved to include meditation, better self-care … and still … incredible copywriting skills. You'll love this peek into the daily life of copywriting rock star Rachael Aurora Gray.
What's been happening since we last heard from you?
Last y'all probably heard … I was in my 20s, going by the name Rae Robinson. My hair was long, and I was living in Baltimore, writing copy for Stansberry Research (a financial newsletter publisher).
From there, I spent a few years serving as senior copywriter and copy chief at Metabolic Living, one of the top fitness and supplement marketers in the natural health industry.
These days, I call myself Rachael Aurora Gray. I'm in my 30s, my hair is short (and pink!), and I live on a 50-acre permaculture farm called the Hawk & Hawthorne north of Asheville, North Carolina.
I write copy part time for one special client — and with the rest of my time, I manage events (like weddings, concerts, and workshops), design spaces, grow and arrange flowers, and help my friends tend our land and community garden.
How has "hustle" played a role in your success?
To me, the way we think about "hustle" these days is a dangerous game — and it's your mental health at risk. At the beginning of my career, I had one clear, burning desire. I set my mind on certain financial goals and I achieved them by "hustling."
That meant all I did was work. Even when I was not at my computer, my mind was working, and I felt like I was working. I had no boundaries around my time or mental bandwidth. Not surprisingly, I've burned out twice over my 12-year career.
So … yes, work hard — when you're working. Yes, challenge yourself to grow … to be more efficient, wake up earlier, and get sh*t done …
But you're not a machine. If you aren't recharging your energy and taking care of your body, it's a quick road to burnout.
As one of my mentors always says — "Rest is success!"
What are some of your daily wellness practices that help you stay balanced?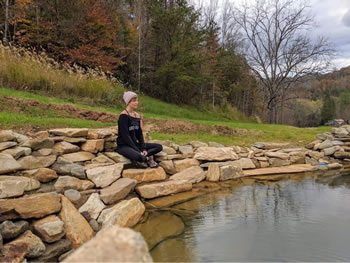 Rachael on the permaculture farm
where she lives, sitting in stillness
with the heartspring.
Ironically, I find that I want to write when I first wake up. I write for an hour or two, and then I go in and do my practice.
My essentials are qigong, breath work, meditation, yoga, and Reiki/energy work. The quality of my energy defines the quality of my writing and how I feel during the process … If I don't take the time to replenish, my work is that much harder. The ideas don't come, it's harder to get into flow, and harder to stay focused.
What do you see as the most important traits in new writers that will determine their eventual success?
I have many … but the most important one for beginners is having a thick skin for feedback.
Here are some rules I run myself through every time I receive feedback:
Put a thick coat of wax on your back before reviewing people's suggestions. Separate yourself from the work. Feedback is not an attack on you personally.
Do not respond to emails when you're feeling charged. Read and absorb, take a walk, then come back and work your way through it.
Do not justify anything. The copy stands for itself. So if the copy doesn't communicate what you meant, edit until it does.
Where do you love to write?
My studio is in my flat on the farm, which I gutted and built back from the studs in 2020 — it was a six-figure renovation that I funded with my copywriting fees. Most little girls daydream about their weddings or riding horses … I dreamt of reading books in bay windows. So I built myself one … I now have a gorgeous bay window that looks out onto the garden.
I made some key upgrades to support my mind and body in my work flow — a stand-up desk (Fully — Jarvis), a big ASUS monitor so I can see copy and reference material at once, and a critical piece of software: Scrivener has made managing projects and writing long-form or complex packages 10 times easier. I highly recommend it!
Can I write elsewhere? Sure. Coffee shops and lakeside is fun. But my studio is where I'm anchored; it's where I do my best work.
Rachael's Living The Writer's Life story was originally published in Barefoot Writer. To learn more about how you can start living your dream writer's life too, click here.
What help do you need to move forward with your version of the writer's life? Let us know in the comments below so we can help guide you in the right direction.

The Barefoot Writer
Discover a lucrative style of writing that will give you as much freedom as you can have while earning a great income at the same time. Learn More »

Published: August 27, 2022