How AWAI's Copywriting Success & Getting Clients Bootcamp Became Ground Zero for Launching Successful Writing Careers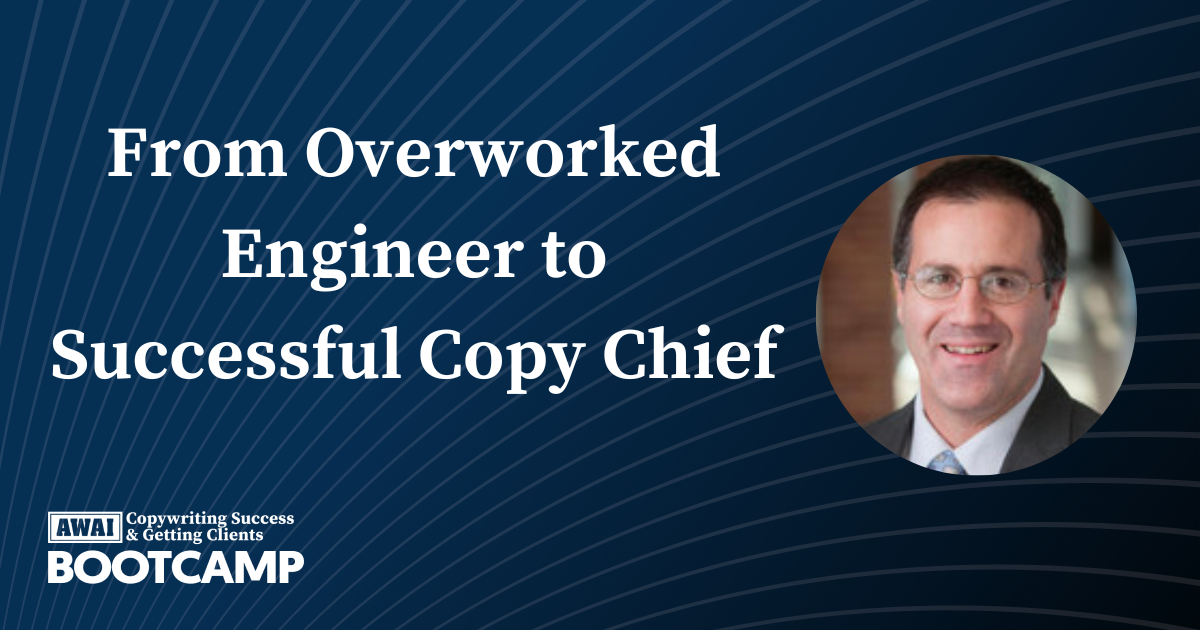 Over the past 25 years, AWAI's Copywriting Success & Getting Clients Bootcamp has transformed itself into the central place where writers come not just to be seen and heard but also to launch their careers.
That's because Bootcamp gives you the chance to connect with marketers who are looking to hire writers. In fact, most of the marketers you'll meet have immediate needs for copywriters and bring spec assignments to show you their specific process for getting hired.
And it's those spec assignments that can lead to paid projects.
Take AWAI member Jon Stoltzfus. He's a textbook case of someone who experienced breakthrough success very quickly after attending his first Bootcamp.
When Jon was laid off from his 60-70-hour-a-week job as an aerospace engineer, he decided to never again put his future in the hands of a company that could easily dismiss him. So he dove into copywriting, came to Bootcamp, and wrote six spec assignments.
And remember, those spec assignments come with instructions directly from the marketers, so you know exactly how to write them.
After he'd turned them in, just imagine how excited and thrilled Jon was to learn one of those marketers wanted to hire him.
He was now working on his first paid writing gig. And the success continued from there.
Jon was given several other paid assignments from clients, which built not only his writing skills but his confidence. Now he's the copy chief for Lurn, which provides tools, resources, and training for entrepreneurs.
Jon is living proof of just how powerful the connections you make at Bootcamp can become to your writing career.
Heck, he's even participated in Bootcamp as one of the marketers eager to hire writers.
It's no wonder that AWAI's Copywriting Success & Getting Clients Bootcamp is considered ground zero for launching careers.
That's why if you are a writer or aspire to be one, then attending AWAI's Bootcamp is an absolute must.
The good news is there's still time to reserve your spot. AWAI's Copywriting Success & Getting Clients Bootcamp starts October 3 and runs through October 6, 2022.
The whole experience is interactive, which means you'll …
be able to choose which sessions you attend;
be able to participate in breakout sessions with experts, ask questions, and network directly with marketers and writers; and
be able to create virtual rooms where you can invite fellow writers — even our guest experts — to join you and dig more deeply into topics.
We're talking four days that could change your life forever. So whatever you do, don't miss this chance to participate in one of the most important events of your career.
You can get all the details about AWAI's Copywriting Success & Getting Clients Bootcamp here.

The AWAI Method™ for Becoming a Skilled, In-Demand Copywriter
The AWAI Method™ combines the most up-to-date strategies, insights, and teaching methods with the tried-and-true copywriting fundamentals so you can take on ANY project — not just sales letters. Learn More »

Published: September 10, 2022