Why the "September Advantage" Can Kick-Start Your Writing Income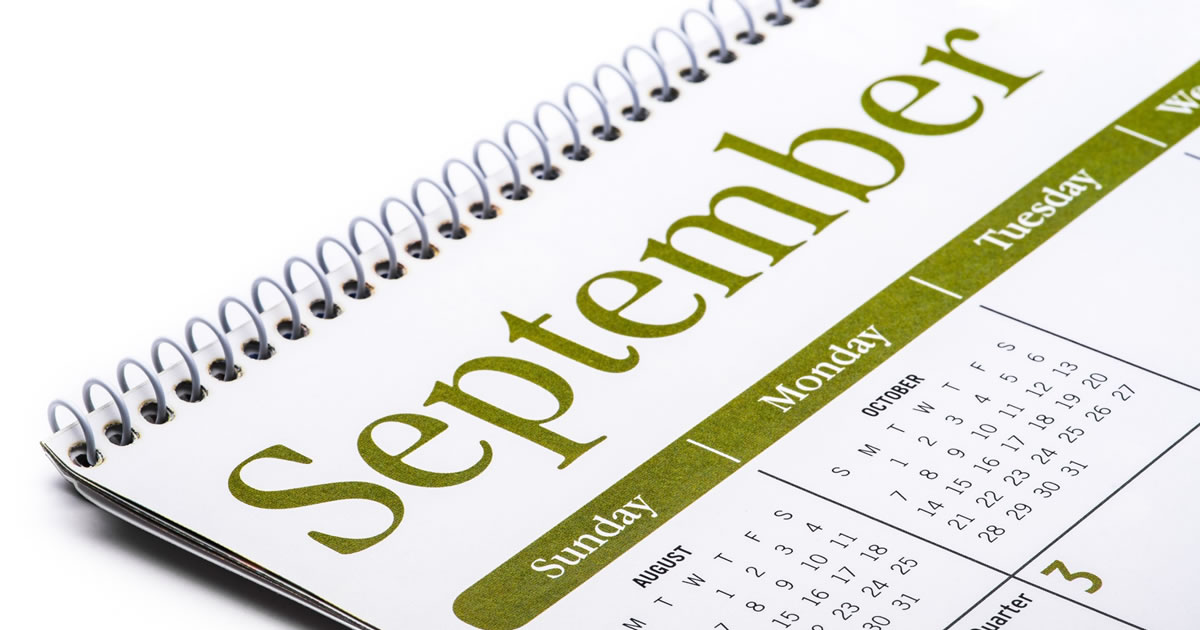 The catalog and magazine publishing industries run on a different calendar than everyone else …
No doubt you've heard whispers about it … stories about models freezing as they shoot swimsuit images in winter and fake snow being created for homey Christmas images photographed in the summer …
They're operating on a calendar that seems counterintuitive to an outsider. Yet, that's what they need to do to make money.
There's a "magic calendar" for marketers and business owners too …
If you're new to the paid writing world, you may not be aware of it. But it exists — and it drives what types of projects they hire writers for and when … as well as how (and when) their marketing budget is being spent.
I've known about this calendar for over 20 years now, and I want to let you in on the secret because it offers a wide-open window for you to get paid this year — and end 2022 with a bang.
During a Zoom meeting with our marketers and copywriters, I was discussing where we are now on the "magic calendar" when AWAI copywriter, Bonnie Fanning suddenly unmuted her mic and exclaimed, "WE HAVE TO SHARE THIS WITH OUR MEMBERS!"
So together, Bonnie and I went live on Facebook to dig into the "September Advantage," and how you can use it right now to move your writing career forward.
If you're brand-new, we talked about why it's the optimal time to launch.
If you're launched, and just getting started, we showed you why clients are more likely to respond right now, and what you can do to get a quick "YES!"
And if you're already working, we covered how and why to push your clients to expand your scope of work right now.
Some of the other highlights included …
Why I call this the "turn of the year" and how it spells opportunity for you …
The "magic wand" you can hand to potential clients that makes you invaluable to them right now …
Why marketers have this time of year circled on their calendar … and why that means more money-making opportunities for writers than ever …
A simple script that will give you instant credibility with clients and make it even easier for them to say "YES" to hiring you …
Why marketers need "quick wins" and the fastest ways you can provide them …
What you can do in just five days to make sure you are fully prepared to take advantage of the upcoming "spending frenzy" …
We also opened the floor to answer questions and offered even more tips and strategies for building your writing business and ending this year strong.
Seriously … go watch it right now while there's still time to use this unique time of year to your advantage!!
And if you have any questions, feel free to post them in the comments. I'll keep an eye out and quickly get you an answer so you can take full advantage … of this advantage. ;)
OH, and in case you missed the announcement …
We're about to launch more new writers than ever — THIS MONTH!
Spend 5 straight days with us, and you can launch your career by Friday.
Yes, BY Friday!
(Whether you think you're ready or not.)
With our help, you can move past any roadblocks you've had in your way and make 2022 the year you become a paid writer.
And as you'll see when you watch that video — THIS is the time to launch.

The AWAI Method™ for Becoming a Skilled, In-Demand Copywriter
The AWAI Method™ combines the most up-to-date strategies, insights, and teaching methods with the tried-and-true copywriting fundamentals so you can take on ANY project — not just sales letters. Learn More »

Published: September 2, 2022