Rebekah Mays' Steps to Leveling Up
Your Writing Income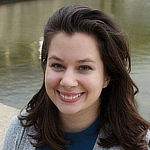 I'm in a unique position in my role at AWAI …
Not only do I get to introduce people to the world of well-paid writing, I get to watch them transform … not only through their success stories, but as a client as well.
I get to see firsthand how they "do it."
How they propose an idea, work to close it, and ultimately, do the work.
It's something most teachers and coaches never get to witness … they can only picture it through the words of the student.
I recently had the privilege of watching this play out with COS Member and AWAI Success Rebekah Mays …
I first met her at an impromptu Happy Hour in Austin, Texas back in 2017. She was curious about what we had to offer, and whether or not we were "real."
And then I later got to know her better at an AWAI Bootcamp, and through various interactions about success she was having in her career.
But this year, after reconnecting at an in-person training in Florida offered to our Circle of Success members, she decided to pursue me (and AWAI) as a consulting client.
Says Rebekah, "As a consultant, I can earn more, work a bit less, and save energy for my own creative projects … for me a winning combination."
She executed the entire thing from pitch to project completion to the next steps so beautifully, that I asked her to share her perspective on why she thought it went so well.
I share her take below, and weigh in with my own thoughts on each step too … with the goal of us together helping you use her strategy with your own future clients.
Rebekah's Step #1: Cultivating the Relationship
"Ever since I joined AWAI, I've been an active member of the online community and in person. And the reason why is simple: relationships are at the heart of business. The stronger the business relationship, the greater the chance of working together."
She's 100% right …
When you first reach out to a potential client, don't worry about "trying to land the job." Instead, focus on starting a relationship. And from there, focus on building and cultivating it.
Be professional, provide value each time you connect, and give potential clients easy ways for them to say "Yes!"
Which leads to her next insight …
Rebekah's Step #2: Starting Small
"Even with all that networking, I still started small, with an article for The Professional Writers' Alliance, one of their online publications. I've since written dozens of articles for AWAI over the years, won spec assignments through the AWAI courses I took, and participated in opportunities where I could help newer writers move forward.

"All these small and mid-sized projects built trust, proving both competency and reliability — I always met my deadlines.

"It also meant that over time, I became very familiar with their products and the way the team operated. This gave me the chance to come up with ideas for other ways I could add value."
This step alone could be an entire issue … but here are the two big takeaways …
Start small: You want the chance to show a client what you can do. And smaller projects like articles can be obtained and executed fast.
Leverage the opportunity: The more opportunities you have to work with a company, the more ideas you'll have for providing more value. Remember the long game! You're not looking for a quick grab … but rather a long-term relationship that will continue to yield projects (and paychecks!) for years to come.
Rebekah's Step #3: Approaching the Client with an Offer
Here's where I enter the story … 😉
"Things took an exciting leap forward when, a few months ago, I emailed Rebecca Matter to see if we could take our already-established client relationship to the next level.

"Specifically, I let her know I was available for new projects and even made an offer to help with some UX copywriting.

"Rebecca let me know that the AWAI team would be happy to work with me more, and asked me to suggest some specific ideas.

"With a bit of back and forth, we settled on an area that was a good fit for both of us — an 'audit' of some of their copy. I was thrilled to not just have a new project, but also to have my first consulting gig with AWAI!"
As I've already mentioned, Rebekah had proven her ability and reliability through past projects, which gave her a level of comfort when pitching a higher-level consulting project.
But even then, my advice was to keep it specific and focused, to make it easy for the team to say "yes." She came back with a focused proposal for auditing the copy and content used for our Circle of Success program, since she was a member and knew it was a major focus for us this year.
Once again, she used her insider experience to present something she knew we'd value …
And she leveraged the training she had received when becoming a Certified Site Audit Specialist.
Rebekah's Step #4: Digging into the Project
"With the scope of the project confirmed and all the information collected, it was time to start the audit. I'll admit that at the beginning, I was a bit nervous. I'd never done this specific project before, and there was no exact blueprint to follow."
I should mention right here … I had no idea she had no experience doing this! She presented herself like this was one of many consulting gigs.
Another mini takeaway right there. 😉
Feeling a bit in over her head, she says she separated the project into different tasks to make it manageable:
Carefully reviewing the materials we provided to her
Brainstorming initial ideas
Writing the audit document
Editing and polishing the audit
Rebekah explains:
"I would work on each task for a couple hours each day … and as I put in the time and effort, I grew more and more confident that the suggestions I came up with through the audit could improve portions of the copy."
This is the beauty of looking at things through the mind of an "auditor" … something we teach in all of our Certifications, and in Circle of Success …
You're able to find missed opportunities — something I call blind spots.
Companies are often too close to the marketing and fulfillment to see them … and yet anyone can increase sales or ensure customer satisfaction, so they don't cancel … which all leads to greater revenues for your clients — without writing a single word of copy.
Rebekah's Step #5: Sharing My Insights
"After I had written up my findings, it was now time to present the polished version of the audit to the team. We met on a Zoom call, where I 'screen shared' my Word document.

"I walked them through each section of the document, which included:

Project objectives
A summary of what they were doing well
A summary of what could be better
Detailed findings
Recommended next steps

"Throughout the presentation, I made sure to give plenty of praise and encouragement.

"I also listened and responded to their thoughts and questions. I wanted to make sure they saw me as a team player — someone they would enjoy working with."
Again, so many takeaways here …
But the most important is the final one — being seen as a team player.
Many new writers don't think this way. They see themselves more as a "work for hire." But when you can cross over into being seen as a "team mate" things can really change for you … That's when you can set yourself up to create high-value projects for yourself … whenever you want!
Rebekah's Step #6: Offering Ongoing Services
"The final step in my consulting gig was offering my copywriting services to help implement the suggestions I'd made.

"So, for example, when I suggested some tweaks to an email onboarding sequence, I offered to actually write this section of copy.

"I also planted a few seeds for bigger-picture ideas, which I knew could lead to more consulting work down the line."
This was another critical piece of this perfectly executed gig …
While presenting her findings, she reminded the team at every turn that she could be hired to do the work she was recommending.
Rebekah's Challenge to You …
"I don't share any of this to brag … but to help you understand that earning higher fees as a consultant is possible if you want it.

"But you've got to take action to make it happen.

"So here's my challenge.

"If you haven't landed a client yet, then getting that first client is your next big milestone.

"It doesn't matter if it's a single article or email … just get your foot in the door with a paid writing project. Bonus points if there's 'room to grow' into bigger projects.

"If you already have clients, then think about how you can 'level up' your existing relationships to get more paid projects.

"For instance, could you provide a site audit … help them create an email marketing strategy … or review some of their social media content? Chances are they'll be open to hearing your ideas!

"When you follow these steps, you'll be on the right track to not only being a sought-after writer but also a highly valued consultant — and building the career of your dreams."
Thank you, Rebekah!
I hope you were able to find some takeaways …
Any one of the ideas shared above can help you level up your writing income.
We'll be talking more about how you can move into the "consultant" role in the coming months here at AWAI …
Whether you intentionally take training to get to that level, or end up there through experience, it's a game changer for your income. So, we want you to be prepared, if/when you decide to pursue it.

The AWAI Method™ for Becoming a Skilled, In-Demand Copywriter
The AWAI Method™ combines the most up-to-date strategies, insights, and teaching methods with the tried-and-true copywriting fundamentals so you can take on ANY project — not just sales letters. Learn More »

Published: October 5, 2022