Living the Writer's Life: Chad Myers
How a Natural Self-Starter Found His Groove in Copywriting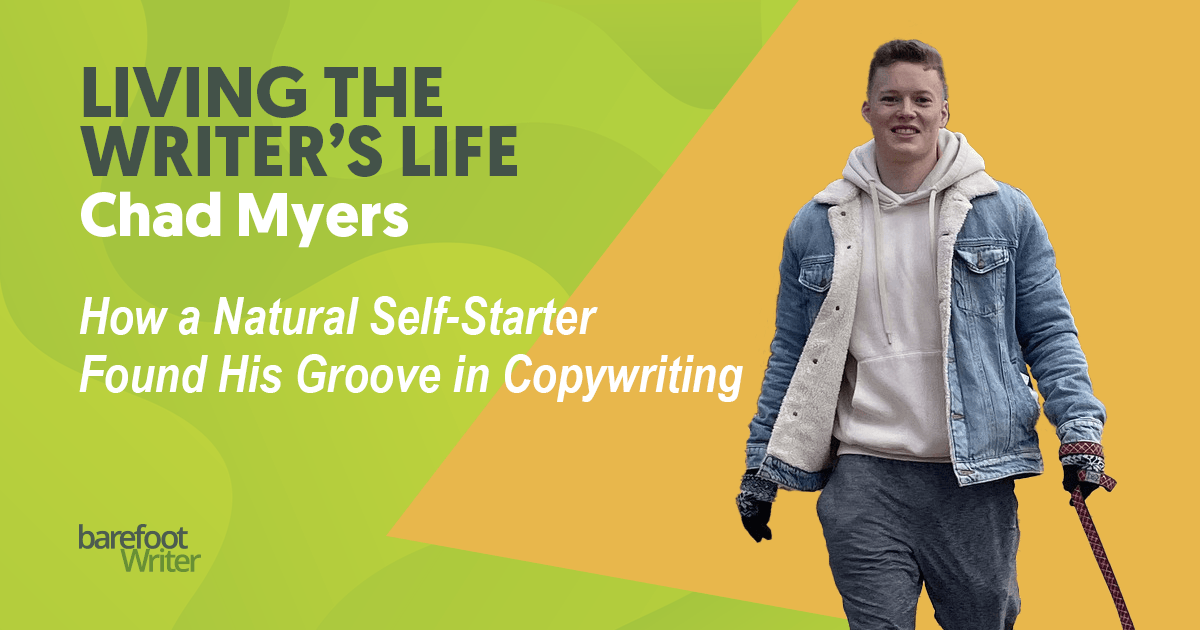 Chad Myers set out for his first job in media with gusto, but he soon realized it wasn't all he'd dreamed it would be. He wasn't long into the disappointment before he came across copywriting and recognized it as the trampoline that could vault him toward his biggest life dreams. Read on to discover how those dreams intersect with writing, and what he's doing to make sure they all come true.
How did you discover copywriting?
In college, I majored in communication and media, and I always knew that I wanted to get into advertising media. I was a big fan of Mad Men, the show on Netflix. It sparked my interest. I wasn't exactly sure what I was going to do, but I knew I wanted to be in that industry. And after college, I was lucky enough to get my foot in the door at a media sales company for television advertising. I thought it was in line with what I wanted to do, but I started to not really enjoy it, as it was really just data entry and booking time slots for the advertisements. So I listened to a lot of podcasts on freelancing and entrepreneurship.
There was one podcast I stumbled upon that talked about copywriting and how it's this super-lucrative skill that you can learn and you can make a ton of money doing it and you can go freelance. I started to buy into the freelance dream, and it really appealed to me as I became a little bit bored at my job.
How did you come across confirmation that this was a world where you could make a lot of money?
I found proof through case studies and things and decided I would go full speed ahead with this. I started to realize that if you just put in the time and effort and learn the skill, you can really make a living online. That dream really appealed to me, because I've always been into trying to start my own thing, start my own groove and not really be tied. I was just very entrepreneurial, like when I tried doing an Etsy store trying to make money selling digital art.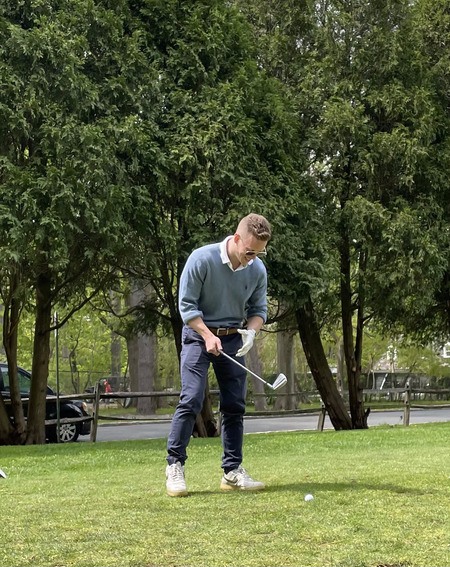 Golf is one of Chad's favorite
activities with friends; here
he plays at the Glen Cove
Long Island golf course.
What kinds of writing did you do initially, and what are you doing now?
Now I'm focusing more on building my own personal brand that I can plug my services under so that I don't have to continue to outreach so much. It's a long-term strategy, and I can maybe have clients come to me instead, which is another piece of advice that people have different opinions about. But that's what I'm trying to do right now because it allows me to write for myself, write my own newsletters and write my own social media copy. I'm practicing on my own and talking about my own interests too.
What does your writing life look like right now?
I still work a job, but I'm really trying to do the long-term route and just get good at the craft and do it for my own business, and then eventually maybe do it for other people or just keep running my own business. Because I think creating my own business is what I always wanted to do deep down. But to emphasize the power of copywriting: I wouldn't even have the awareness of how to start my own business if I didn't understand copywriting.
If you could go back and talk to yourself before you discovered copywriting, what would you tell yourself about the future ahead of you?
I would tell myself, Listen, I know you want to start a massive business. I know you want to create a better life for yourself and not do traditional things and not spend the rest of your younger years working a traditional job.
But listen, don't go out and start trying to do all this stuff. You might learn a lot, but it's going to take you a long time to figure out what you want to do. Learn copywriting instead. Words are everywhere, and learning the skill is going to give you the awareness that you need to start a business or that you need to make money online and create an income for yourself doing anything you like. Basically, learn this, and the clarity will come.
Chad's Living The Writer's Life story was originally published in Barefoot Writer. To learn more about how you can start living your dream writer's life too, click here.
What help do you need to move forward with your version of the writer's life? Let us know in the comments below so we can help guide you in the right direction.