Meet Bootcamp Speaker Terri Trespicio Award-Winning Writer, Speaker, and Brand Advisor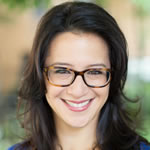 Terri Trespicio, our Bootcamp 2023 Keynote Speaker, works with individuals and organizations to help nail their messaging and engage clients, customers, and fans. Her "Stop Searching for Your Passion" TEDx talk has more than 8 million views to date.
Terri was recently named by HubSpot as one of the "Top 15 female speakers who are killing it" and has been cited as one of the world's leading creatives by Creative Boom magazine. A writer and facilitator certified in the Gateless method for capturing creative genius, she leads workshops to help professionals take their stories and ideas from page to stage and beyond.
She presents at conferences across the country (including AWAI Bootcamps and Summits), and she was rated the #1 speaker at Barron's Top Independent Women Advisors Summit and HOW Design Live.
In this high-energy conversation with Jade Trueblood, AWAI's Director of Training, Terri talks about your unique, important value (don't worry about AI!) … the people who value great copy (your future clients) … and much more.
Terri said, "I want you to leave Bootcamp feeling, 'I totally have this. I'm more in control than I actually thought.'" Her goal is to free up your mind so you're more aware of the things that might be holding you back. She also mentioned that "You, as a writer, get to run your own show," and Terri plans to help you do just that at Bootcamp.
Listen now to hear Terri's favorite piece of advice for you and other writers.
Want to hear even more from Terri? Sign up for this year's Bootcamp here!

The AWAI Method™ for Becoming a Skilled, In-Demand Copywriter
The AWAI Method™ combines the most up-to-date strategies, insights, and teaching methods with the tried-and-true copywriting fundamentals so you can take on ANY project — not just sales letters. Learn More »

Published: August 11, 2023