New Ideas for Success in a Changing World
"From the moment I began AWAI's program, I knew I was learning things that would change my life, and I was right … All my life I struggled to find a way that I could make a lot of money and be happy doing it. AWAI's program did that and more!"
— Paul L.
"Nowhere else are so many insiders' how-to secrets revealed so clearly. Thanks to AWAI, it's quite possible I'll double my income this year!"
— Dave M.,
Professional Copywriter
We're helping individuals like you achieve … Independence … Financial Security … Freedom … by providing you with the tools you need to reinvent yourself!
These personal success secrets can help you …
Start your own home-based business …
Achieve personal freedom …
Start living life on your own terms …
Enjoy a more fulfilling life with unlimited income potential …
And much more!
Retire This Year! … and Still Make More Money Than Most Doctors. You Can Do It — Once You Know the Proven Secrets to Writing a Simple Letter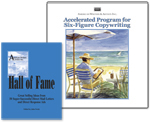 Learn about the fun and lucrative world of writing promotional letters for the $2.3 trillion direct-response industry. These are the same letters you see in you mailbox and get via the Internet every day. They do everything from persuade you to buy a product or service to donate to your favorite charity.
These letters earn millions of dollars for the companies that send them — and anywhere from $40,000 to $200,000+ per year for the people who write them.
10 Reasons AWAI's Copywriting Program
Is The Best You'll Ever See
1. It's jam-packed with proven secrets, tips, and techniques that have sold billions of dollars worth of products through the mail.
2. It introduces you to all aspects of the industry — from what you need to know about the copywriting business … to writing powerful letters … to launching your new career.
3. Our Board of Copy Advisors is made up of some of the most successful copywriters, marketers and direct response company owners in the country. (You couldn't be hooking up with a better group of people.)
4. The AWAI program is entirely hands on. You actually "write while you learn" … so you can begin building a body or work you can use to break into the business quickly.
5. You can complete the program entirely at your own pace. You can take a year or finish in six weeks or less! (And students are constantly telling us how fun it is!)
6. The $10,000 challenge! Everyone who takes the program has an opportunity to write and be paid ten grand for their first letter.
7. Our reputation for producing top-notch writers is unsurpassed. That's why so many of the biggest direct mail companies in the world are constantly coming to us looking for writers.
8. Everything we do is geared to helping you succeed. Because when you succeed — we succeed.
9. Even if you're not interested in becoming a professional copywriter, the selling and marketing knowledge you'll gain from this program will help you in any business you happen to be in.
10. A 100%, no-nonsense, no quibble guarantee. If you happen to decide copywriting is not for you, just let us know within the first 30 days. We'll refund every dime you've paid us.
And, if you don't consider yourself a writer … that's even better. If you can write like you talk and follow some simple, yet powerful techniques, you can create a life where you'll enjoy the kind of personal and financial freedom most people only dream about.
American Writers & Artists Institute is the country's pre-eminent copywriting development organization.
AWAI's Accelerated Program for Six-Figure Copywriting: $497. Get started today for $99.25 with our EZ installment plan.
A Surefire Way to Create a
"Passive" Secondary Income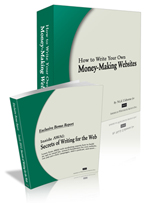 The Internet is ideal for creating passive income. A website never sleeps. It has the potential to earn you money 24 hours a day, 7 days a week.
How to Write Your Own Money-Making Websites is a step-by-step system for creating content-rich, money-making websites. It's a way to make money in your spare time doing something you love that can bring you in a substantial income no matter where you are or what you're doing.
There's No Better Time to Get Started Than Right Now
Someone once said, "The best time to launch your new website is five years ago. The second best time is now."
How true that is.
There's no better time than right now to take advantage of the incredible power and potential of the Internet.
Every day thousands and thousands of people, who share the same passion you do, search the Internet for more information about it. And every day somebody makes money from them.
Why not you?
Once you get your first website up and running smoothly – it's easy to start another … and another … and another. If you spend only four or five hours a week on them you may be able to receive checks totaling a few thousand dollars a month.
How to Write Your Own Money-Making Websites will teach you EVERYTHING you need to know to get your website up, running, attracting visitors, and making money:
You'll know the quickest, easiest, and cheapest way to set up a professional-looking website.
You'll know how to choose the best, most traffic-friendly topic for your site.
You'll know how to pick a domain name for your website that will attract the most visitors.
You'll know what each page on your site needs to do to maximize your profits.
You'll know how to write copy search engines (and your readers) love.
You'll know how to write and structure a home page that grabs people's interest and puts them in a "buying mood."
You'll know how to attract and keep "loyal customers" by keeping your website fresh and exciting.
You'll know how to use internal site links to dramatically improve your search engine rankings.
You'll know where to find the best and highest-paying affiliates. (These guys are looking for websites like yours to list their ads on!)
You'll know how to make even more money with Google Adsense and other forms of site advertising.
You'll know the seven things experts do within 48 hours of publishing their website to bring more visitors to their site faster.
You'll know how to track your site's performance and how to use the information to make your site better.
And much, much more …
Your Source for "Barefoot Writing" Gigs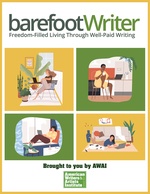 The Internet single-handedly revolutionized the way the whole world does business.
At AWAI, we've helped a lot of people eager to leave the work-a-day world move up to very different (and far more rewarding) lives as successful freelance writers.
These folks no longer have jobs in the traditional sense: They have no bosses, no commute, and no place to be at any given time.
Many are retirees and stay-at-home moms who now are able to generate a substantial extra income in just a few hours a day.
They make their own schedule … and leave plenty of time for things they enjoy most: family, hobbies, travel, you name it.
And many tell us they're making far more money than they ever did working – anywhere from $50,000 on a very part-time basis … to upwards of $400,000 and $500,000 a year!
Here's a way for you to join them … to "ease in" to the writer's life without having to make any kind of big time or financial commitment.
It's an invitation to join a very special group of people who can help you learn what it takes to earn a six-figure income as a writer, while enjoying the kind of lifestyle most people only dream about.
We call this group The Barefoot Writer's Club, and as a member you'll learn how to make a great living writing, whether you're:
Helping someone land a better job more quickly as a resume writer
Working with a worthy charity to raise money
Selling your own words and expertise as a self publisher
Driving new customers to a business's website as an expert web writer
Highlighting exciting destinations as a travel writer
Writing ads and "story style" letters that sell directly to customers as a copywriter
You can become a Barefoot Writer. Your journey starts today.
The Barefoot Writer: $99.00 $49.00
For More Information, click here …
"Copywriting 2.0"
The Fastest Way to Break Into the
HIGHLY LUCRATIVE World of Web Copywriting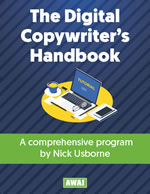 Writing copy for the web is NOT the same as writing traditional direct mail copy. There are marked differences, and that is precisely the reason companies are willing to pay so much for a Web copywriter … and why some websites convert visitors into cash, while others do not.
That's why AWAI teamed up with web copywriting expert Nick Usborne to create Copywriting 2.0: Your Complete Guide to Writing Web Copy that Converts
Nick's been a copywriter for 30 years now, 11 of which he's dedicated solely to online copy. He's worked with, and has been a Web-copy consultant to, companies like Microsoft, Yahoo, Disney, America Online, and The New York Times.
In this program, Nick shows you how to dramatically improve any web page, email campaign, or e-newsletter.
Section 1 focuses on what it takes to be a successful online copywriter, as well as on the nuts and bolts of good Web copywriting. This section will give you a solid foundation for becoming an in-demand, highly paid online copywriter.
Section 2 is where you learn Nick's proven strategies for creating Web pages that sell. Master this section, and get ready to command fees of $1,500, $2,000, even $3,000 … just for writing a single 500-750 word Web page!
Section 3 shows you how to earn even more money by writing materials your clients are going to keep on needing … not only a constant stream of copy that they can test, but also emails, e-newsletters, and blogs to help them stay in touch with their customers and prospects. With ongoing assignments like these from just a handful of clients, getting to six figures can be a snap.
Section 4 gives you Nick's "million-dollar" tips, techniques, and insights for writing blockbuster Web copy – the edge Fortune 500s are looking for when they hire Nick.
And when you're done –you'll be able to confidently present yourself to any company, large or small, as an expert who can transform their online presence, or make money from your own online business than you ever thought possible.
Copywriting 2.0 Your Complete Guide to Writing Web Copy that Converts: $497
For More Information, click here …
Imagine … Making $30,000 … $50,000 … $70,000 … Even $150,000 Per Year Or More – In Just a Few Hours Per Week – With a System That's As Simple As Turning On Your Computer …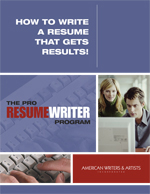 The Pro Resume Writer Program gives you everything you need to start and run a successful spare-time resume preparation service. The program quickly takes you from dreaming about starting your own business to doing it, with four easily downloadable PDF files including:
How to Write a Resume That Gets Results (including your exclusive client questionnaire)
Complete Guide to Marketing Your New Business (including sample ads you can use to get clients immediately)
Step-by-Step: Starting and Running Your Own Business
BONUS section: Successful Techniques to Expand Your Business
With our detailed guidelines, writing resumes is fun, quick, and easy. You can complete most assignments in 45 minutes to an hour. If you charge a client just $100 to prepare his resume and it takes you an hour, you're earning $100 an hour.
There will never be a better opportunity to have the kind of part-time income you've always dreamed about. There are thousands of people in your area that need a resume — to get their first job … to get a better job … to make more money … or to get that dream job.
The Pro Resume Writer Program: $99
Picasso Need Not Apply.
Here's Your Opportunity To Make $100,000 A Year
Or More As A Desktop Graphic Designer …
Best of All, You Don't Even Have To Be Able To Draw A Straight Line!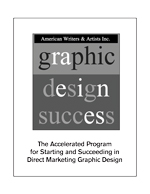 Learn about the lucrative world of designing promotional letters for the $2.3 trillion direct-response industry. These are the letters you see in you mailbox and get via the Internet every day. Designing these letters is fun and easy once you know the proven secrets of direct-mail design.
AWAI's Graphic Design Success is the only comprehensive program about direct-marketing design that shows you:
The five common elements of a direct-mail package and how to design them for maximum effectiveness. (The more effective your design, the more you'll get paid!) These include the envelope … the "lift" note … the letter … flyer … and order form.
How to make a page's layout "come alive" and grab your reader's attention. (Probably one of the most important skills you'll have as a graphic designer.) Plus, you'll learn four ways to increase the odds of getting your layout read.
"Wrong" vs. "right" examples – and plenty of 'em – that illustrate what works best and what to avoid. Once you see good and bad design side by side, the right way becomes obvious and second nature to you.
The right way to design response-boosting elements like bullets, pull quotes, bursts, and Johnson boxes.
Eight key elements of winning graphics – and the biggest design mistakes that can sabotage even the best sales copy.
How to arrange copy and graphics on a page … add photographs, charts, and tables … and avoid the most frequently made color mistakes.
The secret to stirring your reader's emotions with typefaces, color, and graphics to get him in a "buying" mood.
And much more …
And you don't need any artistic talent or ability. In fact, you don't even have to be able to draw a straight line. Because this little-known segment of the graphic arts market happens to be the easiest. All you have to do is point and click with your mouse.
By the time you finish this program, you'll have real-world techniques you can use to design almost any project that comes your way. Best of all, you'll know more about good direct-marketing design than 99% of the other freelance graphic designers out there.
AWAI's Graphic Design Success: $290 … or start today for just $29 with 10 additional payments of $29 each.
For More Information, click here …