Nine Simple Ways to Build a Copywriting Portfolio That Gets You Hired!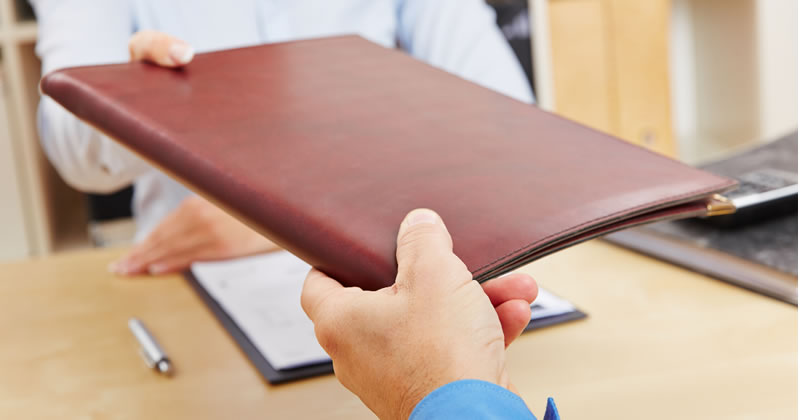 Unsure of how to start to build your copywriter portfolio? It's simpler than you think. Discover nine ways to create copywriting samples that gives your prospective clients confidence in your writing ability and gets you hired.
You've probably heard the age-old question, "Which came first, the chicken or the egg?"
Many aspiring copywriters have a similar quandary about their copywriting portfolio:
How do you get samples without getting hired, and how do you get hired without samples?
Keep in mind, a writing sample has one primary purpose: to show prospective clients you actually know how to write effective copy.
Will every client ask for samples? Most new clients will. Especially if you don't have any other proof of your capabilities, like testimonials posted on your website or a list of previous clients to share. If you're a new copywriter, you most likely have neither of those yet.
Even if you do, a client who is not familiar with you will probably want to see a sample of your work before hiring you.
But here's the good news.
You Don't Need a Lot of Samples to Build a Copywriting Portfolio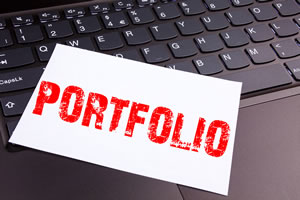 New copywriters only need a few well-written
samples to start their portfolio.
Many writers picture a portfolio as a giant binder bulging with writing samples that gets hauled around when meeting clients.
Or a slick page on their website with dozens of examples of the work they've done for big-name companies.
But the reality is, you only need a few samples. And who you wrote them for doesn't even matter …
Clients just want to see an example of your writing – that's all a sample is – so they can gauge whether or not you understand copywriting principles and can write effectively.
They are far too busy to wade through a pile of writing samples. And they don't need to …
It's easy for them to tell in a matter of minutes whether you are a fit for them.
They will usually only ask for a sample or two.
So, which copywriting samples should you send?
Simple.
Send the ones that best match the client's project. For example, if the project they're considering hiring you for is writing emails, send email samples you've written.
If you don't have a sample of the same type, the next best thing is to send a sales letter you've written. That will have most, if not all, of the necessary copywriting elements in it. The client just needs to see a sample of your work that demonstrates good copywriting techniques.
Another strategy, recommended by B2B expert Steve Slaunwhite, is to put together a portfolio of related writing samples. "For example, you may not have written a white paper before, but you may have written an e-book or long-form magazine article. Those projects are comparable in length and style and require similar skills, such as research, interviewing, and clear writing and storytelling."
Or, if you have knowledge, experience, or insights into your prospect's industry, you can send a writing sample which shows you understand their market, lingo, and target audience.
Keep in mind what they are trying to discover … Can you write copy for them?
And it's easy to prove you can when you use these tactics …
9 Ways to Create Samples That Build Up Your Copywriting Portfolio and Get You Hired!
Now that you know you only need a couple of samples to get hired, here are nine different ways to produce copywriting samples that demonstrate your writing ability.
Complete a Course Exercise


A copywriting course like AWAI's Accelerated
Program for Six-Figure Copywriting will teach
you the copywriting principles that clients are
desperately looking for. And by completing
the exercises, you'll have excellent samples
to add to your portfolio.

Many copywriting courses (such as The Accelerated Program for Six-Figure Copywriting offered by AWAI) include a copywriting exercise. If you've completed such a course, then you have a sample already.

Even better if it has been reviewed by a working copywriter and you've gotten feedback on it. If your copy hasn't been reviewed, then have some of your copywriting peers review it. You'll end up with a stronger sample to show prospects.

As writers, we're not often the best judge of our own work, so letting others review it is good practice. And this applies not only to your samples, but for any writing you do!

Do Spec Assignments

Some companies will ask you to write "on spec." This is a lot like an actor going on an audition. Companies ask writers to submit copy for a specified assignment. Then they select the writer that fits their need at the time.

Any specs you write make great samples for your copywriting portfolio.

Now you might be thinking, is it really a good sample even if I'm not selected for the job? Not getting hired doesn't mean your writing isn't good, it just means that other people are a better fit for the project they have available.

And it's not uncommon for writers who do copywriting Spec Assignments to be contacted by the company months later … "remember that spec you wrote for us, we'd like to hire you."

Reach Out to Your Network

Talk to your friends, family, co-workers, and people you do business with (hair stylist, chiropractor, accountant, owner of the coffee shop, etc.) and tell them you're a copywriter. You'd be surprised how many people know someone who runs their own business or has contacts in a business you could write for.

If it is a small business where the owner is also responsible for the marketing, they may not know much about copywriting and don't have time to focus on it. That means more than likely they will be very receptive to your help. And if you have an existing relationship with them, the conversation about writing copy for them will be easier.

Work for Free

This is a hotly debated topic. On one side, some people say you should never work for free because it undervalues your skills and the profession. Others believe that it's ok for a new copywriter to take on a few free assignments to gain experience, build their portfolio and come away with client testimonials (be sure to ask for them.)

You can also consider bartering your writing for a return favor or free or discounted products and services.

Use a contract to stipulate that the fee is zero (or in consideration of other forms of payment) and that you get to use the sample for your own marketing. If a testimonial is part of the deal, put it in the contract as well.

It's a good idea to make it clear this is a one-time offer so they don't expect you to work for free next time.

Write for a Civic, Nonprofit, or Other Group

Churches, civic clubs, schools, nonprofits, fundraisers, animal rescues, and other groups have marketing needs. After all, their goals could be to raise awareness, raise money, or get people to attend an event that benefits their organization. Most have a website that could probably use some improvement, a newsletter that needs articles, or a blog that could use more posts.

Some groups have budgets to hire professionals, but a lot of them have limited funding so they just do it themselves. These groups will be receptive to your offer of help, especially if it doesn't cost them very much.

And in turn, you get a sample for your copywriting portfolio. Find a group whose cause you support and do some writing for them. It's a win-win.

Polish Your Copywriting Business Marketing Materials

Many new copywriters overlook their own business as a source of samples.

Your professional website is filled with several pieces of sales copy and content. If you have a blog, that counts as a sample. Do you have a lead-generation magnet prospects can opt in to receive? That's a copywriting sample, as well as the landing page that goes along with it. Do you send out prospecting emails or a monthly newsletter? Do you appear high on the search engines? That's proof of your SEO capabilities.

The truth is, your website may be the first sample your prospects see before they even talk to you. Make sure it's a powerful example of your copywriting skills.

Share Other Work Experience Samples

You can also include writing samples from your current or prior employers …

Maybe you've written press releases, sales letters, blog posts, articles for industry publications or the company magazine, convention materials, or newsletter pieces that worked well.

As long as they're relevant samples that demonstrate the quality of your writing, you can include them.

Write about a Product or Service You Use

Do you use a product or service you love so much that you tell everyone about it? Write some sales copy, an email, or an article about it!

This is a great way to create a sample because you're already very enthusiastic about it, which will come out in your copy.

The sample doesn't have to have been published. You can even add the disclaimer that this is sample only, not a published piece.

Being passionate about your topic will help you create a solid sample for your portfolio.

Rewrite Copy for a Product or Service of a Prospective Client

This idea targets a company you'd like to work with. Choose one of their products or services. If you know they are looking for writers for a specific product or service, choose that one.

Find some of the copy they're currently using. It could be their website copy, a landing page, product description, sales letter, or an email. Rewrite that copy, making it better.

Send them the sample with a professional cover letter saying you have a different approach or new idea for the copy that you think would work well. Of course, you'd never say their existing copy is bad or needs improvement. Instead, focus on your enthusiasm for their product.
Presenting Your Copywriting Samples So You Get Hired
Now that you have your copywriting samples created, it's time to present them to your potential client.
Start out by creating a professional-looking document that introduces your sample. (You'll do one of these for each of your samples.)
At the top of the document, put your business information … name, email address, phone number, and website. If you have a logo, you can put it on there too.
Introduce your sample by briefly describing the following:
Purpose of the piece: "This email is for a lead generation campaign."
Audience of the piece: "The target audience is prospects who are unfamiliar with the product." (You could include basic demographic or psychographic information, but nothing proprietary.)
Constraints or specific requirements of the piece: "The client stipulated specific language that needed to be included."
Describe the context of how your sample was used so the client understands how your copy met the needs of the campaign. Make this description concise … just enough to say what it is. Your sample will immediately follow below the introduction.
Your client will be more impressed by this professional sample presentation than they will by a raw sample titled "Sample for [business name here]."
Now It's Your Turn
As you get more writing experience (and more samples), update your copywriting portfolio with your best work. Keep it at the ready so whenever you're asked, "Do you have any samples you can send me?" you can answer with confidence, "I sure do and I'll send them to you right away."
There's always a prospective client somewhere waiting to see samples from your copywriting portfolio. When you build a solid portfolio, you'll impress your prospective customers, and increase your odds of hearing, "You're hired!"