Build a Rewarding Career Writing
Persuasive Grant Proposals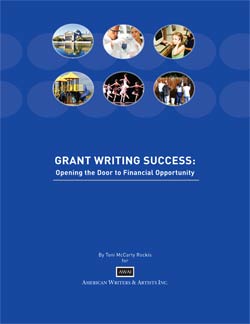 A grant writer specializes in seeing a problem, and then writing a proposal document to persuade people with money to use it to solve that problem. And, you'll find that with more than $500 billion available in grants each year, matching organizations that need money to funders who are giving away money is both profitable and fun.
With so many funds available each year, there is a huge demand for skilled grant writers who know how to write clearly, concisely, and persuasively. That's why AWAI has teamed up with Toni Rockis, a grant writing expert with over 30 years of experience and millions of dollars in successful grant proposals in her portfolio, to create a comprehensive guidebook.
In Grant Writing Success: Opening the Door to Financial Opportunity, Toni outlines the specific and structured procedures required for writing and submitting successful grants. And, she shares all the contacts, insider tips, and "secret shortcuts" you need to be successful at grant writing, including:
How to get your client's request for funds in front of the right funder, improving your chances for success ten-fold, right from the start …
The role the 12 key components of a grant proposal play, and how they're weighted when a grant proposal is scored
The Ultimate "Number One Rule" of grant writing
Why your proposal's introduction can make or break your grant request — and how to use very basic 'rules of copywriting' to ensure success …
How to write the ultimate "Need" statement with the four key elements that should be included in every proposal you write …
Getting (and keeping) clients … strategies for never running out of clients or funding proposal opportunities …
Must-have websites when it comes to finding and securing state and federal government agency grants …
How to structure your compensation as a grant writer so no organization can ever turn you down …
10 common grant writing mistakes — and how to avoid them …
14 characteristics of a strong proposal …
20 things every proposal must do to guarantee you and your client's success …
Proposal "checklists" you should follow, to make sure you never miss a crucial element …
And much more …
Grant Writing Success: Opening the Door to Financial Opportunity is a packed with samples from winning proposals, step-by-step guidelines, and detailed templates. It shows you how to set up your grant writing business … teaches you the simple skills you need to know … plus the added "tricks of the trade" that gets your work top priority at thousands of agencies and foundations across the country.
Whether you choose to work full-time or part-time, you will have the knowledge and information you need to help the thousands of organizations out there that depend on grants for their very existence. And, you will be paid well for helping them achieve their missions.
Embark on a journey toward professional freedom, financial independence, and a great deal of personal satisfaction … join the highly-rewarding world of grant writing.
Grant Writing Success: Opening the Door to Financial Opportunity: $497.00
For More Information, click here …