Keep your copywriting career ahead of the curve


The Richest Resource of Copywriting Secrets for Today's Market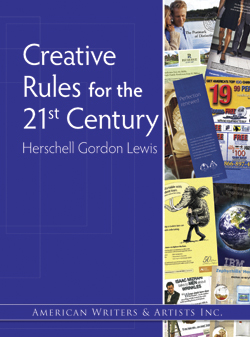 239 pages packed with secrets, insights, tips, and strategies from industry legend Herschell Gordon Lewis
Good copywriting is a moving target … that's because people react to copy differently from one generation to the next … even from one year to the next. If you want to drive response through the roof, you need to understand everything it takes to write effective copy in today's market.
That's what Creative Rules for the 21st Century gives you. AWAI teamed up with Herschell Gordon Lewis to create this definitive guide to the latest, most up-to-date techniques, formulas and rules for writing powerful, persuasive copy — plus a wealth of Herschell's insights that will elevate your copy to A-level!
Part of what's made Herschell such a success through the years is his renowned ability to adapt to the current market. He keeps his finger on the pulse of the marketing world—he knows what's changing and why and he brings those insights into his copy … and now he's sharing them with you.
In this comprehensive, 239-page program, industry legend Herschell shows you valuable insights that can benefit your copywriting career, such as:
What's working on envelopes today … and what not to say.
Why you shouldn't use "Dear Friend" anymore – and 14 suggestions of what to use instead.
Three little words that immediately melt the reader's objection to a statement he might otherwise reject.
What never to put on a lift note – a common mistake that destroys its impact.
Six appeals to use when writing to seniors.
12 "no-no" words to avoid when writing a fundraising appeal … and 12 "power words" that get donors to respond.
Why the staple of sales letters for the last 50 years — the Johnson Box — is dead … and what to use instead.
Rules for Internet copy … what not to use in email subject lines … and a simple device to boost response in email marketing copy.
Something you should never do in direct-response print ads or direct mail … but which can help your email message bypass the spam filters.
Why "20-year guarantee" out-pulled "lifetime guarantee" in a test … why you should never use asterisks or footnotes in sales copy … and what works even better than facts when you have to back up a claim.
And so much more!
In Creative Rules for the 21st Century, Herschell shows you how to be in command of every word … every nuance … and every reaction by your reader. And he gives you dozens and dozens of examples to boost the power of your copy.
This is the most timely, up-to-date copywriting resource you'll ever see!
Creative Rules for the 21st Century: $299.00
For More Information, click here …