How to Write an Ebook

Be Ready to Publish in 10 Simple Steps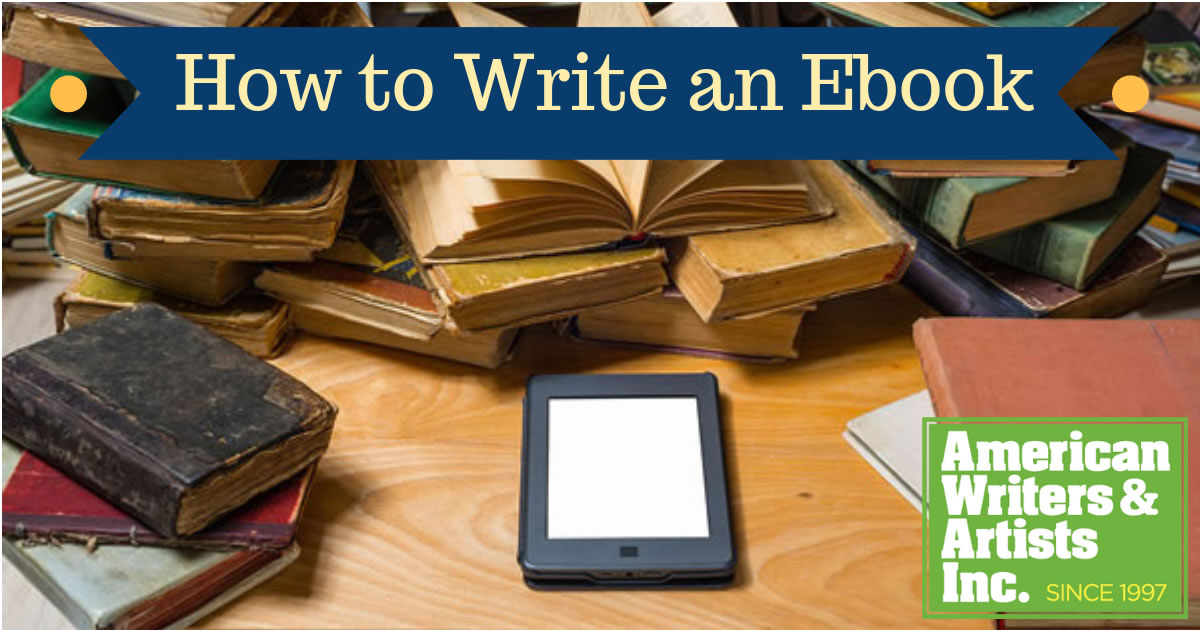 These step-by-step instructions will walk you through our proven 10-step process on how to write an ebook and take the task from "daunting" to "doable." Everything from help choosing a good topic, to writing and editing … nothing is left in doubt.
The idea of writing an ebook can be incredibly exciting at first. Imagining the finished product can really light you up to get started …
Until you sit down and think about how to do it.
Then the overwhelm might set in. How are you going to go from just an inkling of an idea — or maybe even no idea at all — to a finished product?
Like the old cliché about eating an elephant (the poor elephant!) … and, like most other things in business and in life …
Writing an ebook is easiest if you take it one step at a time.
We've broken it down for you below. If you need deadlines to keep yourself on track and to keep making progress, you can set them for each of these steps.
10 Steps to Writing Your Ebook, Even If You Have No Idea Yet What It's Going to Be About
Commit to writing it.


Be sure to set aside time each day
to work on your eBook.

This sounds straightforward, and it can be. But, in the face of work obligations and personal commitments that allow for little free time in your daily life, you might tend to let projects like this slide.

Don't let this happen with your ebook. Make a commitment to yourself that you're going to write it.

Remind yourself that it's well worth it. Think of all the purposes it can serve! Your ebook will be:

The ultimate business card …
A tangible, shareable indicator of your expertise …
An inexpensive way to build yourself a high-quality email list …
And so much more.

Plus, selling your ebook can be a major source of passive income. Once you publish it, you won't need to do anything else but collect your earnings.

Imagine making money while you're on vacation at the beach … or hanging out with your kids … or even sleeping!

Choose your topic.

Great, you've decided to write an ebook! Now, what are you going to write about?

You may already be raring to go with your answer. If a particular topic really speaks to you, go for it! Move forward to the next step. It's much more fun to write an ebook (or anything, for that matter) when you're enthusiastic about the subject. The entire process will happen more quickly and easily.

If you don't know yet what you want to write about, spend some time brainstorming. Here are a few questions to ask yourself to help you choose a topic:

What do you do well at work?
Which aspects of your work are you most interested in?
What did you do for work before your current job or career? What did you do before that, and before that?
What subjects interest you outside of work, even if you don't know much about them?
What are your hobbies?
Which hobbies or other activities are you good at?
What do your friends and family think you're good at?
Have you ever received any sort of awards or recognition? If so, what was it for?
What did you study in school?
What did you most enjoy studying in school?

You may notice a couple of recurring themes here — things you like and things you're good at. If there's anything that fits both themes, even better!

Again, writing your ebook will be faster and easier when you're writing about something you already have experience with.

Bob Bly goes into more detail with the four things you need to consider when choosing your ebook topic …

Still need some inspiration? Check out our list of 1,010 ebook ideas.

Ebook Writing Tip

Be interested in your topic.

You're going to be spending a lot of time creating this ebook, so choose a compelling topic that will hold your attention. Plus, your interest in the subject will come across to your readers and make the ebook more enjoyable for them.

Verify interest in your ebook topic.

By now, you probably have a few potential ideas for what your ebook should be about.

Now it's time to see whether other people agree!

You're going to narrow the field by gauging whether other people would want to read about your possible topics.

Start with some keyword research. Think of a few relevant keywords for your subject and then evaluate them. A lot of tools will give you some basic information about your keywords for free, like Google Analytics and Google Trends.


Far more than just an ecommerce site, Amazon
also serves as an incredibly useful search engine
for ebook authors and other writers.

If your findings are promising, keep going by researching the same keywords on Amazon.com to see if there are a lot of books on your topic. If there are, there's an audience for it.

Do the books on your topic have a lot of reviews? It's a good sign if they do — it means the audience is engaged.

Then consider whether there's a "hole" in the information about your topic. Is there something about the subject that isn't currently being addressed by the other ebooks out there?

You'll be doing a huge service for your readers if they're looking for information on a certain topic and you're the one to provide it to them …

Which could translate into huge sales!

Finally, review recent articles and publications about your subject. What are they saying about it?

Ebook Writing Tip

Choose an evergreen topic.

An evergreen topic is one that will always be of interest to readers.

Why does it matter? Because trends come and go, and news doesn't stay new for long. Ebooks on current topics are great at the time they're written, but once those subjects aren't hot anymore, your readers will taper off.

But, with an evergreen topic, there's no shelf life. Your ebook will stay relevant for far longer, and you'll be able to make more passive income from it than you would from a time-bound topic. Plus, you won't need to update it very often.

What kind of evergreen topics are most suitable for ebooks? "How to" books, where the author teaches the audience, are the most popular.

Now, using all the information you've gathered, make a final choice about your topic and then get ready to move on to the next step!

Outline your ebook.

Now it's time to write your outline. This will keep you organized and on track when you start writing, and it'll help prevent you from forgetting anything you want to include.

Spend some time at this. It's better to come up with too many ideas than too few. If your ebook starts to become too long, you can always decide to skip some of the subtopics and write separate ebooks for them later.

"Remind me," you're thinking. "What should I include in my outline?"

Based on your preliminary research on your topic, discuss different points you know the audience wants to read about. What's already popular?
Answer common questions and look for the "holes" in the information that's already out there about your topic.
Write about a few aspects of the topic you enjoy, find interesting, and/or otherwise think are important.
Can you interview someone who would be a member of your audience? If so, ask them what questions they have about the topic and then add those into your outline.

Organize your outline.

You've put together a list of all the raw material that's going to make it into your ebook.

Now it's time to organize everything.

Here are a few common options to keep in mind when you're deciding how to arrange your ebook:

A step-by-step process.

This is a popular format for many instructional ebooks and articles that explain how to do something. It makes it easy for the reader to look at the subheadings and gauge where they are in the overall process of learning what you're teaching. The steps can be numbered, but they don't have to be — it's up to you.

A list.

This is another common way to arrange an ebook. It's similar to a step-by-step process, but the items on the list don't need to be done in a particular order.

Alphabetically.

Remember when you used to have to do research in a printed and bound encyclopedia? That list of alphabetized (yet unrelated) subjects gives you a rough idea of what your ebook will look like if organized this way. This format is good for giving readers a broad overview of your topic.

Questions and answers.

It's easy to develop an ebook that answers common questions about your topic … and it'll be even easier if you're already known as an expert on the subject.

Even if you're not, you can still write a question-and-answer ebook after conducting research and interviews.

Create your table of contents.

Once you've formatted your ebook and put your subtopics in order, it's time to create your table of contents.

Every ebook should have a table of contents, even if the ebook is short and deals with a narrow topic.

The table of contents should be as thorough as possible. Include both chapter headings and subheads. These should serve as signposts that guide the reader to the material they want to know about.

You might be thinking, "But I want them to read the whole thing!"

Of course you do.

But, you want them to decide to do that on their own. If you force the reader to read your ebook by burying the information they're looking for, they'll just be annoyed …

And, they might decide to stop reading altogether.

But, a detailed description of the contents will help them find what they're looking for quickly and easily. Your ebook will have more value to them because of it. They'll be more likely to read beyond the parts they need to, and they'll be more likely to recommend it to others.

You have a lot of flexibility while creating the table of contents for your ebook. Just make sure everything is arranged in the right order and that the contents include your keyword (plus other synonyms for it) being used in a natural-sounding way.

Ready to start your ebook? Bob Bly can help with his program, The Ultimate Guide to Ebook Writing Success.

Ebook Writing Tip

Stay on track.

Once your table of contents is in order, write a few sentences under each heading and subheading about that particular topic. This will help keep you from straying too much from the topic at hand. It'll also help you see if you're being too repetitive somewhere.

Research your ebook.

The next step in writing your ebook is researching it. Chances are you've already got a lot of useable source material from when you were choosing your subject. But, if you can see from your table of contents that you need to find more, now is the time to get it done.

Start with your favorite search engine and then move on to Amazon. You'll also want to check out community forums and social media pages about the topic.

For offline research, conduct interviews as much as possible. Ask for referrals and seek out members of your audience through the forums and social pages. You can also post on classifieds websites like Craigslist.

If you have a bookstore near you, go there to see what books and magazines they stock that can help with your research. Check for the same things at your local library, too.

Write!

When you started researching how to write an ebook, you probably didn't expect writing to be the 8th item on a list of 10. But, by getting everything else done first, you'll have made this part of your project much easier on yourself.


After proper preparation, writing your eBook
will come easily.

The "writing" part of your ebook will be anticlimactic.

Since you already know your topic, you won't experience writer's block! And, you can write your ebook by simply building on your table of contents, if you want.

Remember, it's important for your ebook to include your keyword(s) throughout and in a natural way. But, don't overuse them or force them into sentences that sound awkward. And be sure to use synonyms to keep your writing interesting and avoid too much repetition.

Ebook Writing Tip

Remember these two goals for your ebook:

1) Your primary goal is to answer the audience's questions — including the ones they don't know they have.

2) Your secondary goal is to make yourself look like a professional and competent expert.

Everything you write in your ebook should support these two goals. If something doesn't, then change or delete it.

Edit your ebook.

Congratulations — you've just finished writing your ebook!

But, you're not finished just yet …

It's time to edit your ebook.

Now, if you have a budget, you might consider hiring someone to edit your work. It's easier for someone else to be more objective about it. Plus, writing and editing are two different skill sets, so a professional editor might do a better job than you can.

If you don't want to hire an editor, you can offer to trade favors with someone else who's writing an ebook — you edit theirs, and they edit yours.

Or, you can do it yourself. If you go this route, wait a few days to get started. That ensures you'll look at your copy with "fresh" eyes. Not only is it easier to feel more objective about your work after a few days off, but you'll be more likely to catch mistakes.

Use tools like your word processor's grammar and spell check. Check your readability score online to be sure your writing isn't too difficult for an average reader to follow along with. And use free tools like the Hemingway App to help you create more powerful sentences.

Celebrate.

You've got an official ebook — a finished, edited, professional piece of work. Take a moment to pause and celebrate … treat yourself!

But, don't take too long …

Because you're still not finished. You still need to package and release your ebook. Don't worry, we've got it all covered in our article, How to Publish an Ebook.
You … a published author!
Ready to write your ebook? Let "America's Top Copywriter" and ebook writing expert, Bob Bly guide you step-by-step through the entire process from choosing a topic to distributing your finished product. Click here for all of the details about his program, Ebook Writing Success.