This Week from AWAI …
Doors Close TODAY!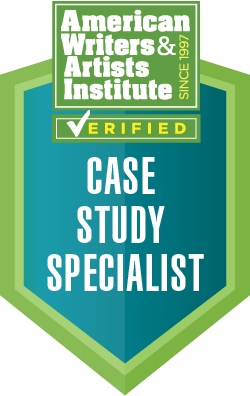 Time is running out to enroll in the upcoming Case Study Certification with Casey Hibbard.
In just four weeks, you'll learn how to write two-page customer success stories (i.e. case studies) that pay $1,500 a pop!
This is one of the best ways for new writers to gain serious traction and get paid very well for their writing.
So if you've been stuck or are ready to ramp up your writing income …
… you don't want to miss out on this one!
Learn More.
"Instant Pro Pack" for beginners — Huge Free Gift!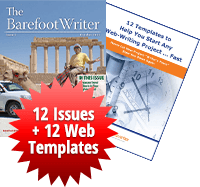 Imagine if your next paid writing gig was as easy as filling out a quick form.
Now it can be!
With our 12 web-writing templates, all you need to do is open up the project type … follow our simple instructions … fill out the form … and you're done!
You'll have a fully finished project that your client will love.
All of them (worth $499) — are yours FREE today … when you agree to a full-year Barefoot Writer magazine subscription for just $11.
Pick Up This Amazing Free Gift Here!
Browse Recent News
Join us for this FREE webinar to discover three easy yet important freelance writing projects clients need now — and how to quickly jump in.
Clients are looking for copywriters with this must-have writing skill right now. Are you ready to help these marketers out?
Ben Phillips has worked with some of the top companies in the industry, and his willingness to continue building his skills has positioned him perfectly for a six-figure career. Check out some of Ben's top advice about working for agencies and using LinkedIn to find clients.
A guide to starting a freelance writing career in just five days.
Freelance writers are more in-demand than ever. Here's how to start your career.
SEO is a cornerstone of digital marketing. Clients expect copywriters to have this skill.
After leaving his career as a teacher, Tim Matassa jumped into his first Bootcamp ready to explore new opportunities. Now, four years after his first interview with Barefoot Writer, we catch up with Tim to learn how things have progressed. He shares what it's like to work with legendary copywriter Mark Ford, how he managed to write a direct-response letter that topped a long-running winner in number of sales made, and how he's learning to put his teaching skills to good use helping new copywriters.
Just released, the January issue of Barefoot Writer! Check out these simple steps to help you create a "new you" mindset, plus write stronger, more powerful copy, and build your skills and income with a little-known "super hack."
AWAI's revolutionary copywriter training method combines up-to-date strategies with tried-and-true copywriting fundamentals for the projects marketers need help with today.
If you plan to write for web clients as a copywriter, this is a must-have for your self-marketing strategy.
Each year, Rae Brent makes it a priority to travel halfway around the world three or four times to attend marketing events in the United States. She comes all the way from Brisbane, Australia, to advance her skills and allow time to catch up with "mates in the States." This dedication is just one example of the passion Rae has for "bringing out her best" in life.
Allison Comotto was a senior college student looking for a way to make money with storytelling. Now, three years later, she is a six-figure financial copywriter with Stansberry Research and has her first $4 million promotion under her belt. Discover why she loves working in-house so much and whether financial knowledge is really necessary for writers hoping to break into the niche.
A cancer diagnosis back in 2007 led Matthew to look for a plan B if he couldn't return to work. Since then, this "miracle" writer has won his battle against sickness and is working as a copywriter in the alternative-health niche. You'll enjoy this inspirational interview with video specialist Matthew Troncone.
You've seen her smiling face on AWAI's Facebook Live sessions. Now here's your chance to learn more about successful copywriter Bonnie Caton. This in-house copywriter uses her writer's life to fuel her passion for travel and photography — living in exotic places like Buenos Aires and Bali for long stretches of time.
Just released, the December issue of Barefoot Writer! Our Featured Interview this month is with Rachel Mazza who writes about overcoming head trash and "thought hijacks" that steal your writing confidence away. Find out how to stay positive and move forward with a heck of a lot of writing wins.
Ann Jamieson's dream of traveling to Turkey came true when she bartered her writing for a free tour. Since then, she's been building her business within the equine, travel, and alternative-health niches. Discover how this longtime horse enthusiast has managed to turn her passions into writing gigs so she never has to "work" again.
Nick Usborne announces the 3 winners of the $200 prize from our The Writer's Life writing contest about the SpringDawn Air Purifier, and offers some valuable copywriting tips.
If you want to be a B2B copywriter, you must know how to write emails for clients
Kristen Stelzer did a surprising amount of writing as an engineer — constantly persuading politicians or stakeholders to buy into a project. She was selling without realizing it! That's why copywriting felt like such a natural switch. Today, this Maryland mom enjoys more flexibility and time for her family with a new career.
Before life as a freelance writer, Scott Jones recognized he'd been building his writing skills for years while in previous careers. Others realized his potential as well, and soon after launching his writer's life, he forged partnerships that expanded his client base. Find out how he did it, and take note of his advice on starting out.