Steve Coombes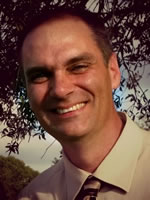 AWAI Member Since: 2006
What's your current occupation?
Natural Health and Survival Copywriter
What's your former occupation?
Software QA / Release Engineering
What was the first project you landed?
The first job I took on as a web copywriter was the rewrite of an entire website for a small roof cleaning company. I volunteered to do it free just to get my feet wet. My first paid project was writing a full website for a friend who owns an auto transport company. When several key search terms returned their site at the #1 position on Google within the first two weeks I don't know who was more excited – me or my client!
What are your current projects?
Some of my current projects include a sales letter and emails for a survival webinar series, sales page for a survival infoproduct and a natural health special report.
What has been your proudest copywriting moment?
Winning my first paid project outside of family and friends has to rank as one of my proudest copywriting moments. I submitted a spec assignment to a company I targeted at my first AWAI copywriting bootcamp. When I opened their envelope and pulled out my check I finally knew deep down that I really could make it as a copywriter. I have since built a strong relationship with that client and continue to write all kinds of copy for them every month.
What's your favorite niche to write for?
I had a "lightbulb moment" a few years ago when I finally matched my personal interest in emergency preparedness with my copywriting skills. I love writing sales letters and video sales letter scripts for clients in the survival niche. Of course, I still enjoy writing for natural health as well since I consider it closely related.
What's your writing routine?
What routine? That for me is one of the joys of freelance copywriting – not being tied to a desk at certain hours of the day. Although I usually write during the day I often get more accomplished at night because I am a bit of a night owl. Plus, the house is much quieter then. (I'm a father of 7 and my wife homeschools our children.)
As a bibliophile I often take my notebook computer to the library or local bookstore to work. Just being around books inspires me, not to mention providing additional sources of research for many of my writing projects.
Please give us an example of how your life has changed since becoming a copywriter.
When I was still writing copy on the side of my full-time job, I once took a day off work to interview for a position with another company an hour drive from my house. The pay increase was a measly $1,000 per month. Half of that would probably be eaten up paying for gas while driving back and forth.
I was already running behind getting ready for the interview, rushing out the door with resume and other papers in hand, when two of my younger sons then aged 5 and 4 grabbed onto my leg looking for a hug and kiss before I left. As I was concerned about being late for my interview I gave them one of those running hugs. You know, where you just give them a quick squeeze with your arm against the side of your leg without stopping. I kept on walking towards the front door.
As I grabbed the handle I looked behind me to see my 4 year old's face crestfallen and overheard his older brother tell him, "Daddy doesn't have time to give you a kiss now, Elijah." It absolutely broke my heart and I was in tears while driving an hour to interview for a job I really didn't have that much interest in and wouldn't even pay enough to make a significant improvement in our family's living standards.
It was that day – right then and there while driving to that interview – that I vowed to no longer be at the mercy of some employer to determine our family's financial well being. No longer would I be chained to a desk an hour or even 15 minutes away from my family working at a job I didn't love with no control over my own time. Although it took a little longer than I originally planned, I now work from home, control my own income, and do what I love. Most importantly, I have time to give my kids a hug and kiss whenever they want one!
What success tip would you like to share with your fellow writers?
If you've heard it once, you've heard it a thousand times. Don't quit! Set goals. Even if you don't reach them in the timeframe you want you'll still be that much closer for your efforts. It took me 3 years instead of 1 to attain what I consider to be the writer's life. Let me tell you, the journey is worth it.
If goals are good, having a passionate reason why you are pursuing them is absolutely critical. Being able to both support and spend more time with my family was my burning reason. Find yours. It'll fuel your fire to keep striving towards your goals even on days when you feel like you're getting nowhere.
When did you realize you were living the copywriter's life?
Copywriting became our family's sole source of income in June 2009. In November of that year our family had a week vacation planned. At the spur of the moment, just before leaving we decided to extend our vacation from 1 week to 3 weeks. I didn't have to ask some boss if it was ok or worry about how much "vacation time" I had left for the year. We just packed up the truck and hit the road.
Since we decided to extend our trip rather suddenly, I had an outstanding project to complete before returning. No problem. I just brought my laptop along and finished up the work while on the trip. I actually emailed the work to my client mid-vacation from the parking lot of a hospital we found with a free wireless Internet signal. You really can work from anywhere with a computer and an Internet connection – and today that's easier to find than ever!