Quick Tip:
The 3 Components of a Good USP
At this year's bootcamp, Bob Bly explained that a unique selling proposition (USP) must have the following three components to be effective:
It has to have a direct or implied benefit. It must say "buy this product and you will get this particular benefit."
It has to be an important benefit – important enough to "move the masses" (or at least move your prospect).
The benefit must be one that the competition either cannot or does not offer.
If your USP has all three of these components, there's a strong chance your direct-mail package will be a success.
Your Path Now Versus What it Could Be: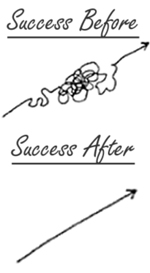 Nothing gives you a "straight shot" at success like Circle of Success.
We help you set goals … give you a personalized learning path … coaches and mentors … prime writing assignments … feedback from real copywriters … free Bootcamp, with VIP treatment … even a chance to work pro writers … and more.
Right now, we're accepting a limited number of new Circle of Success members.
Get the details here — including our low "get started" price.
Published: March 29, 2004