From "I Can't" to "I Can!" –
5 Easy Ways to Gain Confidence
As an Aspiring Copywriter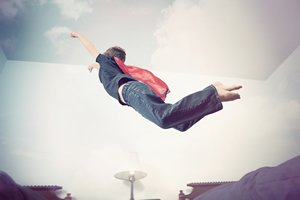 No doubt, starting out as a copywriter can be downright frightening.
And chances are you've had a few of these thoughts run through your head. (I know I have.) …
"Is my work good enough?"
"What will my client think?"
"How on earth do I convince a client I'm worth $3,000-$5,000 for 8 pages of text!?"
"What if I get an assignment, and my promo bombs?"
"These top-level copywriters write so well. I'll never get that good."
"Am I picking the 'right' big idea for this promo?"
The good news is, you can calm these fears down, and become a competent, confident copywriter in no time flat. Just follow one (or more!) of these five confidence boosters:
Confidence Booster #1 – Diligent Study and Practice
Do everything in your power to learn everything you can about copywriting and direct marketing.
Whether it's reading a book, a program, watching DVDs, or attending a seminar, always keep learning.
In addition, practice writing copy every day. You can write about anything … an imaginary product, a product of a company whose direct-mail piece you received, or any one of the hundreds of thousands of products you can find on the Internet.
Bottom line: Knowing you're doing everything possible to continually improve your skills and knowledge will form the rock-solid foundation of your confidence as a copywriter.
Confidence Booster #2 – Affirmations (With a Twist)
Write down a list of affirmations that directly address your fears.
For example:
"I am a knowledgeable, masterful copywriter."
"I'm a self-starter."
"I easily find clients who want to work with me."
"I find it easy to focus on my writing."
"I do the things that make me a richer, happier copywriter."
"I enjoy finding new clients."
Once you've got that down (start off with maybe a max of 10-15 affirmations), here's what you'll do …
Record yourself repeating your affirmations. Repeat each affirmation three times, spaced a few seconds apart, before moving on to the next one. If possible, have relaxing music playing in the background while you make your recording.
Once you've got your affirmations on tape (or CD, mp3, etc.), you're going to listen to them every chance you get. While you sleep at night, while cleaning the house, gardening, surfing the Internet … you get the idea.
Do this and you'll slowly start shifting the beliefs you carry about yourself that are causing the fear and anxiety. As a result, you'll start to feel more confident and take the kinds of actions necessary for success.
I know this might sound a little "woo-woo," but it works. Try it. In his book, Today Is Your Day to Win, author Mike Brescia credits this technique for taking him from jobless and living out of his van to becoming one of the best salesmen in the world for his industry. Today he lives the life of his dreams. It all started with his affirmation tapes.
Confidence Booster #3 – Your Own Victory Log
Think of every positive thing you've accomplished in your life until now. Write it down in a notebook. This is now your "Victory Log."
Whenever you accomplish something – no matter how small – write it down. Then, at least once a week, look it over to remind yourself of everything you've accomplished so far.
Doing this will give you the jolt of confidence you need to keep moving toward your copywriting goals.
Confidence Booster #4 – "Theater of Your Mind" Technique
This technique was developed by self-help pioneer Dr. Maxwell Maltz and popularized in his book, Psycho-Cybernetics.
It's so effective, top copywriters like Gary Bencivenga, Clayton Makepeace, Dan Kennedy, and Matt Furey swear by it.
In a nutshell, you make a mental movie of yourself succeeding at whatever goal it is you want to achieve. The more vivid you make the movie, the better (e.g., notice what you're wearing, what the weather is like, etc. … and involve all of your senses).
Here's how to do the technique:
Sit down in a comfortable chair with your legs uncrossed, touching the floor and your hands on your lap, palms down.
Take a few deep breaths to relax. Now, imagine going inside a movie theater. Make it as fantastic as you like. (It's your personal theater, after all.)
Once you've taken a seat in your mental movie theater, start playing a movie about whatever action you want to feel confident about.
For example, if you're afraid of negotiating your project fee with a client, make your movie about that. Picture yourself standing tall. Feeling comfortable while talking on the phone. Picture your client happily agreeing to your fee.
Repeat the same mental movie 3-5 times a day. Pretty soon, your mental movie will give you the confidence you need to take action.
Confidence Booster #5 – Success in Bite-Size Pieces
If you want to land a $5,000 project, but you've never spoken to a client, much less written anything for one, then start small to gain "little wins."
For example, offer to write for a charity for no pay. Find local businesses and offer the same deal.
Having these little successes under your belt will give you the confidence to move to the next step up … writing small projects for a few hundred dollars. Once you're comfortable with that, build up to charging $1,000 … and so on.
Or, let's say you're afraid of writing an 8-, 12-, or 16-page sales letter. What do you do?
Start by writing simple 100- to 250-word classified ads. Once you're comfortable with those, move on to writing short 2-page inserts, etc.
No matter what size goal you have, it can be broken down into smaller, less-intimidating goals.
Use these small goals as stepping stones to build the confidence you need to achieve your ultimate goal.
There you have it. Practice one or more of these daily, and you'll find your confidence soaring!

The AWAI Method™ for Becoming a Skilled, In-Demand Copywriter
The AWAI Method™ combines the most up-to-date strategies, insights, and teaching methods with the tried-and-true copywriting fundamentals so you can take on ANY project — not just sales letters. Learn More »

Published: April 13, 2009