Clarify Your Vision to Achieve Your Goals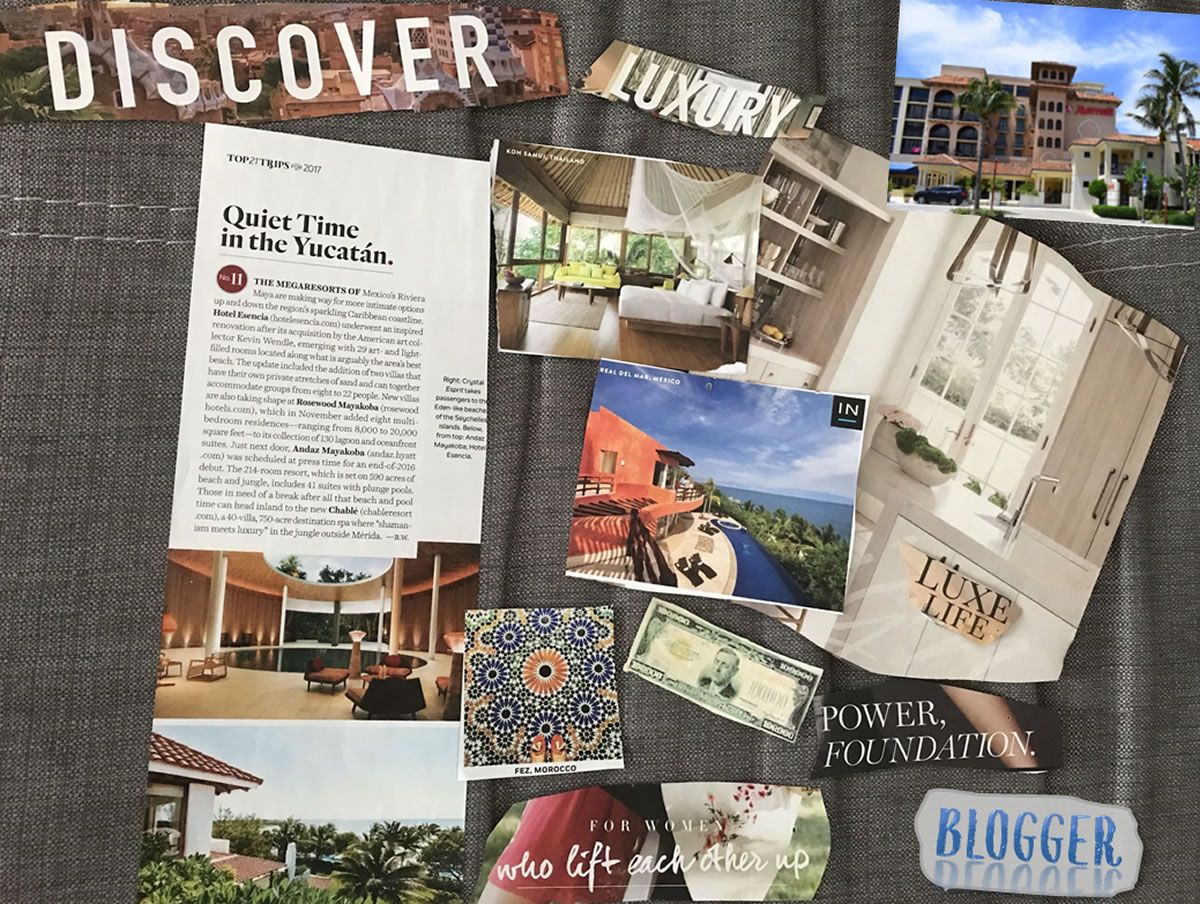 I'm writing this article from my balcony overlooking palm trees and a clear blue swimming pool just blocks from the Caribbean Sea. It's a view most people associate with vacation time, but I'm enjoying it year-round thanks to my 'location independent' lifestyle.
Yes, it took a lot of planning and prep to trade the leaden grey skies of Pennsylvania for the tropical climate of Playa del Carmen, Mexico. Yet, I like to think that putting images of tropical environments and swimming pools on my vision board had something to do with my current location.
After all, everyone from Oprah to successful entrepreneurs to Olympic athletes swears by the power of visualization — the practice of imagining yourself achieving something you want.
That's where a vision board comes in. It's a physical representation of images and words that inspire us.
All those words and pictures are compiled into one collage so you can see them all in one glance. Then you display it in a prominent place in your home or office, so can visualize where you're going and what your new life will look like.
The idea is grounded in science. Psychologist Barbara Nussbaum says that visualizing our goals helps make them tangible for us. Creating a vision board helps us consider our goals, feel inspired, and focus on them more because we've taken the time to define what we want.
Without clarity, it's virtually impossible to manifest the success you're after. Your mind needs a target — a known goal of what you're aiming for. A vision board will help you clarify your aspirations and achieve your dreams.
If you've never created a vision board before, I'll walk you through the basics below. But first, let me share a glimpse of how my current life in the tropics came to be.
In 2017, I started a new vision board. It was a bulletin board hanging near my desk and I ripped inspired images out of magazines to add to the board.
On that board were images of beautiful (and warm) places including the Yucatan (the part of Mexico where I now live).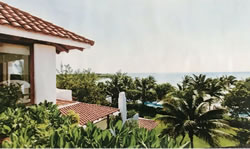 Image of the Yucatan from my 2017 Vision Board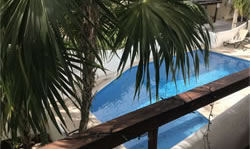 Image from my balcony today in the Yucatan
Coincidence? Maybe.
But I prefer to think it has to do with getting clear on what I wanted. That's the point of a vision board. It helps you create your vision.
One more thing to keep in mind … You can create a vision board any time of year. As Harvard Medical School lecturer, Dr. Marcelo Campos explained in a Harvard Health blog post, "January 1st is just a day in the calendar. You can reset your calendar every day for a fresh start."
So, today, or any day, is the perfect day to start creating a vision of what you want — the first step in going after it.
5 Steps to Creating Your Vision Board
You'll need some basic supplies of a bulletin board, poster board, or foam board; scissors; tape, glue, or tacks; colorful magazines; and possibly some printouts of images.
1. Define What You Want — When you're clear on what you want, it's much easier to create a roadmap to get there. So, ask yourself questions … What do you REALLY want? Let your imagination guide you.
What would your perfect day look like? When would you wake up? Go to bed? Where are you? What's the landscape look like? What do you do during the day? What would you like extra time for? What do you wish you could be doing, but never have time for? Meditation can help with this process too.
2. Ask Yourself What You'd Like to Achieve in the Next Year or Two — Do you want to increase your income? Spend more time with family? Quit your day job, or retire? Take a bucket list trip? Visualize yourself doing those things. Make a list of some imagery that comes to mind.
3. Page Through Your Magazines — As you flip through them, tear out anything that leaps out at you and make a pile. Look for pictures that speak to you and symbolize the lifestyle, feelings, experiences, and possessions you wish to attract into your life. As you do this, think about those goals you'd like to achieve.
You can also do an internet search using some keywords from the imagery that came to mind. Save some of the images that captivate you and print them out (all the better if you have access to a color printer!).
Include inspirational words or quotes, and images that speak to you … not just pictures of stuff. (Save everything for now, you can narrow it done in the next step.)
Here are some ideas …
Are you interested in traveling more? Clip photos of locations you've always dreamed of going.
Do you wish to spend more time with your family? Include pictures of your children and pets. Find pictures of playing at a playground, doing homework at the kitchen island, or going to the movies.
Ready to go to your first Bootcamp? Find a photo of Delray Beach, Florida or the Marriott Hotel for your board. Maybe include a picture of the Job Fair (you can find images here).
Planning to complete a specific AWAI program to make progress in your freelance career? Print out an image of the program cover from AWAI's website to remind yourself of your commitment. Or an image of the AWAI VerifiedTM Badges you want to earn.
Eager to kick your writing career into high gear? Post of photo of you in your office — and include some images of paychecks and bank deposit slips.
Don't worry if you can't find the exact image you're searching for — it's the symbolism that counts.
4. Review Your Images — Spread them out on the table, what themes do you see? Travel? Family? Health? Business? Move them around, look at them from different angles. What do they make you FEEL?
The whole point of this exercise is to connect with your vision, so don't rush this step. The more you develop your vision, the easier it will be for you to achieve your goals. Feel free to use both images and words. As writers, words are especially powerful.
Once you feel you've gotten clear on what you want, it's time to create your board.
5. Get a Board — Poster board, foam board, or a bulletin board will work. As you arrange your pictures on your board, you may want to leave space for additions. Important to keep in mind: you don't want to make it cluttered. A cluttered vision won't help you.
You could always do two boards if you like, one for business goals and one for family. Either way, make sure to include things that inspire you. Images, words, they're all powerful. Some of the words I included on mine are luxury and discover.
Hang your board somewhere that you will see it daily. I had mine in my office next to my desk. On those cold, grey days in Pennsylvania, I'd look at it and think about what I really wanted. And I really wanted to move to abroad to a tropical environment.
Look at your board daily, and picture how you'll feel realizing those dreams. Feel gratitude for the progress you're making. Believe in your vision, and take steps to make it come true.
Now, what about you … What will your vision board help you to achieve?
Do you have a vision board or some other way you visualize your goals? Share with us in the comments below.

The AWAI Method™ for Becoming a Skilled, In-Demand Copywriter
The AWAI Method™ combines the most up-to-date strategies, insights, and teaching methods with the tried-and-true copywriting fundamentals so you can take on ANY project — not just sales letters. Learn More »

Published: February 5, 2019