September Issue: Reshape Your Writing Future With a Channel Change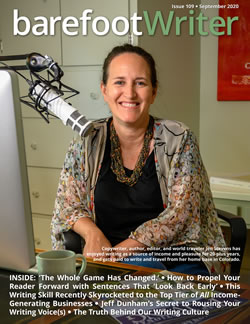 Say you're on a road trip with a friend and the radio starts to play a song you can't stand.
Do you
turn down the volume till you can't hear it?
switch the station to a song you like? or
talk over the song till it's done?
Click here now to read your September issue of Barefoot Writer.
A study published a few years back in the Journal of Personality and Social Psychology explored this question in terms of how best to control and shape the content of your thoughts.
Because if you can control your thoughts in the midst of challenging moments, you'll weather those challenges better overall.
As it turns out … changing the channel and switching to something you do like gives you the most positive outcome in terms of thoughts, emotions, and outlook on the future.
So for our September issue of Barefoot Writer, we thought we'd focus on a few ways to change your own thought channel.
There's been a lot of weirdness and strife in the world over the past several months, from all kinds of angles.
And perhaps you've so far been able to tune it out, ignore it, or drown it out with other things.
But for this new month, consider taking a full-fledged leap into an entirely different thought pattern.
This new issue guides you through it, including showing you how to
recognize just how much the writing game has changed (in your favor!),
realize the positive effect you can have on other writers' success paths,
rouse new writing voices you may not have known you have,
propel your readers forward right along with you, using sentences that "look back early," and
stay focused on the road ahead and ignore all distractions.
Go to your September issue now to discover how you can effectively change your own channel and make the current state of the world work in your favor.
There's nothing like the mental boost of winning $100 and seeing your own byline. See page 24 to find out how.

The Barefoot Writer
Discover a lucrative style of writing that will give you as much freedom as you can have while earning a great income at the same time. Learn More »

Published: September 4, 2020