5 Quick and Easy Tips to Organize Your Virtual Workspace for Better Productivity in 2021

What if you had an extra 155 minutes of productive work time each week? If you work 50 weeks out of the year, that would mean 7,750 extra minutes each year.
That's about 129 hours.
If you charge project fees equivalent to just $50 per hour, that's an extra $6,450 per year. And, if your rates come in higher than that — and I hope they do — you could add even more to your bottom line.
What would an extra $6,450 this year mean to you?
I didn't pull these numbers out of thin air. Time-management statistics reported by Simply Productive show 55% of those surveyed say they would save at least 31 minutes per day if their workspace were better organized.
Further, The Wall Street Journal reports the average U.S. executive wastes the equivalent of six weeks per year in time spent finding misplaced information from messy desks and files. And, office workers waste an average of 40% of their workday due to a lack of organization.
So, that $6,450 estimate may be quite low.
This wasted time is not just from physical workspace messiness. It stems from an unorganized virtual workspace, as well.
But, you can get your virtual workspace in order, save time, and increase your productivity with these five tips:
1. De-Clutter Your Desktop
Just as sorting through stacks of clutter looking for something you need on your physical desktop cuts into your productive time, so does hunting through too many shortcuts on your computer desktop.
So, delete those that are no longer relevant or useful. For example, I use TurboTax to prepare and file my tax return. While I'm working on it, a TurboTax shortcut on my desktop is useful. But, once I've filed my taxes for the year, I can remove that shortcut.
The same applies to file shortcuts. If you use the file often, keep the shortcut on your desktop. If you haven't opened it in several months, clear it off your desktop. (I'll cover how to easily find files next.)
Another way to de-clutter your desktop is to pin the applications you use most to your taskbar. By "most," I mean multiple times per day. For us web writers, this probably includes your web browser of choice and Word.
Remember, the goal here isn't simply a cleaner looking desktop. The goal is to be able to find what you're looking for faster and easier, so you minimize wasted, non-productive time.
2. Use a File-Naming System
The biggest organizational challenge with your digital files is making them easy to find. And yet, this has a simple solution.
All it takes is creating a file-naming system that fits how you work with your clients and your information … and then using it. For every file. Every time.
For example, let's say you have a recurring gig with a client to write two blog posts each month, as well as a weekly email they send to their prospects and clients as a nurture campaign.
Your file-naming system may be something like this:
​Folder — Client Name

Folder —

Type of Project

File —

Name of File
Which would look something like this, as you get going:
​Folder — ABC Client

Folder —

Blog

File —

2021-01-1-Title

File —

2021-01-2-Title

File —

2021-02-1-Title

File —

2021-02-2-Title

Folder —

Email

File —

Nurture1-2021-01

File —

Nurture2-2021-01

File —

Nurture3-2021-01

File —

Nurture4-2021-01
And, don't forget a folder for your invoices, too.
​Folder — Invoices

File —

INV###-[DATE] for recurring monthly charges

File —

INV###-[PROJECT NAME] for individual projects
I like to include the publication date in a file name, when it's applicable, like for blogs and e-newsletters. But, if my naming system doesn't quite work for you, create one that does. Just keep future growth in mind, as you add more clients and more work.
Like with de-cluttering your desktop, the goal of a file-naming system isn't just to have a "pretty" file system on your computer. The goal is to be able to access what you're looking for without wasting time searching for it.
3. Prioritize Your Browser Bookmark Bar
A single click to a saved bookmark will always get you to a website faster than typing the URL into the browser search bar each time you want to visit that site. But, you can further optimize your bookmarks by organizing them by priority.
First, a quick refresher on bookmarking the sites you visit frequently. Navigate to the site, then click the star on the far right of the browser search bar. This adds the current URL to your bookmarks.
You can access your saved bookmarks with just a few clicks. But, you can speed things up even more by choosing to show the bookmarks bar at the top of your browser window.
To prioritize your most visited sites to show up on the bar, simply open your bookmarks list, then drag the individual bookmarks to reposition them according to your preference.
There's limited real estate on the visible bookmarks bar, so here's another tip to get more of your bookmarks on the bar: right-click and edit the name of each bookmark. Either shorten the name or remove it altogether, if the page has a unique favicon you'll be able to remember.
Wealthy Web Writer's favicon is distinct and memorable, so I can remove the name completely and fit more bookmarks on my bookmarks bar.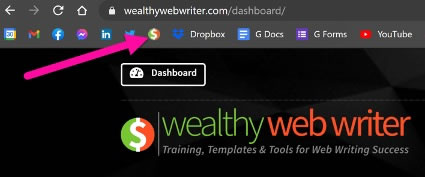 With more of your frequently visited websites visible on the bookmarks bar and accessible with a single click, you save more time. And, all this saved time adds more income-producing capacity to your schedule … or, it gives you more free time, if you're already happy with your income.
4. Label and Sort Your Important Emails
There have been countless articles written about managing your email inbox. And, you definitely need to keep your inbox under control, so you can easily find emails when you need to.
One way to do this is by labeling them.
You can choose to have broad label categories like "Clients," "Follow Up," etc. Or, you can get very specific and have labels for individual clients.
This is more than simple color-coding your inbox. Labeling allows you to sort and view emails by category.
This can save a lot of searching time, as long as you get into the habit of applying the labels. You can save even more time by setting up filtering rules to apply labels and categories automatically.
5. Add Emails to Tasks
Another way to save time searching for emails related to projects or those otherwise needing action is to add them to your Tasks list. I use Gmail, but this works for Outlook, too.
In Gmail, you can add an email to a task by right-clicking the email from the inbox list, then choosing "Add to Tasks." Or, you can click the Add to Tasks button on the action toolbar at the top of an open email.
In Outlook, you right-click the email from the inbox list, select Move, then choose Tasks (you may have to choose Other Folder under Move).
Using Tasks has the added benefit of keeping required actions from slipping through the cracks. Add a date to your tasks, and you'll stay on top of your deadlines, too.
Is All This Worth the Implementation Time?
Will these tips and strategies take a little time to plan? Yes.
But, they're quick and easy to implement, once you have your systems in place.
Is it worth planning all this organization? Again, yes.
Simply Productive says you can save three to four hours for every hour you spend planning and organizing.
I'd say that's a good return on investment. What about you? Will you implement these tips and organize your virtual workspace? Post a comment below, if you're with me!
This article, 5 Quick and Easy Tips to Organize Your Virtual Workspace for Better Productivity in 2021, was originally published by Wealthy Web Writer.

The AWAI Method™ for Becoming a Skilled, In-Demand Copywriter
The AWAI Method™ combines the most up-to-date strategies, insights, and teaching methods with the tried-and-true copywriting fundamentals so you can take on ANY project — not just sales letters. Learn More »

Published: January 13, 2021