How I Used Bullet Journaling to Double My Productivity as a Writer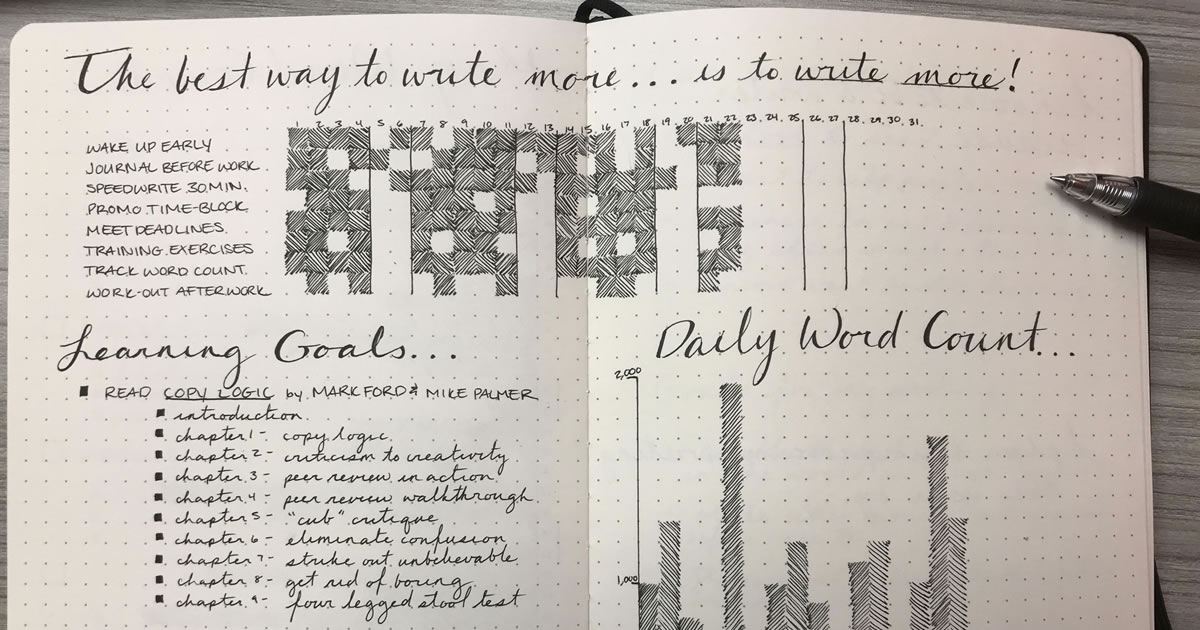 At the beginning of the year, I made a promise to myself …
I WILL get organized and break my procrastination habits this year.
The only problem was, I had no idea HOW.
I'd tried just about every planner, calendar, and time management system out there. All of which I used diligently …
… for about a week.
There was always too much space for things I didn't need, and not nearly enough space for the things I really wanted to keep track of.
Before long, my nice new planner would be collecting dust in a drawer, replaced by a haphazard "system" of Sharpie scribbles on the back of my hand and Post-It® notes pretty much everywhere else.
I kept falling back into bad habits and letting my writing slide because I just couldn't find a system that worked for me.
Maybe you've experienced something similar. The truth is, many writers do. And that's exactly why this new method was created.
Get Organized YOUR Way
Solution: the Bullet Journal. It's a simple blank journal, usually with dotted grid paper.
Inside, you have the freedom to create your own layouts (called "spreads") for staying organized any way that works for your day-to-day needs.
The dotted grid makes it easy to stay structured, yet you're never limited to any one layout or page order.
People use Bullet Journals as daily and weekly planners, goal trackers, to-do lists, idea boards … you name it.
Writers can use them too, to become better, more productive writers.
Let me show you how I use it to keep my writer's life on track …
1. Daily Habit Tracker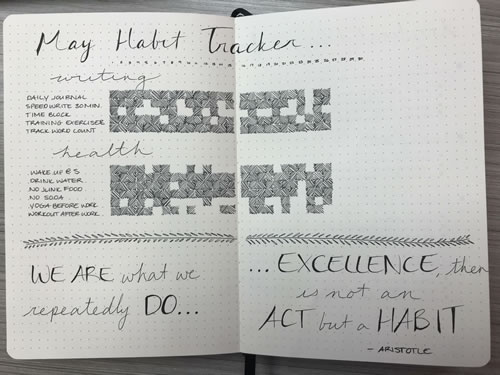 On this page, I made a list of some daily habits of successful writers that I knew would help me stay motivated and better at achieving my writing goals.
By tracking these simple habits over the past couple of months, I quickly realized which habits were setting me up for productive writing days …
And which ones were holding me back.
Waking up early, journaling every day, tracking my daily word count, staying away from junk food …
These newly formed habits gave me more energy, better focus, and much more productive writing days.
It's easy to see improvement — and the habits that still need work. It's all about tracking what you want to change to keep yourself accountable.
2. Daily Word Count Tracker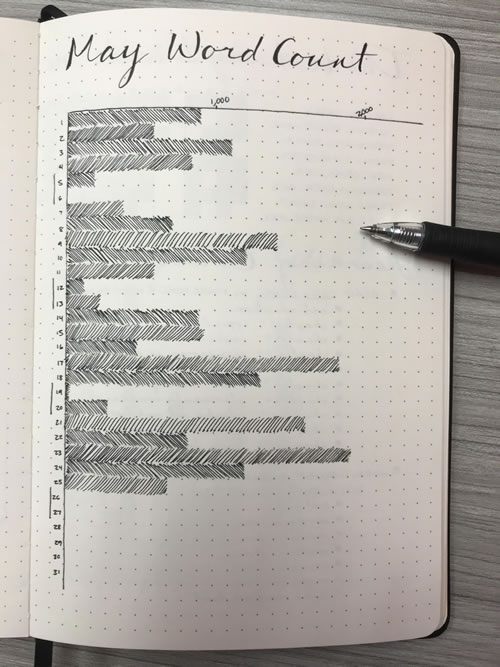 This idea came straight from multimillion-dollar copywriter and entrepreneur, Mark Ford.
During one of our weekly mentor meetings, he said that the best way to write more is to keep track of how many words you're writing every day and slowly try to build on that.
And especially if you're just starting out as a writer — sitting down for 30 minutes every day and writing as many words as you can on a topic will help you get in the habit of writing and train you to write faster.
When I started tracking my word count in my Bullet Journal, I quickly discovered I was all over the place!
I'm still pretty inconsistent with my daily word count, so this is something I can keep working on over time.
This visual information helps to set manageable goals — and see daily progress.
3. Set Your Training Schedule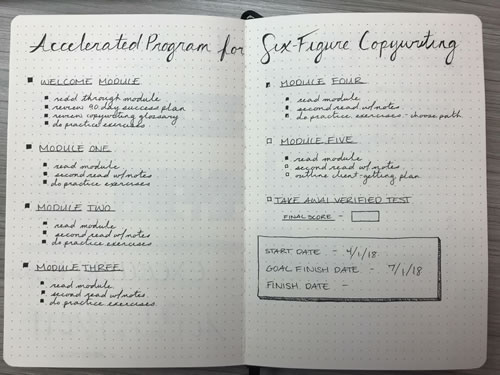 No matter what level you're at — whether you're just starting to dip your toe, or have been writing for clients for years — it's critical to keep learning copywriting skills.
Let's face it, it's easy to start something like a training program and then just … stall.
But this is where having a Bullet Journal really helps. The way I use mine for learning new copywriting techniques is first take a quick look at the program I'm about to start.
Next, I write down how many modules there are and how many exercises are in each …
Then I set a complete-by date as a goal to keep my progress consistent.
What's happening is I'm breaking the entire program down into smaller, bite-sized sections, with a "due date" that is easy to achieve.
And at the end, you could even put a reward in place for completing the training.
For me, the reward's a long weekend at the beach.
I find this tool incredibly useful when I'm working through a training program, like AWAI's Accelerated Program for Six-Figure Copywriting …
Of course, you can easily adapt your bullet journaling to fit any program or book you want to work through.
4. Inspiration Board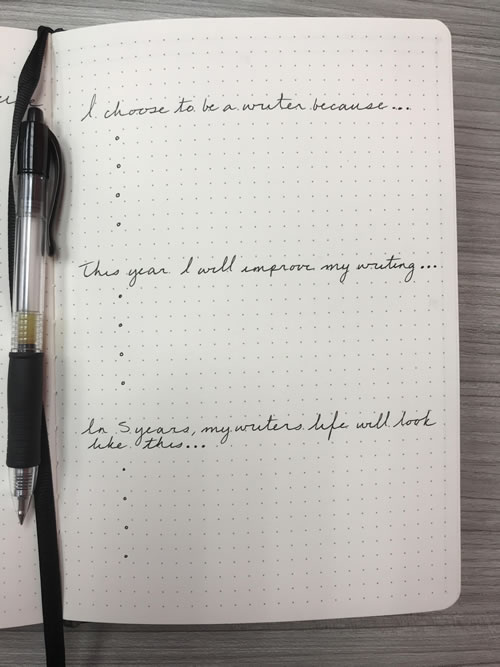 In my Bullet Journal, I also include a visualization board, so I never lose track of WHY I'm devoting myself to these daily habits and trying to become a better, more efficient writer.
I'll write out all the reasons I decided to pursue a writing career.
You can even include inspirational quotes … a list of writing goals for the year … or pictures of what your dream writer's life will look like.
On days when I can't find the motivation needed to put my fingers on the keys and type, I turn to this page as a reminder why it's all so worth it.
5. Monthly Overview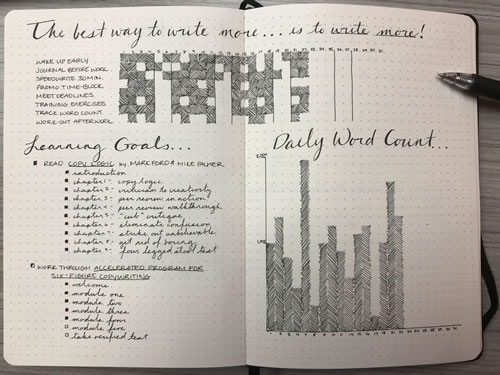 This spread might feel repetitive for some people, but I've found the combination of this "quick look" page along with more detailed breakdowns works best for me.
In the monthly overview spread, I have …
A small Habit Tracker at the top that only focuses on writing goals …
A small Word Count Tracker in the bottom right that skips over weekend days …
And a breakdown of my current Learning Goals in the bottom left.
The at-a-glance layout helps with finding more patterns — like how on the 8th and the 17th I slept in, and then had very low word counts for the day.
That's a great reminder for how starting your day really does affect your energy and output for the rest of the day.
I've been using this at-a-glance spread more and more often lately because it works well with my busy writing schedule.
Some Bullet Journal users I know like to have a separate spread for every month, week, day, and project … others like me use a combination of overview spreads and the occasional detail spread.
Remember, you can use any combination of spreads you want in your Bullet Journal — it's all about finding the system that works for you.
How Do You Keep Yourself on Track?
My favorite thing about using a Bullet Journal is that as your needs change, your planning can adapt too.
With a big writing project, it's easy to create a spread that keeps you on track for deadlines …
When you have a busy week, you can write out your daily deadlines in a bullet list …
And when less things are happening, just stick to the monthly overview and not waste any space.
Better yet — if you're a freelance writer you can create spreads for …
Writing out your goals
Organizing daily tasks
Tracking self-marketing activities
Keeping track of client projects
Tracking invoices
Scheduling project deadlines
Charting business-building milestones
And more …
Bullet journaling has helped me so much in the past months — and I hope these ideas might help you too.
Plus, there's always room to grow, so I'd love to get input from other writers on how to stay organized and put an end to the procrastinating! For example …
How do you keep yourself organized?
Have you tried bullet journaling?
What writing goals and habits are you working on?
Do you have ideas for other ways I could use this Bullet Journal?
Please share with me in the comments below.

The AWAI Method™ for Becoming a Skilled, In-Demand Copywriter
The AWAI Method™ combines the most up-to-date strategies, insights, and teaching methods with the tried-and-true copywriting fundamentals so you can take on ANY project — not just sales letters. Learn More »

Published: September 19, 2018