This Practically Ensures You'll Have an Excellent Paying Writing Career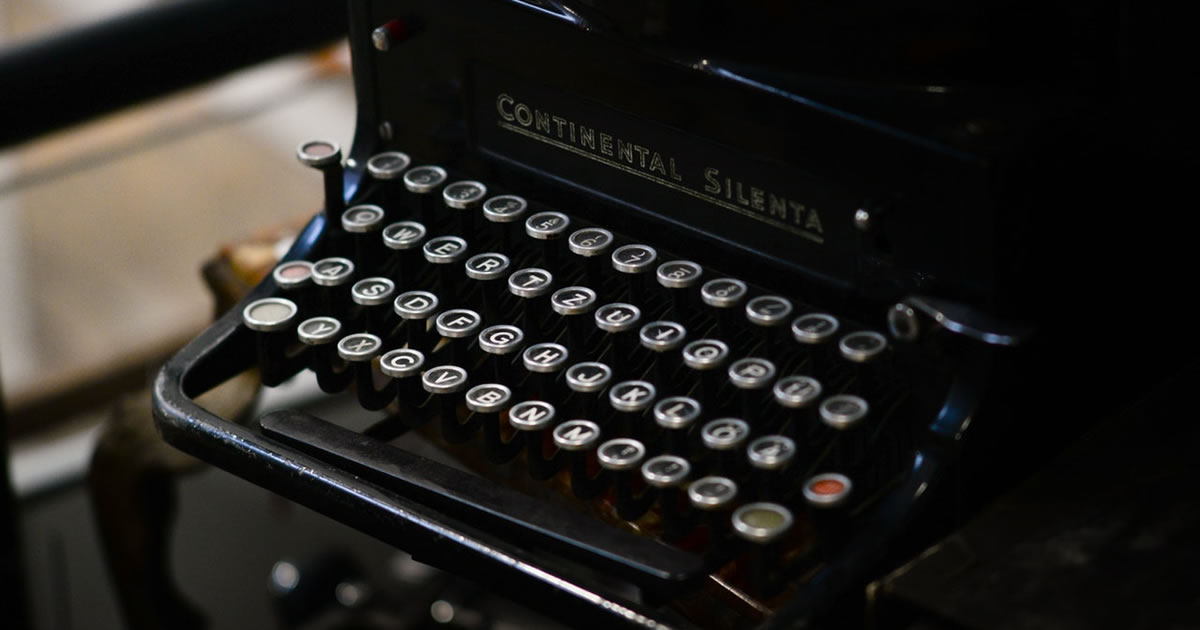 While it was made available to the public for purchase sometime during the 1870's, it wasn't until eight years later that sales took off.
That's because former journalist Christopher Sholes came up with the idea of rearranging the letters on the keyboard to prevent the keys from jamming.
His new arrangement was called QWERTY, which basically are the first six letters of the second row on all keyboards.
If you haven't guessed by now, the invention with the unusual keyboard name is the typewriter.
Once Sholes made the keyboard easier to use, the typewriter grew in popularity, particularly among writers.
One of those writers was literary great, Mark Twain.
But what few people realize is that for Mark Twain, whose real name was Samuel Langhorne Clemens, using the typewriter was a love-hate relationship.
Before the invention of the typewriter, writers like Twain relied mostly on fountain pens, which were prone to leaking, sometimes resulting in ink smudges all over their papers.
And, of course, not to mention how much time was devoted to drafting a story by hand.
However when a salesman explained how the new contraption worked, Mr. Twain was impressed with its speed … the ability to create 57 words in one minute.
But he was also doubtful it could truly work that fast. So the salesman offered Mr. Twain a live demonstration.
As he watched the young typist at work, Twain said, "She actually did the 57 in 60 seconds. We were partly convinced but said it probably couldn't happen again. But it did. We timed the girl over and over again — with the same result always: she won out."
He then shelled out $125, buying the typewriter on the spot. And while he recognized its value as a tool to aid in his writing, Mark Twain eventually began to hate the "newfangled typing machine."
Twain wrote, "After a year or two, I found that it was degrading my character. It is full of caprices, full of defects — devilish ones."
Mr. Twain stopped using it … even giving the typewriter away to a fellow writer and friend, William Dean Howells.
I will tell you what happened next in just a moment, but first let's talk about a writing tool that can accelerate your copywriting career … one you'll instantly love, The AWAI Method™ for Becoming a Skilled, In-Demand Copywriter.
It's a compilation of AWAI's 25 years of knowledge in teaching people who love to write how to turn that dream into a real lifestyle … one that often allows you to earn up to six-figures or more each year.
The truth is, no one can match the kind of guidance AWAI offers up-and-coming writers. The AWAI Method™ for Becoming a Skilled, In-Demand Copywriter has literally become the gold standard in knowing what it takes to become a copywriter who is in demand by clients everywhere.
Nobody has our ties to decision makers in the industry.
Nobody is better known for producing skilled copywriters than us.
And nobody has more ways for you to break into the industry as a successful writer than AWAI.
The truth is, we're so confident that — once you master the writing skills we teach you — we're certain you'll have a successful career as a copywriter by following our launch plan.
You simply can't fail. And there is no better time to begin your career as an in-demand copywriter than right now. Clients are hungry for well-trained, knowledgeable writers.
The sooner you get started learning, the sooner you begin making money. You can learn all about The AWAI Method™ for Becoming a Skilled, In-Demand Copywriter by going here.
So what happened when Mark Twain gave his friend the typewriter? Six months later, Mr. Howells gave it right back to him. So Mark decided to keep it and experts say that Life on the Mississippi was the first literary masterpiece ever written on a typewriter.

The AWAI Method™ for Becoming a Skilled, In-Demand Copywriter
The AWAI Method™ combines the most up-to-date strategies, insights, and teaching methods with the tried-and-true copywriting fundamentals so you can take on ANY project — not just sales letters. Learn More »

Published: February 28, 2022