Living the Writer's Life: Candice Lazar
Former $10K Challenge Winner Shares Must-Read Advice for New Writers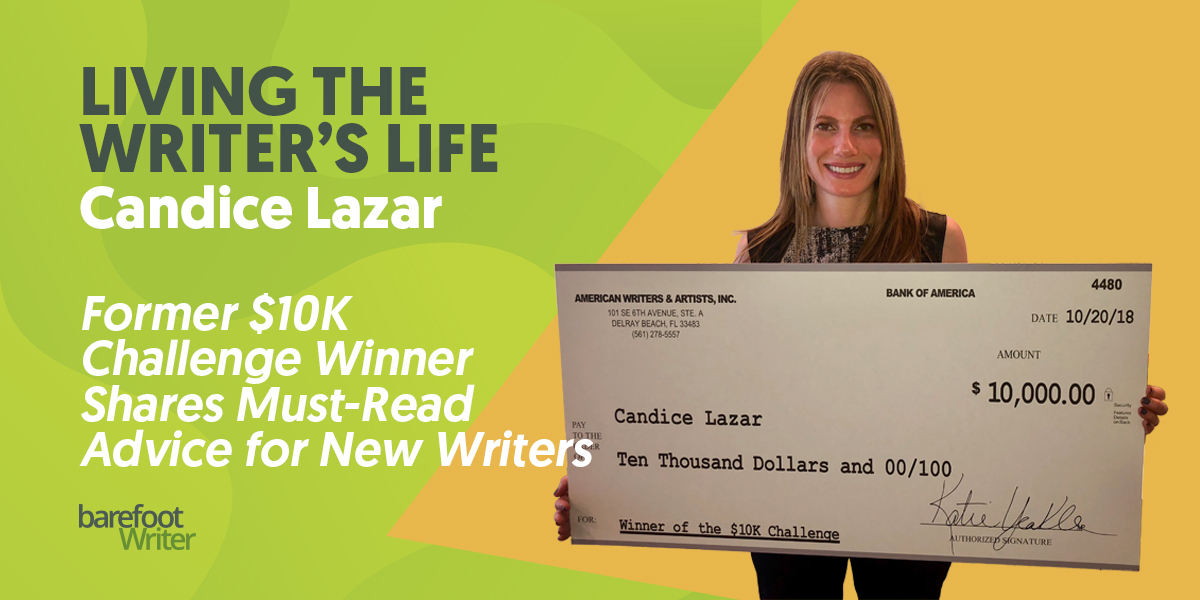 Candice won the AWAI $10K Challenge in 2018.
Candice Lazar is a former advertiser and lawyer who discovered how copywriting could give her the freedom to enjoy nonstop adventure with her husband. Since we last talked with Candice in 2017, she has won the AWAI $10K Challenge, which gave her a lot of exposure in the world of copywriting. She also had the chance to work on a campaign with industry legend Brian Kurtz. You'll love Candice's thoughts on community and her advice for writers who are just starting out.
Right now, you're working with Jeff Walker — author and well-known business coach. What do you love most about working on his team?
First of all, impact. It's amazing for me to know that my writing has impacted someone, that they've decided to get involved in our world and experience all that it has to offer for them. I love the creativity. And I love working with my team.
How do your other skill sets in marketing and law complement your career as a copywriter?
I worked in advertising before I went to law school, and then I started copywriting. In advertising, I worked with ad agencies. It was really a good overview into that industry.
And law helps copywriting. I know copyright law and trademark law. So it has decent, direct helpfulness in terms of knowing what you can and can't do. But also just people knowing that I'm an attorney helps my brand … helps them take me more seriously.
Can you tell us about an opportunity you've had that you wouldn't have had without your writer's life?
Most of how my life has been for the past several years really wouldn't be that way without the writer's life. I was working in a law firm before, so I was tracking time in six-minute increments and figuring out what's billable and what's not. I don't think at all that way now. When I'm done with this, I'll probably go for a walk and no one's going to care.
What has been the hardest lesson you've learned?
I guess there are two things that really kind of stick out for me …
Figuring out your own limits. There are times you want to say yes and do more. I had a project that I said yes to, and then things changed and I was not going to have enough time without seriously probably damaging my health. So I turned around and I said, "Listen, I'm so sorry to have to back out of this, but I do." It worked out really well. It was painful to do, but definitely a good lesson to know your limits and also to clean up your mistakes well. And just handle it right.
And then remember the buck stops with your client. So even if you write something amazing, your client might not run with it. You just have to detach from that.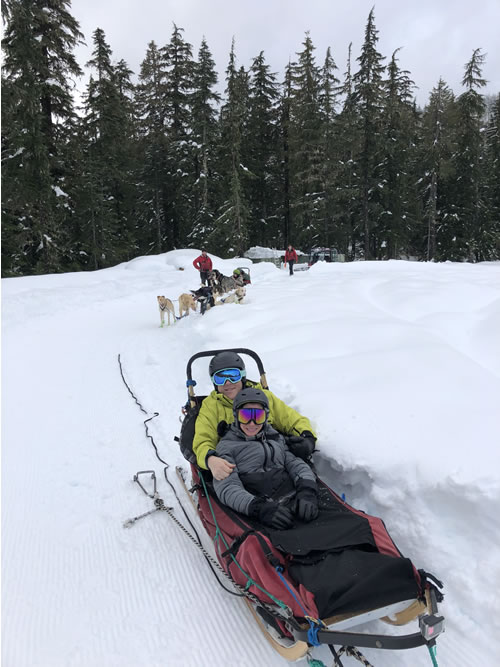 Candice and her husband
enjoy the snow while dog sledding
in Whistler, British Columbia.
What role has the copywriting community played in your development as a writer?
It's been amazing. You see people that are role models and you can look at how they do stuff. You can follow them and see what they're doing and how they're writing and how they're talking about it.
And then the support is tremendous. I have people in our community that I talk to every week or every couple weeks. And these people are my rock, and they help give me confidence when I'm not feeling confident. I don't know if I could be as far as I am without them.
Any advice for people just starting out?
Just do it. Follow the instructions and materials and roadmaps. It's scary. It can be hard, but there's so much information, especially through Barefoot Writer through AWAI. There's so much information that's all tried and tested. It works.
It can be nerve-racking, but find stuff that resonates with you in terms of learning. And then just start doing it. Start learning, start following those steps, listen to other people, see what's worked for them and then use those and adapt them if you need to.
What kinds of fun things do you do on the weekends?
You'll find me digging into a course here or there. I read a ton, obviously, even aside from courses. I could just read, read, read all day long. We go out, we eat, we drink … we meet with friends.
Candice's Living The Writer's Life story was originally published in Barefoot Writer. To learn more about how you can start living your dream writer's life too, click here.
What help do you need to move forward with your version of the writer's life? Let us know in the comments below so we can help guide you in the right direction.

The Barefoot Writer
Discover a lucrative style of writing that will give you as much freedom as you can have while earning a great income at the same time. Learn More »

Published: April 30, 2022