Living the Writer's Life: Peter Smolens
Retired Writer and Artist Isn't Afraid to 'Put His Butt in the Chair and Write!'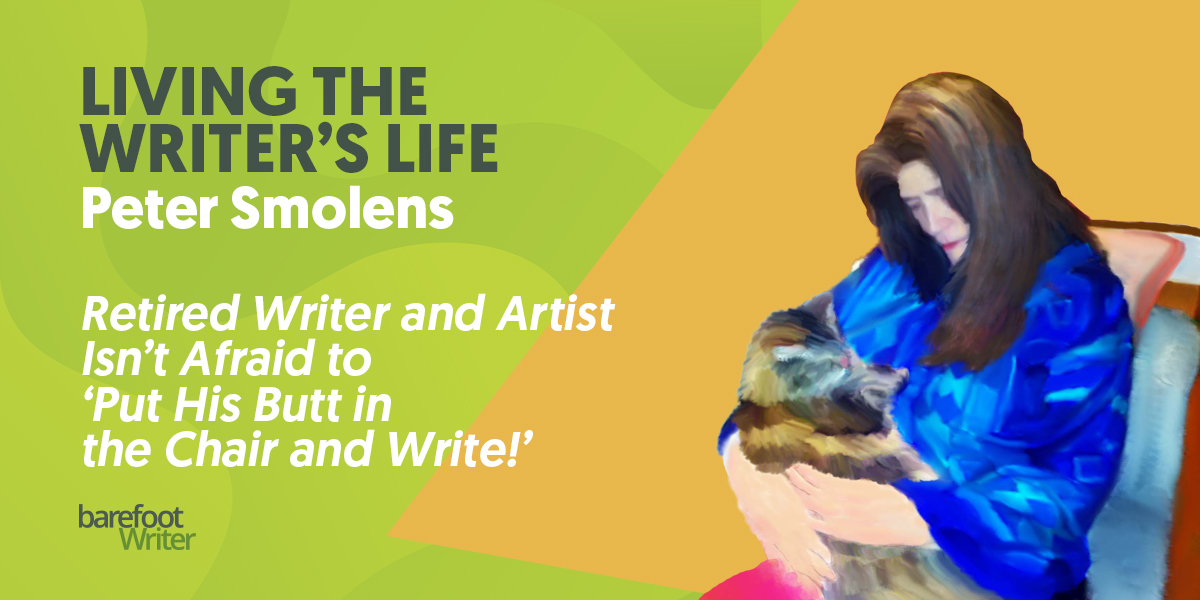 This painting shows Peter's wife while she cuddles with her cat.
Peter Smolens fell in love with photography the moment he first saw a black-and-white print being developed. He's also passionate about digital painting and even published a book on the topic. Through a happy set of circumstances, this love of art and photography led him to a career as a technical writer. Peter attributes his success to persistence. He draws inspiration from the adage, "You have to put your butt in the chair and do the work!"
How did you first start working as a freelance writer?
I originally wanted to be a photographer. I was the geek with the camera in high school, always taking pictures. After going to college for photography, I became a writer when an editor asked me to write an article to accompany a series of photographs that I had submitted to his regional travel magazine. The article was published!
I moved on and became a computer programmer to make a living, writing freelance feature articles on nights and weekends. I switched to technical writing when a boss read a golf magazine article of mine. That started me on a path for the next 20 years of working for various government agencies as a technical writer before my retirement to become a caregiver to my wife.
What kinds of writing and what kinds of clients do you enjoy most these days?
Although I'm a retired, full-time caregiver for my wife (she has a long-term illness), I use my little free time to write nonfiction feature articles for newspapers, magazines, corporate, and online publications. After 20 years as a technical writer (after being a programmer), I've been writing articles for corporate (never burn your bridges) clients.
What do you enjoy most about your writer's life?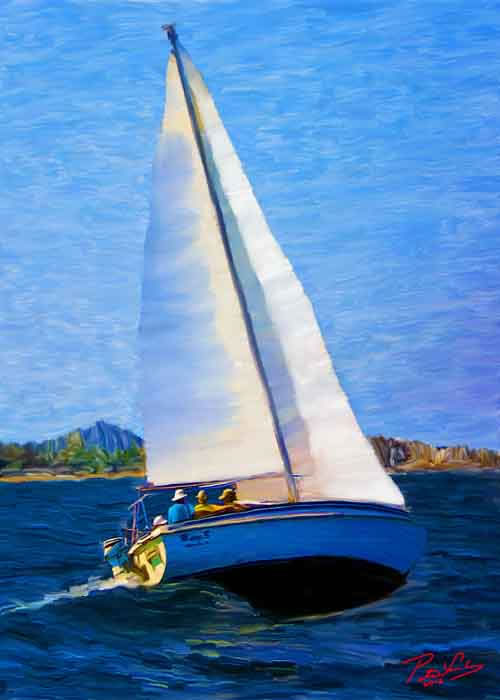 Peter painted this piece
to show his brother in a sailboat.
I barely graduated high school English because of dyslexia (spelling and grammar — thank God for computer spell check and Grammarly :) ). I had the persistence to write and publish more than 100 features, columns, technical articles, and a book about digital painting using Adobe Photoshop. The most recent affirmation that persistence pays off is winning the Barefoot Writer magazine monthly contest (January 2021). The column is about persistence.
What is the most challenging aspect of your daily work?
Because I'm a full-time caretaker for my wife, time is the biggest challenge. Having the time to learn how to expand my writing tool chest to include copywriting, SEO, and content writing is limited. Still, while I'm in the middle of The Accelerated Program for Six-Figure Copywriting, I can already see the benefits of persuasive writing.
What has been the most influential resource for you to develop your writing skills?
I'm a perfect example that anyone can write. I don't have the natural talent for writing, but I have one of the cornerstones of writing — persistence. If you want to be a writer, you have to do as the late Tom Clancy [is supposed to have] said about writing a novel: "It [the book] is not going to write itself. You have to put your butt down in the chair and do the work."
Clancy's words rang true with me. Persistence is what keeps me going. It's what puts my backside in the chair every day. I write when I'm feeling sick and get form rejection emails from editors. If you want to succeed, you have to write every day.
Any tips for writers who are just starting out?
Use available tools like Grammarly and Hemingway Editor to help with spelling and grammar. Yoast SEO assists in writing better SEO web content, and these programs will make your writing better.
Also, keep learning by reading, watching videos, and taking classes. AWAI has great courses in many different areas of persuasive writing. (I'm eyeing the SEO course myself.) You can always find ways to improve. The best improvement method is the physical act of writing.
What piece of digital artwork are you most proud of?
That is a difficult choice. I agree with Billy Joel, who thinks of songs he writes like his "children." You create them and then share them with the world and let others decide which ones are good. It's the same with my digital paintings, and they each have a special meaning.
Peter's Living The Writer's Life story was originally published in Barefoot Writer. To learn more about how you can start living your dream writer's life too, click here.
What help do you need to move forward with your version of the writer's life? Let us know in the comments below so we can help guide you in the right direction.

The Barefoot Writer
Discover a lucrative style of writing that will give you as much freedom as you can have while earning a great income at the same time. Learn More »

Published: May 21, 2022