Living the Writer's Life: Karmin Gentili
'Can You Believe I Threw That Amazing Opportunity Away?!?'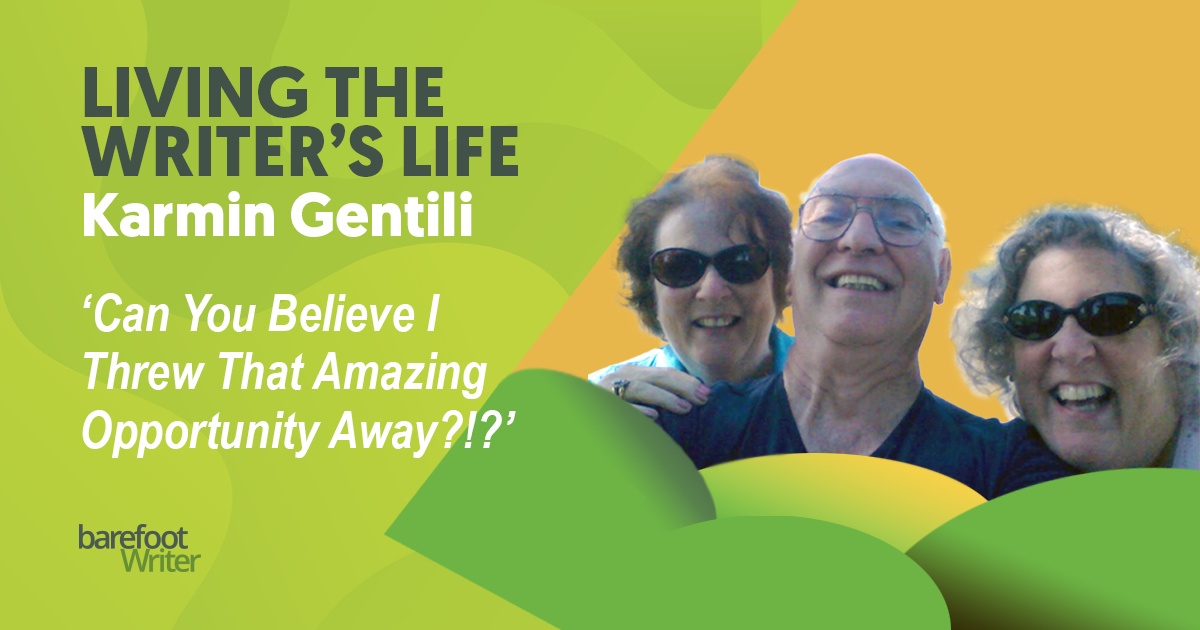 Karmin and her parents on one of their many adventures.
Karmin Gentili is still kicking herself for a missed opportunity when she was first starting in the world of copywriting. She was working on AWAI's Masters Program for Six-Figure Copywriting when she disagreed with the feedback of her tutor … and decided to quit. It was a tutor who just happened to be master copywriter Paul Hollingshead! "Can you believe I threw that amazing opportunity away?!?" Years later, Karmin gave things a second try and has been building a cherished writer's life that allows her to care for her aging parents. Here's her story …
After your false start, when did you dive back into copywriting?
The year 2016 is when my serious copywriting journey started. I took Steve Slaunwhite's B2B Copywriting Mastery course and I was hooked on the concept! I felt I had finally found a way out of my long-term corporate HR and compliance career and could start on my path to writing. I liked that the B2B process was a softer selling process than most B2C.
Oh, by the way, if you're wondering, the answer is yes, I did, in fact complete and pass the Masters Program for Six-Figure Copywriting after I completed Steve's course. Here's the thing: It doesn't matter what type of writing you're planning on doing, the Masters Program (as well as The AWAI Method) teaches the basic pillars involved in any type of persuasive writing. When you think about it, even fiction writing is persuasive writing — you need to structure each chapter so that it carrots the reader to keep turning pages and go to the next chapter. Learning the art of persuasive writing is an indispensable skill.
What kinds of projects and clients do you enjoy working with the most?
I have found that I love writing blog posts and articles. That said, I was completely enamored while I was taking and getting certified in Andrew Davis' Scriptwriting Mastery course. I still hope to have an opportunity to branch into that market.
Although I have learned that I can successfully write long-form B2C content, I'm still predominantly thrilled with softer top-of-the-funnel (a concept Russ Henneberry teaches in his Content Mastery Certification course) content, and my clients appreciate what I bring them.
Speaking of clients, I've had clients that span from solopreneurs to large international companies.
You also work with clients who need proofing and editing. What's that like?
I get so much joy from proofing and editing. It's a total win-win process. I get to help writers improve their craft, which inherently improves my own at the same time. I also read about a lot of different topics.
How do you know if a client is a good or bad fit?
This has definitely been a learning curve. I've had (and have) amazing clients that I would love to work with in perpetuity. And then there are others. I think the best way to know if someone's going to be a good fit for you is to turn your radar on to full strength during the interview process. Remember, you're interviewing them as much as they're interviewing you.
Do you have any goals you'd be willing to share with us?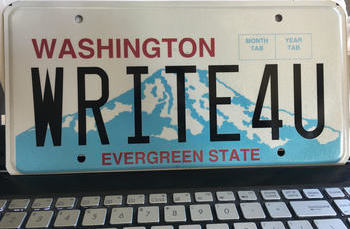 Karmin's license plate
(after all, marketing
matters, right?).
One goal that I'm working on is actually internal. I'm correcting myself every time I tell myself I have to do something. I don't have to do anything. I want to accomplish certain things. I have a choice about doing them, and I choose to want to do something.
What's your favorite thing about your writer's life?
I live with my aging parents. My absolute favorite part of living the writer's life is having the freedom to take or accompany them to medical appointments.
Throughout this time together, we have created a lifetime of memories that I could experience because I have the flexibility to work wherever I am — whether we were camping in my travel trailer, at a hotel on the road, or on board the cruise ship.
The writer's life is a life I cherish.
Karmin's Living The Writer's Life story was originally published in Barefoot Writer. To learn more about how you can start living your dream writer's life too, click here.
What help do you need to move forward with your version of the writer's life? Let us know in the comments below so we can help guide you in the right direction.

The Barefoot Writer
Discover a lucrative style of writing that will give you as much freedom as you can have while earning a great income at the same time. Learn More »

Published: October 22, 2022