FREE Event: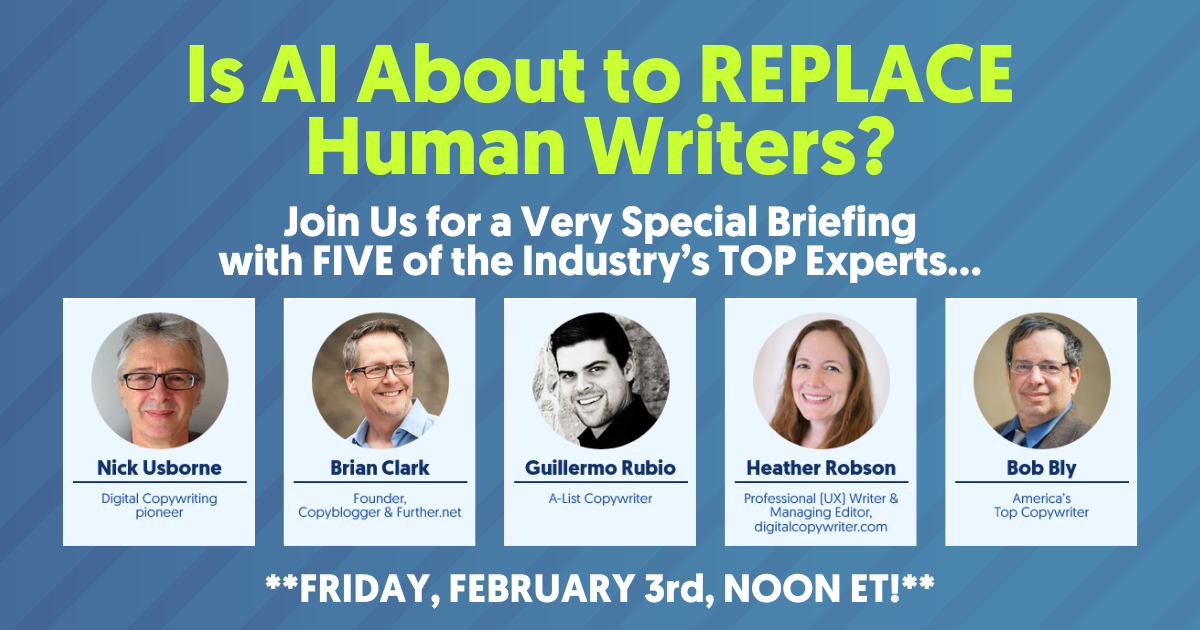 ChatGPT blasted onto the scene in late November 2022 …
… and it's creating a whirlwind of questions and concerns among writers, artists, and other creatives.
Questions like …
If AI is so good now, does that mean companies won't need to hire writers anymore?
Just how GOOD is AI at writing, really?
Is it ethical to use AI as a copywriter? If so, how should it be used?
What does the future hold for writing in general as AI continues to improve?
Where does that leave copywriters and freelancers?
These are all important, pressing questions.
It's why we're holding an "all-hands-on-deck" briefing to give you the answers you need!
We're bringing in
Brian Clark — Founder of Copyblogger and content marketing pioneer;
Nick Usborne — Pioneer of digital copywriting;
Bob Bly — Named by McGraw-Hill as "America's Top Copywriter" and expert with more than 40 years of experience; and
Heather Robson — Top user experience (UX) writer and digital copywriter who's always on the cutting edge of technology.
You'll be able to listen in as our five top pros share their thoughts and insights into AI and how it will impact your career as a writer. And then they'll open the lines for questions.
The event is FREE to attend and takes place Friday, February 3, at noon ET.
Go here now to secure your seat.

The AWAI Method™ for Becoming a Skilled, In-Demand Copywriter
The AWAI Method™ combines the most up-to-date strategies, insights, and teaching methods with the tried-and-true copywriting fundamentals so you can take on ANY project — not just sales letters. Learn More »

Published: January 26, 2023