Living the Writer's Life: Scott Martin
Copywriting and Ski Lessons: Surprising Similarities from a 33-Year Veteran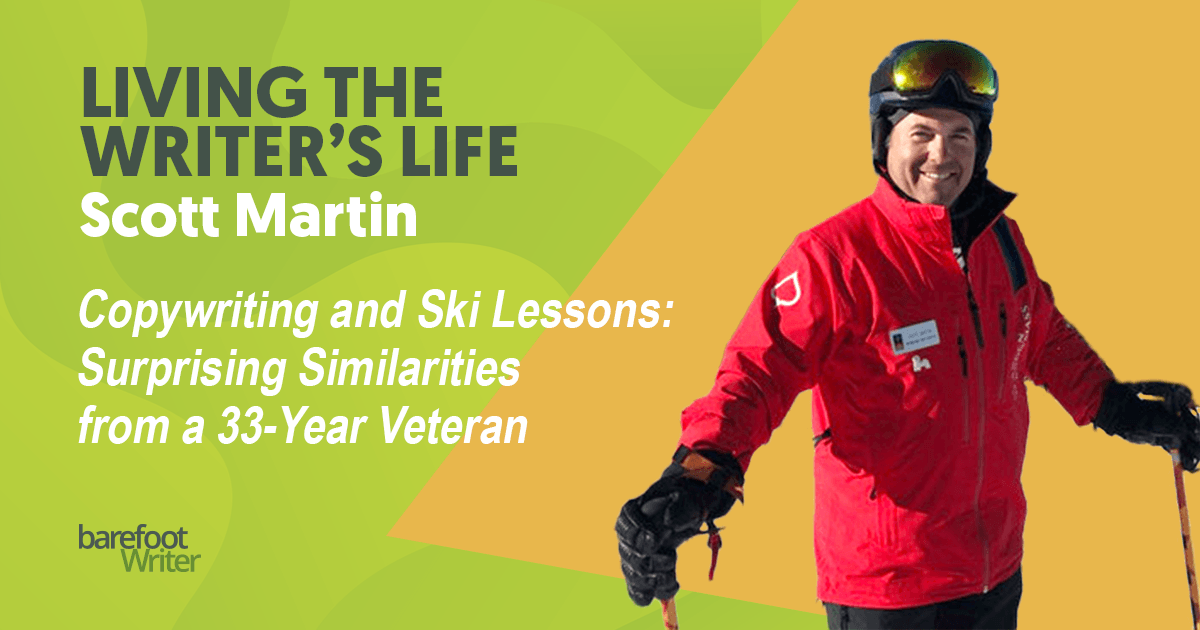 When he's not writing copy, Scott is a ski instructor with the Ski and Snowboard Schools of Aspen/Snowmass. Surprisingly, Martin finds his copywriting skills apply to helping his guests learn to ski.
Scott Martin has been working as a successful direct-response copywriter for 33 incredible years. But he's still surprised each winter when he works part time as a ski instructor … There are just so many ways to apply the skills of a marketer to everyday challenges. Read on to learn Scott's tips for how to find clients on LinkedIn and why it's important to never be viewed as just a commodity.
What do you love about direct-response copywriting?
It's just a lot of fun working with a group that really wants to succeed, that values direct-response copy, understands direct marketing, and is really trying to move ahead. That's sort of what I like the most about it. And of course, so much of it is measurable, so you can actually see the success.
Now, it could be something that's very direct, as in selling your product directly through a launch. Or it could be a squeeze page for a webinar, and suddenly a lot more people are showing up to the webinar and signing up for the webinar than used to in the past. So it's kind of obvious victories, and then victories that aren't quite so obvious as well.
What traits do you look for in a really great client?
For me, the most important thing is that they are direct marketers or have some direct-marketing background, and really want to ramp up the impact of direct marketing in their business.
It's important that they have some degree of ambition as well. Otherwise they're not going to want somebody who's a direct-response copywriter; they're just going to see them as a commodity.
There's a language to direct marketing, as you know, and if they're not speaking that language within the first minute of a conversation on a call, then I know that it's probably not going to be a great person or company to work with.
You've been copywriting for 33 years … incredible! What are you proud of?
A couple of companies that I've worked with have done really, really well. I did a lot of work with a company called Revolution Golf that was acquired by the Golf Channel. I wrote 350 promotions for them, roughly, and that company did really, really well.
Then there's another company that I worked with when I lived in Charlotte, North Carolina. They became the fastest-growing company in the Charlotte region. I helped them launch four dietary supplements.
What are you doing to improve your writing?
Probably the one thing that I did that has helped my copy the most in the last few years is that I came out with a book about copy … The Ultimate Business Superpower. Working on that book really helped me focus even more on writing copy, and how to write good copy, and what good copy looks like.
What kind of advice would you give to someone who's having trouble finding clients?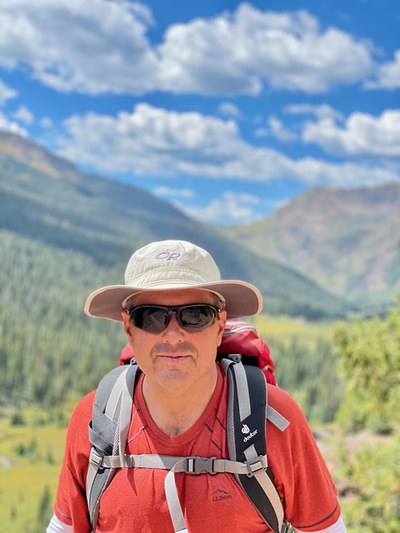 In the summer months,
Scott enjoys hiking through
the mountains of Colorado.
Late in the season, he hikes
the 30-mile Four Pass Loop.
The fact is that you have to build up a database, and you have to go out there and know where to look for clients. You have to go out there to places like LinkedIn, the Inc. 5000, and you have to start contacting people. Pay attention to LinkedIn, because they regularly have job openings posted with great companies for copywriters and content writers.
If you look on LinkedIn right now, there are 4,500 jobs available for copywriters or content writers. I kind of get upset when I hear people saying, "I can't find clients." They're everywhere, and you just have to start looking, start contacting people, get on that front foot, and go on the offensive.
What do you do for fun?
Are you still a skier?
I live up here in the mountains of Colorado. During the winter I teach skiing part time at the ski school here. But when I first started teaching skiing, I thought it would have nothing to do with direct-response copywriting, and I quickly learned that I was absolutely wrong.
The skills that I have as a direct-response copywriter translate to teaching somebody how to ski. Because I have to make a sale, I have to motivate somebody to do some things that will help them become a better skier, so it's all related. There's so much from copywriting that translates directly to teaching somebody how to ski, I'm kind of always amazed by that.
Scott's Living The Writer's Life story was originally published in Barefoot Writer. To learn more about how you can start living your dream writer's life too, click here.
What help do you need to move forward with your version of the writer's life? Let us know in the comments below so we can help guide you in the right direction.

The Barefoot Writer
Discover a lucrative style of writing that will give you as much freedom as you can have while earning a great income at the same time. Learn More »

Published: January 21, 2023