Portuguese Teacher Uses New Freelance Writing Skills to Land Work AND Launch 2 Websites …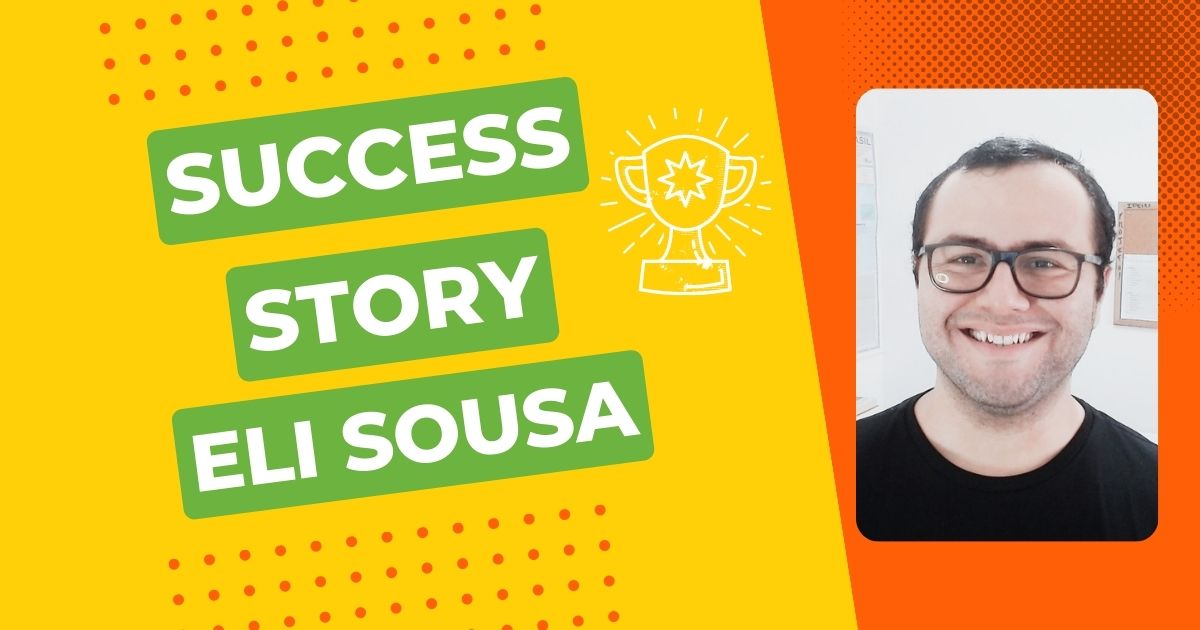 Back in 2018, Eli Sousa was deeply concerned about his future as a Portuguese teacher working online through a constantly changing and frustrating platform. Then a student told him that if he wanted to be independent of those "pesky" platforms, he should write his own website.
Eli told us, "Her words made me realize I should do something and do something fast. When searching the internet for tips on how to build your own websites, I came across AWAI. I signed up for The Accelerated Program and learned a lot from it."
Fast-forward to 2023 … Eli posted this exciting message in our AWAI Copywriting Insiders Facebook group: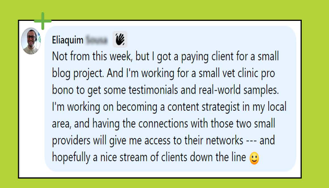 We asked him how he landed these two opportunities. He said, "My first two copywriting clients were my brother-in-law's veterinarian practice and the vet who takes care of my pets. :-)" (NOTE: This happens quite often: your first client is likely to be someone you already know!)
Client #1: "I knew my brother-in-law has always wanted to improve his deal flow — with people coming to his practice steadily and constantly. I helped him devise a strategy to build a customer acquisition website. And I'm happy to say that we've seen some traffic coming in for one of the key phrases I wanted to rank for related to the area he lives and works in.
Client #2: "The vet who takes care of my pets has both Facebook and Instagram pages. I wrote two blog posts for her, and she tells me it has generated some buzz on her page and people have reacted."
"Both contacts are very important to me because in Salvador, all veterinarians with a clinic are part of a WhatsApp group. It's like their 'insiders circle.' They share contacts for everything — people who bathe dogs, veterinarian assistants, vendors for pet products — and my being part of the group now sets me out as their go-to pet-related content producer."
Great start! But that's not even the whole story for Eli.
Eli is also using his copywriting skills for his own businesses.
Business #1: "I started building my own business around teaching Portuguese in December 2019, even basing it on the AWAI model — building a list, writing emails frequently, and always having an offer. I experienced the 'this really is working' moment when potential students were signing up for my newsletter to grab the lead generation magnet I wrote. Today, my teaching business provides me with enough income for me to pay my debts, my rent, my food, and my education."
Business #2: "As I've been teaching Portuguese as a foreign language … my students sometimes struggle to interpret what they read. I'd suggest they read the children's books I read as a kid, simple stuff with lots of pictures and simple plotlines to grasp. And instead of coming back and saying they did understand, they stopped me to discuss how fun it was. It was encouraging. Then I thought it would be good if I could help children — and their parents — find good books to read right now so they can build a lifelong reading habit and become adults who can read the paragraph and say confidently they understood it. Following AWAI's Money-Making Websites program, I launched a children's books website following Nick Usborne's guidance. He's given me rave reviews on my new site, and it's attracting traffic for the keywords I'm aiming for!"
Eli told us that if he were to give advice to people considering this path from square one …
"The first step is mastering the basics: how to present an offer, talk to a prospective client, and persuade someone to act … the very elementary steps when starting out.
One has to be humble enough to say, 'I don't know this' and confident and sincere enough to say, 'I'll give it an honest try.' After acquiring some practice with the foundational skills, one can improve them."
If you're ready to create your own freelance business (or two or three) using copywriting skills, check out the AWAI programs mentioned by Eli above. We also recommend The AWAI Method™ for Becoming a Skilled, In-Demand Copywriter as your solid foundation for anything you might want to write.

The AWAI Method™ for Becoming a Skilled, In-Demand Copywriter
The AWAI Method™ combines the most up-to-date strategies, insights, and teaching methods with the tried-and-true copywriting fundamentals so you can take on ANY project — not just sales letters. Learn More »

Published: April 28, 2023