Living the Writer's Life: Gloria Rand
The 'Equal Parts Scary and Wonderful' Writing Journey That Led to Joyful Self-Discovery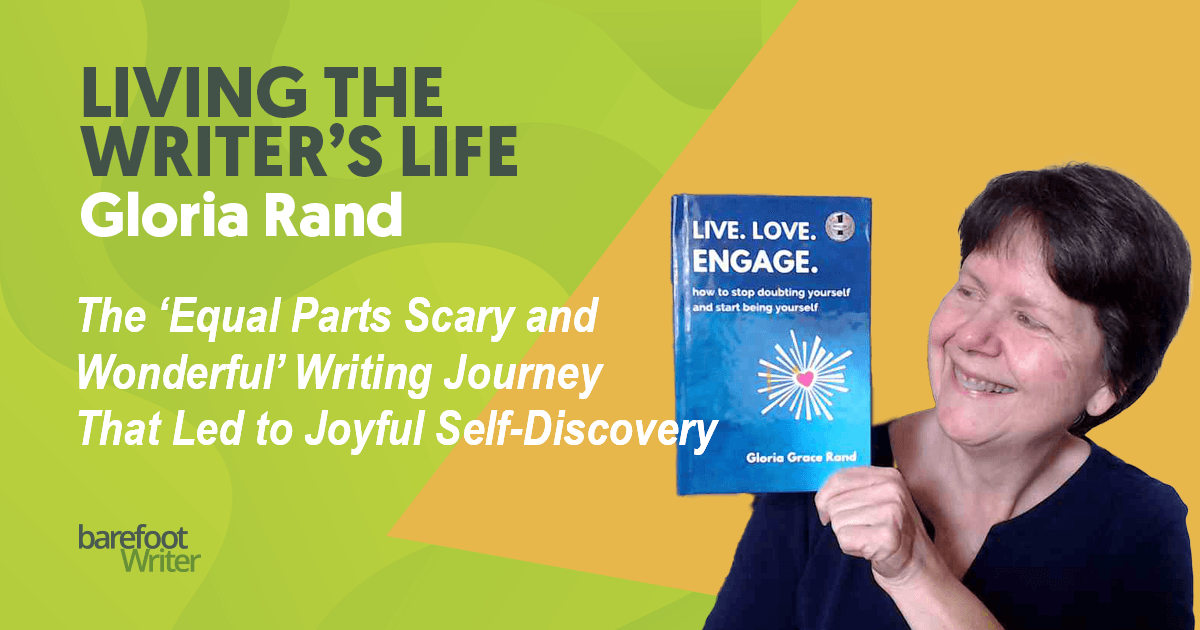 Gloria recently wrote her first book, titled
Live. Love. Engage. How to Stop Doubting Yourself and Start Being Yourself.
Gloria Rand was born with a love of writing but never expected the different twists and turns it would take her on. From finding connection in a new hometown to working in SEO to writing her own book, the skill of copywriting has allowed her to pivot in her goals and business interests many times. But along with personal satisfaction, writing has brought immense life satisfaction, thanks to the freedom to be there for others when it mattered most. Read on to discover how Gloria reshaped her writing business to fit her life needs many times over.
Was writing always your goal or did it become a way to escape a job you didn't love?
I've always been a writer, just in different forms. Even going back to when I was a kid, I did pen pal letters. So I grew up and got a job working in television, and I became a writer and producer for the Nightly Business Report when it was on public television. Then we moved and I became a stay-at-home mom and was, frankly, lonely because I was in a new community. I'd left all my friends behind, and I wasn't quite sure what I wanted to do.
Then I got these letters in the mail from AWAI saying, "Can you write a letter like this?" One day I looked at it seriously and thought, Yeah, I can do that. Copywriting was about getting away from boredom and wanting to be able to still write. So really, AWAI was my salvation. It gave me something that I could sink my teeth into, and I really enjoyed it.
How did you train to be a copywriter?
I started with the SEO copywriting course, and I really liked that because it appealed to both sides of my brain. I'm a Virgo, so I'm very logical at times. I loved the aspect of doing research to try to find the right keywords, but then using the creative part of my brain to make it into something that was appealing for someone to read.
I soon realized that Okay, if I'm going to become a copywriter, that means I'm essentially going into business for myself and I have to start promoting myself. I found networking groups in my community, which helped me start meeting people, so I was able to make friends and get clients along the way.
What kind of writing keeps you busy now?
I spent many years doing SEO copywriting, helping small businesses with their online marketing and websites, doing emails and all that. I found that in working with small-business owners over the years, a lot of what keeps them from being as successful as they'd like is their mindset.
I also do marketing copy, newsletters on LinkedIn, social media posts, and emails to my list. I promote other events and my own services as well. And I wrote a book called Live. Love. Engage. How to Stop Doubting Yourself and Start Being Yourself.
What unexpected lessons did you learn when you started working for yourself?
Starting my own business brought up a lot of limiting beliefs about money. I had trouble valuing my services. I had trouble pricing. What do I charge? What do I charge for this website? I was afraid to raise my fees, but when I did, my clients always said yes.
Writing that book really helped me see that I wasn't loving myself and wasn't valuing my own worth as a copywriter even though I did good work for my clients and they appreciated it, and I should have been appreciating that more.
How have you taken advantage of life as a Barefoot Writer?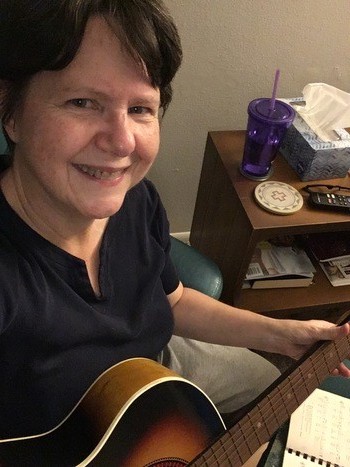 Playing guitar is one of Gloria's
hobbies outside of writing.
It's very flexible. I lost my sister at the end of 2016 from cancer. She lived in Arizona and I was in Florida, so when she was going through chemo treatments, I was able to go out there, be with her, and still work with my clients. Going through that journey with her is what really sparked my own inward journey and figuring out What the heck do I want to do? Do I still want to do copywriting? And of course, you hit middle age, and that kind of happens anyway.
What's your advice to a brand-new writer?
I would say just go for it, don't let fear stop you. If you enjoy writing and if you want to be able to help others with it, that's a really great combination, because it is such a wonderful way to be able to communicate.
Gloria's Living The Writer's Life story was originally published in Barefoot Writer. To learn more about how you can start living your dream writer's life too, click here.
What help do you need to move forward with your version of the writer's life? Let us know in the comments below so we can help guide you in the right direction.
Published: November 18, 2023