Loophole!
Hundreds of Up-And-Coming Copywriters Have Discovered a "Backdoor" Way to Access Thousands of Dollars Worth of Professional Content, Live Learning Events, Paid Projects, Premium Writing Tools And More…
And It Needn't Cost You A Dime!
Dear Fellow Copywriter,
It wasn't supposed to be this way…
But over the past three years now, hundreds of AWAI members and other copywriters have discovered a little "glitch" in the system.
It involves a special organization we were instrumental in helping to create… called The Professional Writers' Alliance – otherwise known as "PWA".
PWA was formed to meet a growing need for a professional organization dedicated exclusively to working and aspiring writers specializing in the direct-response industry.
Since it opened its doors to new members, it's become quite a large and influential group -- attracting some of the most prominent, successful players in our industry: copywriters, marketers, publishers, designers, and the like.
But while working and aspiring copywriters alike have been enjoying the many professional and educational benefits of Alliance membership, they quickly discovered an added benefit…
A way to "bank" hundreds of dollars per year in free money…
Money they could use to advance their careers… add to their knowledge base… and get in tight with some of the best paying and influential marketers in the country.
I'll explain how this came to be in a moment... and why some are calling it one of the most lucrative, undiscovered "loopholes" in our industry.
But first, let me tell you about some of the amazing benefits of the Professional Writers' Alliance – and why every writer in our industry can't afford not to be a member.
In fact, I'll guarantee you won't find a resource with more current or more useful content geared specifically to direct response copywriters anywhere.
The Ultimate Resource for Professional Copywriters
Becoming a Professional Writers' Alliance (PWA) member is the perfect way to:
Hone your skills and learn the newest writing techniques …
Build up your professional network by connecting with fellow writers …
Create a "Rolodex" of companies, publishers, and marketers always in need of new copywriters with fresh ideas …
Learn what copy approaches are working in the marketplace …
Know what companies, marketers, and publishers are hiring freelance writers and marketers …
Get tips, insights, and 'industry wisdom' from high-level copywriters …
Follow real marketing projects as they move from the "idea" stage to the final draft …
Learn about niche and high profile freelance opportunities around the world …
Gain immediate credibility as a direct-response industry professional by displaying the Professional Writers' Alliance membership seal in all your marketing materials and correspondence …
See special deals, discounts, offers, and invitations exclusively for PWA members …
In short, becoming a PWA member is like having a vast resource center and support staff at your beck and call. Members who have joined and watched the number of benefits explode over the months rave about the value of this long-needed professional resource.
PWA member Bruce Waller says:
"I find being able to get quick answers to pressing questions I have about anything to do with copywriting very useful."
Member Jerry Bures says he turns to the group regularly for motivation and inspiration:
"I'm inspired and motivated by the Member Spotlight feature. It's a lesson in re-fueling to hear others' stories, knowing that this life of writing from home is doable."
Member Debbie Chang says her PWA membership has been instrumental in helping her develop her writing skills:
"There's not a day that goes by I don't find some jewel of training at the site."
Member John Rodriguez agrees:
"I am simply amazed at the depth and knowledge that is presented to me. I have received so much support and training that I can't begin to thank you all for the massive resources available to me."
Others love the camaraderie and "like-minded" ideals that exist among the members — like member Megan Gilmore:
"Being able to have other like-minded successful members to bounce ideas off of truly saves me time and money."
Richard Lacey loves the "new and improved" PWA website and all the brand new content:
"Wow! What an extraordinarily attractive, appealing site. There are so many interesting features that I can't decide where to start!"
In fact, over the past year we've heard from hundreds of Professional Writers' Alliance members thrilled with all the perks and benefits that come with membership.
But thanks to the special "loophole" I told you about earlier… membership in PWA needn't cost you a single penny!
What's more – it's a way to gain access to literally thousands of dollars in live events, premium learning tools, industry programs and more.
I'll explain why and how in a moment …
But first, let me give you a closer look at the many Professional Writers' Alliance benefits, so you can decide if membership is right for you.
Every Resource You Need
is Just a Mouse Click Away
All the benefits of the Professional Writers' Alliance membership is online so you can get the help and answers you need … when you need it … from anywhere, anytime.
Picture if you will a "virtual learning hall" … where the moment you enter you're surrounded by a myriad of powerful writing and career-boosting resources.
Step in, and one of the first things you see is a group of professional copywriters discussing how to craft the perfect headline — and you're free to listen in and ask any questions you like.
A few feet away, there's a place for you to submit your raw copy or a headline and lead idea — and get sound, constructive feedback from your peers and guest experts.
Further down the hall, there's AWAI's ever-growing On-Demand Training Library where you can simply "punch in" what you need help on and get answers: tips for putting together strong offers … what you should say in your P.S. … how to write a great subject line, headline, subhead … advice for writing in a conversational tone, and much, much more.
Next to that is The Ultimate Clip File where you'll find a growing list of control-busting direct-mail letters — organized by genre — yours to study, dissect, borrow from and, of course, be inspired by.
Not far away is The Professional Writers' Alliance members-only Resource Center — an entire area committed to helping you ready yourself for the world of professional copywriting — everything from helping you create your own freelancer's website … to putting together a killer portfolio … to getting clients and landing your very first paid assignment.
And, speaking of jobs, we will provide you with access to real listings from real marketers looking for up-and-coming copywriters, marketers, and other direct-response pros ready to tackle a myriad of projects.
And, that's just for starters …
Within the walls of this "virtual learning hall," you'll find a never-ending flow of the latest ideas, tips, news, and information — plus "on-demand content" that will not only make you a better writer … but serve as an invaluable resource you can turn to anytime you need help on any writing task or project given to you.
The Professional Writers' Alliance is a resource any serious writer who wants a complete understanding of the writing and marketing process should have.
It's there to provide you with everything you need to be successful, faster:
Expert advice on deciding which of the dozens of copywriting career "niches" is best for you, your skill set, and your income aspirations …
Help creating and putting into motion a career plan that sets you on the fastest path to success — one that ensures you have all the tools you need to succeed, including a working strategy for finding clients when the time comes …
Answers to any questions — about what copywriting niche pays the best … how you should approach a prospective client … what you can do to strengthen any headline, lead, offer … anything you can imagine.
Camaraderie, encouragement, and support when you're feeling overwhelmed …
The long list of PWA benefits fall under three core areas:
Hands-On Training — where you learn specific ways to hone your writing and discover new marketing techniques …
Community Access — where you can meet and communicate with fellow members, hear from the experts, and learn how other members are succeeding …
Career Assistance — where you can learn about jobs, opportunities, and promote yourself as a PWA member.
A Long List of Ever-Increasing Benefits
Here's just a taste of what you'll find on your members-only Professional Writers' Alliance site on any given day:
Live "Ask The Experts" Events & Member Spotlights
Every month, we invite working writers and marketers to discuss some of the more important matters affecting your writing career and your ability to get and manage new and existing clients.
Past recordings you'll have instant access to include sessions with Bob Bly, who discusses his early days as a copywriter, how he built up his business, and what's working in copywriting today …
There's a great session with Nightingale-Conant CEO Gary Chappell who talks specifically about what he looks for in a potential copywriter …
Renowned copywriter David Deutsch — who's written for such clients as Boardroom, Phillips, Agora, and KCI — reveals secrets he's learned along the way … and talks about what it was like to train under the legendary David Ogilvy …
Hear from AWAI members Brian E. Whitaker who made the leap from marketing manager at Dell Computers to successful B2B Copywriter … and Bob Edelstein who's making a very nice living in the mountains of Colorado writing emails and autoresponders.
In all, you'll have an opportunity to "catch up" on over 75 live sessions with professional copywriters, successful members, and marketing professions … all held over the past 3 years …
And that's not counting all the new live interview sessions we have lined up for
PWA
members over the coming month!
"On-Demand Training" Library
Over the years, AWAI has put together dozens of detailed reports and training sessions on all the deeper, most crucial topics direct-response writers need to know — and as a Professional Writers' Alliance member, you'll have access to all of them.
Among some of the program topics:
The power of persuasion: How to get what you want from anyone, anywhere, anytime …
How to build product credibility with implied endorsements …
How to effectively track, measure, and analyze response rates …
Conquering the Lead: How to turn your "Big Idea" into a remarkable opening …
How to identify and appeal to your prospect's core buying emotion …
Power editing: How to make your good letter great with advanced editing techniques …
Effective use of testimonials …
The secret to capturing your reader's interest through the effective use of transitions …
How to write a headline your prospect can't resist …
And dozens more …
Plus, you'll find exclusive PWA archives of:
Recommended Monthly Action Steps
Your News & Notes Updates
Guest Writer Series
And more
The Ultimate Clip File
As a copywriter, this may very well be the PWA membership benefit you use the most. It's an online "clip file" of dozens of the most successful promotions in all genres — from Business-to-Business (B2B) to financial copy, to heath to lifestyle and subscription products.
For instance, interested in seeing a financial sales promotion that generated $5 million for The Oxford Club? All you need to do is click on Jay Livingston's "Take Over Trader" letter and you'll see it in it's entirety in PDF format — along with "numbered notes" throughout that will help you understand what made the letter so successful.
Or how about a fundraising letter that garnered an amazing 9.6% response rate? Then click open Susie Fought's inspiring "Make a Wish letter" and learn what helped make it one of the most successful fundraising letters in recent years.
As AWAI Founder Paul Hollingshead has said repeatedly, you can learn a lot about the business of copywriting simply by studying successful promotions. Not only are these some of the best "learning tools" you'll find anywhere — they also serve as an excellent source of ideas and inspiration for your next project — whatever it may be!
Moderated Members-Only Forum
One of the biggest challenges all freelance writers experience is that feeling of isolation we get now and again. That's where our Live Forum and mini "Focus Forums" can really help you.
Through the moderated Live Forum, you'll be able to jump in whenever you want … throw out ideas for feedback, ask other writers their opinions about a struggle you're having … test a headline and lead idea … even just vent some feelings or engage in a lively debate. What's great about this forum is it'll be populated by beginners and experts alike — including some of AWAI's professional marketers and writers who will be glad to weigh in on any questions or challenges you might have.
Direct Response Jobs "Premium"
Right now as a member of AWAI, you get access to DirectResponseJobs.com, and can search the ads posted by marketers looking to hire writers.
But, with the Premium Profile you're entitled to through your PWA membership, you'll have so much more.
You'll be able to post your own page that promotes your writing services. Plus you're included in the exclusive PWA Directory of Freelance Professionals. It's just like having your own "mini website" directly on our job board, so marketers who want to search for the perfect writer can find and contact you directly.
And, don't worry about having to create a page for yourself. Just fill out the information on the form we give you and your page will be up in no time — with all the information any marketer needs to see.
Ongoing Writing Tutorials
There's no better or surer way to be a successful writer than to write every day. It's one of the key lessons taught in the Accelerated Program … and a tip virtually any successful writer will give you.
That's why if you have no copy of your own to work on — or a little bit of downtime you want to use to hone your writing skills — you should be sure to visit our Weekly Practice Your Writing and Monthly Writing Challenge pages where we'll give you plenty of fun and practical writing challenges aimed at bolstering your writing and persuasion skills. Just choose an assignment from the kind of writing you want to do … choose what area you'd like to work on … and you're on your way.
But here's a tip: Don't write a single word until you read (or reread) the three crucial articles on good writing — including "The Power of One" … "The World's Simplest Formula for Writing Well" … and "How to Use the Flesch-Kincaid Scoring System to Strengthen Your Writing." You'll find them on the Monthly Writing Challenge page.
Regular "Premium" Insights, Tips, and Strategies from Dozens of Guest Experts
In addition to "Ask the Experts," you'll find all kinds of guest articles and video presentations from guest experts — on everything from how to write a powerful headline … to how to use your day more efficiently … to how to launch your very own direct marketing or information-marketing business.
"Writing Challenges" That Can Pay You Cash!
There's not a lot we won't do to encourage you to "write every day" and if it means giving away money and jobs to get you to do it, we will!
That's why if you love a challenge — and you're looking for a fun way to make sure you're writing all the copy you should be writing, be sure to visit our "Writing Contests" section often.
You'll find new and challenging assignments that can not only pay you some extra cash here and there … but win you a chance to write a dream letter for a major national client.
"First to Final": The Evolution of a Successful Sales Letter
Here's a benefit that quickly became a PWA member favorite …
It's where top writers have generously offered to share their entire writing experience with you — from the time they're given an assignment … to the final draft that's submitted … and all the angst, revelations, and writing that happens in between.
We offer this benefit because we know through experience you can learn a lot from understanding the creative process.
A lot of new writers think professional writers simply sit down at a typewriter and pump out winning copy effortlessly, time after time. They wish that were the case …
In reality, every writer has a first draft he or she most likely would rather forget. But, it's the process from that shaky first draft to the final product where so many writing and selling lessons are learned. Which is why we ask top writers to share this experience with you — by taking you from first to final draft — and telling you about all the revelations that happen in between. When you sign up, you'll have a front row seat to all future First to Finals … plus access to the complete archives, which includes 16 in-depth analyses on winning controls from Paul Hollingshead, Jen Stevens, John Forde, Carline Anglade-Cole, Herschell Gordon Lewis, Nick Usborne, and more.
There is no other online resource like this. It's a fantastic learning tool you can refer to time after time.
"I just listened to the PWA "First to Final" with John Forde.

Brilliant! I could listen to him all day. I think this may be the most valuable benefit of PWA – the ability to essentially get a "hands-on" look into the methods of an A-level copywriter.

The only other way you could experience this is if you were actually apprenticing for a top copywriter."

— Steve Roller
The Official Professional Writers' Alliance
e-Bulletin, "News & Notes"
The first of every month, you'll receive an email news-bulletin from The Alliance called "News & Notes" alerting you to any news happening within the writing and direct-response industry you should be aware of … any new opportunities that have come up for writers and web experts … events, conferences, or upcoming online meetings we think you should know about … new resources and/or "expert faces" to be found at The Professional Writers' Alliance … guest articles … and much, much more.
Plus, there's a ton of tips you can use here too. Join PWA today and you can sift through more than two dozen past issues of "News & Notes" and learn such nuggets as:
Copywriter Don Mahoney's secret to blowing past writer's block …
Bob Edelstein's three crucial tips for beginning copywriters …
How studying aphorisms can make you a better, "crisper" writer …
A brand-new TV show every copywriter should watch (and some old ones you should see too) …
The inside details from at least two major sports writing organizations looking for writers — ideal for sports fans …
Copywriter and AWAI instructor extraordinaire Will Newman's secrets for writing copy that's sure to connect with any reader …
And much, much more!
The Enormous Credibility That Comes With Being a
"PWA Member in Good Standing"
The Professional Writers' Alliance is your professional membership organization.
And as a member in good standing, you'll be permitted to advertise your association with PWA and your commitment to your profession by displaying the Alliance's official logo on your website, business card, and/or promotional material.
Please do not underestimate the value of this. As The Professional Writers' Alliance plays a bigger and bigger role in our industry … and as more and more writers join … there is much you will gain professionally through your association with our group. You send a message to your peers and potential clients that you're a professional through and through and that you take your business and your work very seriously.
Of course, these are just samples of some of the perks and benefits of becoming a Professional Writers' Alliance member …
And don't forget …
Because the Alliance has been up and running for nearly three years now — you'll have access to over 36 months of invaluable archived material … in addition to all the new content, assignments, articles, interviews, live recordings (and more) that you will see every month!
The First-Ever Direct Response Industry "Virtual Open House"
Plus we're adding a brand new benefit just a few months from now – something that can be best described as the first-ever "Open House" for the direct response industry.
And it couldn't come at a better time…
These days, thanks to the explosive growth of online marketing, there's more opportunity for direct response writers than ever before…
So much, in fact, that it can be overwhelming for people new to our industry to know which niche to choose!
Even "veteran" writers who have been in our industry for a while now are so busy in their own niches, that they may not know about all the exciting and lucrative new opportunities open to them.
So we're doing something about it…
By inviting renowned experts from dozens of the fastest growing and most lucrative niches of the direct response industry to talk about the opportunities exclusive to their "corners" of the market – and the fastest way to break into these new markets.
Whether it's email marketing… social media… web marketing… specialized (and highly lucrative) "long copy" niches like financial, health and non-profit writing – PWA's "open house" will be a must-see event…
And it's absolutely free to PWA members exclusively!
You'll see all the details of dates and times for these special "open house" events in the coming weeks…
That's why there's never been a better time to join Professional Writers' Alliance.
And we're always adding more and more benefits!
So you may be wondering by now …
What Does Membership Cost?
What does joining such a "resource rich" professional organization cost?
Well, that's where this idea takes a rather unique and exciting turn.
Let me explain.
If you're a business professional, you know how much professional business associations can cost to join — $500, $800 — even $2,000 per year.
The DMA (Direct Marketing Association), for example, costs $1,500 a year for an individual marketer to join and, although it's a wonderful organization, you won't get a fraction of the hands-on writer specific learning tools and professional insight The Professional Writers' Alliance gives you.
Naturally, the price you'll pay to be a part of The Professional Writers' Alliance won't be close to $1,500 per year.
The price to join The Professional Writers' Alliance is just $58 per month … …
That means you'll pay just $58 per month, billed to your credit card, for as long as you choose to be a Professional Writers' Alliance member!
Now just to be clear, that's not an "introductory" rate that will go up a few months from now …
When you join through this membership offer now — that's all you'll ever pay, for life. Your monthly membership fee will never go up.
But, here's the thing that makes this membership offer different from anything you've ever seen …
The crazy "loophole" I was telling you about.
You see… because AWAI was instrumental in launching PWA…
And because we believe we offer resources that can have a profound impact on a copywriter's near-term and long-term success…
We wanted to be sure members had easy access to all the resources we offer.
So we made a deal with new members: Do what any working or aspiring direct response writer should do and jointhe Professional Writers' Alliance immediately…
And we'll open a special "account" for you under your name… and "match" your monthly PWA dues dollar for dollar – and then some!
How does it work?
Very simply:
Use Your Payment as an AWAI Credit —
Towards Anything!
Every penny of the $58 monthly membership fee you pay goes into a special account under your name … and is set aside for you to use as a "credit" towards any AWAI resource you purchase at any time in the future.
We call these "Alliance Dollars."
They start adding up from day one … and they can add up very quickly.
Every month, the $58 you pay towards your membership will be applied to your account.
So after, say, six months of membership — every penny of the $348 you'll have paid can be applied to any AWAI program, course, resource, or event (including Bootcamp!) at any time.
Furthermore, your "Alliance Dollars" never expire.
They just keep adding up month after month after month, year after year — for as long as you're a Professional Writers' Alliance member.
But, it gets even better:
Every 12-month period you're a Professional Writers' Alliance member, we'll add an additional $100 to your "Alliance Dollars" account — actual money you can apply to the purchase of any AWAI resource!
So at the end of year one – you'll not only have your $696 in paid dues waiting for you – but another $100 from us – for a grand total of $796!
In year two – you'll have $1,592 saved up…
In year three -- $2,388…
That'll likely be enough to pay for a full Bootcamp attendance, if you use your Alliance dollars to sign up through one of our "early bird" offers! (Yes, your Alliance dollars can be used on special deals, offers… anything!)
Now do you see why many copywriters call Professional Writers' Alliance membership one of the biggest "loopholes" in our industry?
Because not only can every penny of your membership dues be used on invaluable learning resources… you actually get an extra $100 "Bonus" from us deposited directly in your account each and every year you're a member!
And, speaking of AWAI resources — here's another
Professional Writers' Alliance
membership perk …
"Surprise Discounts" For You Throughout the Year
For Alliance members only, we offer you a "Deal of the Month" – that's every month a discount on a specially-announced resource — anywhere from 20% to 50% off the resources you can use to build your skills, grow your freelance business … and generate more income for yourself year after year.
These will be exclusive deals for Professional Writers' Alliance members only.
But as wonderful as these discounts and "Alliance Dollars" are — the real benefit of PWA membership will be the profound impact it can have on your writing career.
The Professional Writers' Alliance will be like having the world's best copywriters as personal mentors, there by your side — feeding you their most private and successful advice for writing great copy, helping you finding clients, and accelerating your career.
Not only will you have access to some of the most advanced learning and career tools any copywriter could ask for — you're joining an active community of like-minded peers, each benefiting from the others' successes.
You'll have a place to go to have any question you have answered …
You'll have constant access to online events exposing you to new and innovative ideas you're not likely to find anywhere else …
You'll have a team of people working for you to cut through the information clutter — and only bring you the most relevant and proven ideas for writing great copy and advancing your career …
You'll have a place to "test drive" your ideas, headlines, leads, offers — even entire ads and letters …
You'll have a place to go, whether you're stuck for a "Big Idea" — or just don't know what your next sentence should be …
You'll make new friends and professional contacts — people who can have a profound and immediate impact on your success …
You'll see and hear from clients looking to be put in touch with "our most eager and most serious" writers …
You'll spend less time mastering complex ideas and more time writing income-generating copy …
You'll have someone to turn to when you're frustrated or need some words of encouragement …
And, don't forget …
We've done our very best to keep the cost of this professional association membership low for you. We've even mitigated the cost of membership for you entirely … by letting you save up and apply every cent you pay for your Professional Writers' Alliance membership toward any AWAI resource you choose to buy, at any time.
Remember, too, as a Professional Writers' Alliance member, you'll be hearing about some "special surprise offers" from time to time … as much as 50% off selected AWAI programs.
I think you'll agree, it adds up to a very good deal — and an excellent opportunity to boost your copywriting career quickly and substantially … with virtually no financial risk to you.
One More Very Special Gift to Tell You About
But, before you sign up, there's one more very special gift I want to give you for becoming a member of The Professional Writers' Alliance.
We offered this gift to new members when we first started PWA 3 years ago. The idea was that we'd send it to the first group of members, then offer it for sale through the AWAI website for $49. But we got such a fantastic response to it, we wanted to make sure you have an opportunity to get one as well.
In short, it's quite an amazing "Cheat Sheet" we'd like to send you.
It comes in a "poster" format, so you can put it up near your workstation for easy reference.
Here's what yours will look like: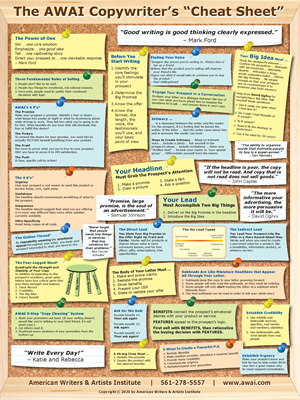 Now you may be wondering — what's the idea behind this unusual gift?
Well, something we've noticed over the years is that many of the copywriters we've worked with like to tack up little "tips, rules, and reminders" on the walls above their desks so they never forget the basics of good copywriting.
For years, Paul Hollingshead had little cards taped to the wall over his desk that reminded him what every good headline, lead, and offer needed to accomplish.
Rebecca Matter, who learned copywriting in record time when she joined us at AWAI eleven years ago, has a number of "rules" clipped from AWAI's Accelerated Program in her work space. Things like:
The 4 P's and how to work them into your letter
Six "lead types" you can use for any promotion
Two sure-fire methods for establishing credibility
The three Fundamental Rules of Selling
The importance of "The Power of One"
Components of a strong USP
Ways to make sure your voice maintains that all-important "conversational tone"
One day we decided … "Why don't we take all the most important pointers copywriters need to remember when setting out on a new writing project and incorporate them into a useful poster they can display near their work area?"
And that's what we did.
We "boiled down" the Accelerated Program to its core secrets … so you know exactly what to do at each stage of your copy … from the research you need to do before you start writing … to an attention-grabbing teaser or headline … all the way to a deal-sealing P.S.
PWA members who have received the poster love it!
"Just wanted to drop you a note to say THANK YOU for the AWESOME poster you sent to the PWA members! I just received mine today … but I've heard a lot from the members on how valuable it is. Just that little extra 'security' of knowing you have all of your notes in one place is a good feeling. I'll be framing it and hanging it next to my desk."

— Kellie Craft
"OMG!!! as they say! Got my PWA membership certificate and Copywriter's 'Cheat Sheet' today. Let me congratulate you on a fantastic job in putting that together. Everything we need to remember is all in ONE place."

— Olive Wolfe
Freelance copywriter Michele Peterson sent us this note along with a picture with her poster featured front and center over her desk …
"The Professional Writers' Alliance is a great resource for additional training from top-level experts, and the Premium Access to DirectResponseJobs.com is outstanding as well. But the biggest benefit of membership, for me, has been the added credibility I've gained by listing PWA as one of my professional associations and displaying the logo on my website and marketing materials. Thanks, AWAI!"

– Michele Peterson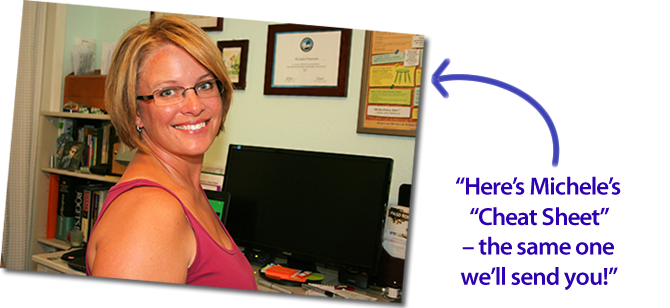 Even veteran writers love the "Cheat Sheet" poster.
Recently I got this picture from Sheila Lothian, creative director with Nightingale-Conant — who's also known to do some copywriting herself …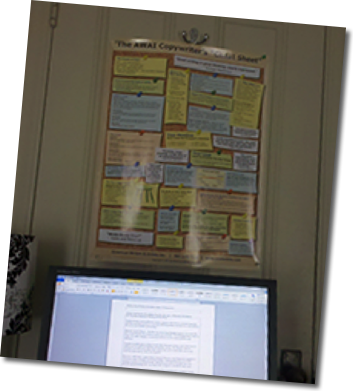 … Along with this note:
"I was sitting at my desk this morning, drinking in the wisdom on my AWAI Copywriter's 'Cheat Sheet' along with my coffee in preparation for the workday ahead — just as I've done pretty much every morning since receiving it … I snapped a shot of it in its prime location so you can see how highly I value it … Kids' pictures, over on a shelf. To-do list, somewhere under a pile on my desk. AWAI 'Cheat Sheet,' front and center!"

— Sheila Lothian,
Creative Director Nightingale-Conant
We think you'll love your AWAI Copywriter's "Cheat Sheet" Poster too.
That's why I'll send you yours just as soon as you sign up, along with some other special surprises I'll tell you about in a moment.
So how do you get started?
It's very easy.
Simply click here and you'll be taken to our ultra-secure membership sign-up page. Fill out some basic information … and let us know what credit card you'd like the $58 monthly membership fee to be applied to each month. (Remember, this discounted fee will never go up — and every penny of it will be "banked" under your name, so you can spend it on any AWAI product, resource, or event.)
Once we hear from you:
You'll receive full access to The Professional Writers' Alliance membership site, where you'll find an ever-growing list of membership benefits.
We'll put you on the list to receive our monthly Professional Writers' Alliance e-Bulletin newsletter by email for as long as you're a paid-up member.
You'll receive, by USPS, our special Copywriter's "Cheat Sheet" Poster (a $49 value, free) … crammed full of writing and structure tips, cheats, and shortcuts … ready for hanging close to your work area for easy reference.
In the same package, you'll also receive your Professional Writers' Alliance "Certificate of Membership," suitable for framing and …
Your official Professional Writers' Alliance membership card (complete with your name and the year you joined), further identifying you as an official member of this exciting professional organization.
Plus, we'll set up your special account — so we can start tracking the "Alliance Dollars" you'll be banking with us on a month-to-month basis — real money you can spend "dollar for dollar" on any AWAI event, program, or resource. (Plus, we'll add an extra $100 to your account at the end of each 12-month membership period.)
If you ever want to cancel, just let us know. We'll stop charging your credit card the monthly $58 fee — but you can still spend the "Alliance Dollars" you've accumulated on any AWAI resource you like.
And, when you join today — through this invitation — your membership fee never goes up no matter how many benefits and resources we keep adding to the program!
Click here to sign up online …
Or, if you'd prefer to do it by phone, give Debbie, Pat, or Cameron in Member Services a call toll-free at 1-866-879-2924.
I truly look forward to welcoming you as a member of this exciting professional association, as well as meeting and working with you on The Alliance member site.
Sincerely,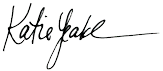 Katie Yeakle
P.S. Some members have asked us, "If I see one of your great resources offered at a special price, can I use my "Alliance Dollars" and still get the deal? Or do I have to pay full price?"
I want to be clear about this: Your PWA "Alliance Dollars" are real money to us – and you can apply them to any product…at any price…at any time.
That's why so many people call PWAmembership one of the biggest "loopholes" you'll see anywhere!
P.P.S. Joining The Professional Writers' Alliance will no doubt be one of the best decisions you'll make when it comes to your business and your career. Forget about all the savings and discounts you'll get for a moment …
For about less than $2 a day, you gain access to a wealth of resources … professional contacts … fellow writers … new clients … and more. Plus, you'll be sending a sure-fire sign to the world that as a card-carrying member of The Professional Writers' Alliance, you're a serious player in the direct response and "writing for money" field.
That's a fantastic price for membership in any professional organization, let alone one so specific to you and your career as PWA — plus you can apply 100% of your membership fees towards any AWAI resources or events, year in and year out (including Bootcamp!).
This really is an extraordinary opportunity.
A "no-brainer" as it were …
Sign up now and if at any time you decide it's not having the dramatic impact on your writing career we said it would, just let us know and we'll cancel your membership … stop charging your credit card … and you can still use any "Alliance Dollars" you've accumulated towards any AWAI resource.