Join the community that's focused on one of the best careers in writing


A Professional Association Just for Direct-Response Industry Writers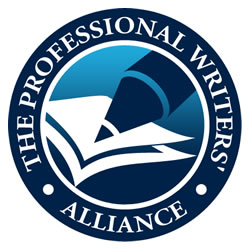 One of the Best Writing Tools You Can Put Into Practice is to Surround Yourself With Other Dedicated Professionals
Whether you're a freelance web writer or a full-time copywriter for a Fortune 500 company, it never hurts to have someone at your back challenging you to do better, cheering you on and keeping you in top form. That's just what The Professional Writers' Alliance does for its members.
Through this association, you'll enjoy full and unfettered access to a long line of benefits — each of them aimed at elevating your professional skills and offering you an invaluable source of ongoing motivation and inspiration each and every day.
The Professional Writers' Alliance is specifically committed to serving professional writers in the direct response industry. Like any professional organization, it is meant to inform you about important changes happening within the industry … to educate when it comes to new and better techniques for doing business … to lobby against changes that could adversely impact the industry as a whole … and to champion your success.
But there's more to it than that.
It is strictly for writers who want to master the exciting and lucrative art of persuasive writing — and advance their careers in writing in a real and meaningful way.
To further this goal, we give you greater access to the resources you need to get ahead as a professional writer.
Among the kind of "access" you'll have as a member of The Professional Writers' Alliance:
Access to inner circle expert discussions on the latest specific copywriting techniques working in the market today …
Access to up-to-the-minute news and issues affecting the writing industry as a whole and your career specifically …
Access to AWAI's staff and our impressive list of Advisory Board members (Paul, Rebecca, and Michael Masterson, Bill Bonner, John Forde, Bob Bly, Dan Kennedy, yours truly, and many more … ) online and through interactive media presentations …
Access to global publishers and marketers looking to 'talk business' with our most serious members …
Access to free perks and the guaranteed lowest prices on AWAI resources and others we bring you …
Access to information, ideas, and insights that can quickly elevate your writing skills — and show you how to be successful in any aspect of the direct response or information publishing business.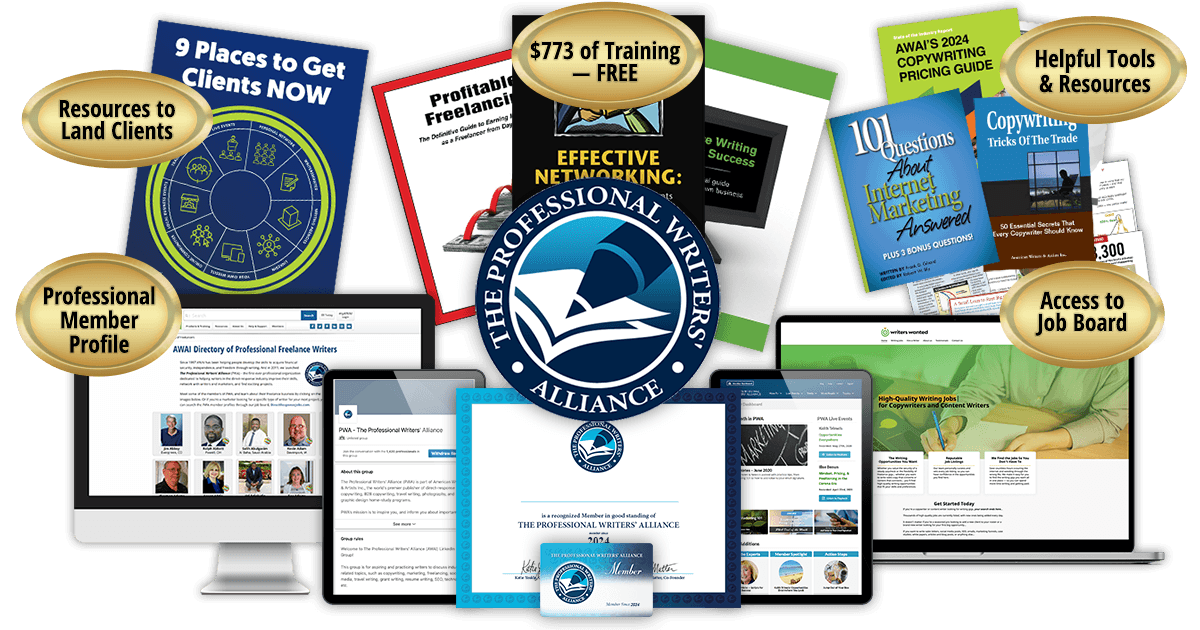 That's what makes The Professional Writers' Alliance so unique.
It's there to provide you with everything you need to be successful, faster:
Expert advice on deciding which of the dozens of copywriting career "niches" is best for you, your skill set, and your income aspirations …
Help creating and putting into motion a career plan that sets you on the fastest path to success — one that ensures you have all the tools you need to succeed, including a working strategy for finding clients when the time comes …
Answers to any questions — about what copywriting niche pays the best … how you should approach a prospective client … what you can do to strengthen any headline, lead, offer … anything you can imagine.
Camaraderie, encouragement, and support when you're feeling overwhelmed …
With your membership in The Professional Writers' Alliance, you'll put the resources behind you that you need to stay ahead in your copywriting career, to keep growing professionally, and ultimately to succeed at a higher level. Membership, with all its benefits, is just $58.00 $29.00 per month, so act now.
The Professional Writers' Alliance: $58.00 $1.00 to signup and just $58.00 $29.00 a month for as long as you keep the subscription.
For More Information, click here …