How to Write a White Paper (That's Not Boring)
A white paper is a marketing document that uses research, facts, and other data to inform readers and help promote a product or service.
Now, don't assume white papers are dry, technical reports. Far from it.
They can be really fun projects to write — and they're in high demand from B2B companies, who are willing to pay up to $8,000 for a single white paper.
Many B2B companies use white papers as lead magnets to demonstrate their expertise in an industry and start building a relationship with their prospects.
White papers typically follow a simple, predictable structure and are great for writers who prefer working on informative pieces rather than on more sales-focused copy.
In this chapter, we'll cover how to write an effective white paper — from researching your topic to writing the final report.
1. Determine the Purpose of Your White Paper
Before you begin writing your white paper, you should get clear on its purpose. This will guide all the subsequent steps of creating the paper and help keep you focused.
White papers are most commonly meant to…
describe how to perform or troubleshoot a specific task or process a company's ideal customers may be struggling with.
offer a solution to a common industry problem.
provide insights into an issue relevant to a company's industry.
You can discuss this with your B2B writing client and see which approach would work best for the specific project you're working on.
At this stage, it's also important to consider who your target audience is and how this paper will be useful to them. This is another vital conversation to have with your client — and they will often be able to provide you with a detailed description of the types of people they want to target.
Once you've identified your ideal prospects, you can decide on a topic that's aligned with both their needs and the core message or product you're going to promote.
Your client will likely already have a topic they want to write about. But it will be up to you to refine that topic so it's appealing and relevant to their audience. And the best way to do that is through careful research.
2. Research Your Topic
Research is the foundation of any white paper. It's essential that your paper is current and accurate, so be sure to research thoroughly. The two main types of research you'll be using are primary and secondary.
Primary research is gathering information directly from other people. This could be through interviewing your client's employees or experts in the industry, or conducting surveys with your target audience.
Secondary research is researching online, using resources like industry publications, government statistics, and reports from other organizations. It's important to include multiple sources here so you can draw reliable conclusions and support your arguments.
And remember to document the sources you use as you go so it's easy to reference them in your paper.
Once you've gotten some good information about your topic, you'll have a much better idea of how best to present it in your white paper.
3. Outline the Key Elements of Your White Paper
White papers typically follow a very similar structure. This is a good thing when you're starting a white paper project, because it helps you organize the information you've gathered during your research.
What follows are the six parts that are most commonly found in a white paper. You can easily create an outline or template that includes each of these parts and start filling them in as you progress.
a) Title Page
The title page of a white paper is the first impression your reader will have of your document. It needs to be clear, concise, and compelling.
A good title for your white paper should be descriptive, yet intriguing and original. It should give readers an idea of what the paper is about and why it's important.
For example, this is the title page from a white paper from Sika, a chemical manufacturing company that supplies a range of products to the building sector and motor vehicle industry: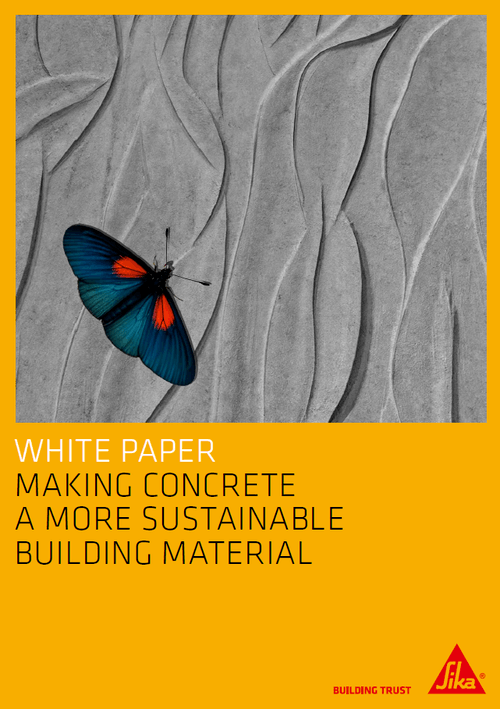 The title clearly expresses what this paper is about — how to make concrete a more sustainable building material. The topic is immediately relevant to businesses in the building sector because the production of concrete requires large amounts of energy and raw materials, which has a significant cost and impact on the environment.
This white paper addresses how Sika's products and services can help optimize concrete production and make it more sustainable.
You can read Sika's entire white paper here.
In addition, the title page is nicely laid out and looks very professional and eye-catching. The design of the final white paper will be up to your client, unless you have agreed otherwise.
But it's helpful to keep the final design in mind so you know what to write. You can also make design suggestions throughout the document if you think a certain presentation or layout would work well.
b) Table of Contents and Copyright
The table of contents allows readers to quickly skip to sections of the white paper they're most interested in. Ideally, it should also include a copyright notice, which helps protect the content from being used without your client's permission.
This is the table of contents from Sika's white paper: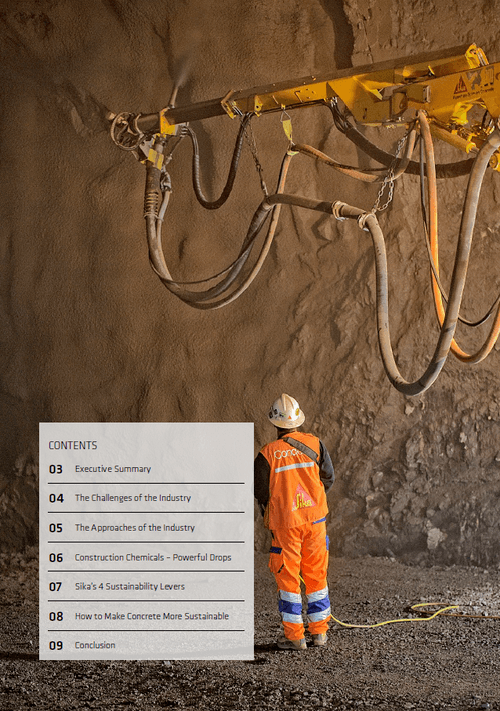 You can see it's professionally designed and clearly lists each of the main sections of the paper.
c) The Introduction
Writing a compelling introduction for your white paper is essential for capturing your reader's attention and keeping them engaged. The introduction can also be called the executive summary or overview. It should quickly summarize the main points of your paper and explain why it's relevant to your reader.
Keep these tips in mind when writing your introduction:
Keep it concise — cover what you need to, but no more.
Include a brief overview of the topic and why it's important.
Explain how your information will help readers.
Outline any objectives you have for the paper, if applicable.
This will help you craft an effective introduction that gets your target audience interested in reading more.
FREE TRAINING:
Discover Why B2B Copywriting is the Absolute Best Niche for New Writers!
Sign up below to hear from the expert who's helped hundreds of writers launch lucrative careers in this niche where skilled writers are needed and respected.
d) The Main Body of the Report
This is where you'll dive into the details of your topic. And similar to what we discussed in the chapter on B2B blogging in this guide, you'll want to start by creating an outline of the main body of your content.
Determine the most logical way to present the information, then write subheadings for each of the main sections of the body content.
In Sika's table of contents given above, you can see the body of the white paper is divided into five main sections — starting with the challenges and approaches of the industry, then moving into construction chemicals and how Sika supports four sustainability levers, and wrapping up by discussing how to make concrete more sustainable.
Each section follows a logical progression as the white paper examines the topic.
As you develop each section, include evidence, facts, and data that support your claims. In addition, address any objections or counterpoints you might expect from your readers.
Keep your writing clear and concise, making sure the concepts presented are easy to follow and understand. You don't want readers to get lost amid too much information or jargon. Also, use bullet points or numbered lists to highlight certain points and make them easier to read at a glance.
And lastly, end your main body with a conclusion that reviews your key points and summarizes your white paper.
e) References and Resources
Ideally, your white paper should include a list of references or sources you've used throughout the document. This gives credit to the original authors and maintains the integrity of your work.
Including resources can also help readers learn more about a certain topic or find related information they may be interested in.
f) About the Company, or the "Pitch" Page
The last page in a white paper typically describes the company and includes a call to action of some kind. This page serves as an invitation for readers to further engage with the company, either by making a purchase or signing up for more information.
The pitch page should include a brief overview of the company, such as when it was founded, its mission statement, any awards or accolades it has received, and what makes it stand out from its competitors.
It is also beneficial to include information about what the company offers and how it can help solve readers' problems — highlighting any special services or features that make them unique.
This is the "pitch" page in Sika's white paper: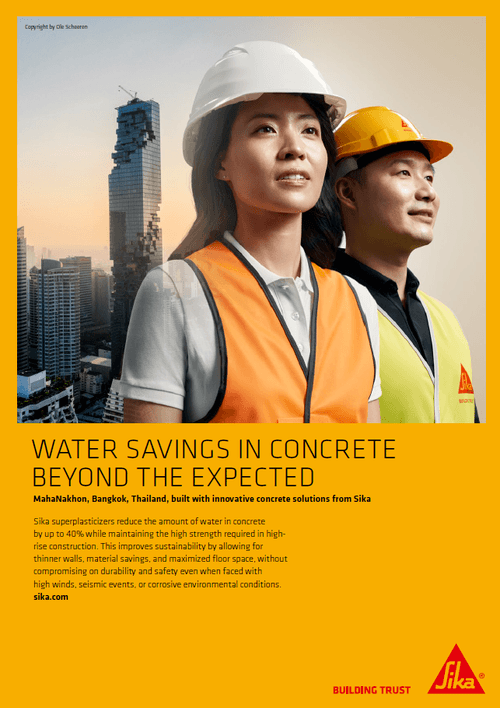 It shows the picture of a tower built in Thailand using Sika's products in the concrete. And in the short copy that accompanies the picture, Sika highlights one of the key products used in the building and how that product helps with high-rise construction.
They simply give their website address as a CTA at the end of the page, but this makes it easy for anyone interested in getting more information to look them up online.
4. Edit the Report
Once you've created your first draft, you'll need to go through it again to make sure it's the best it can be.
As you're reviewing your white paper, check that you have…
supported all your claims and arguments with research, including citations.
used appropriate language and explanations for your audience's knowledge level, whether it's novice or advanced.
kept the paper clear and helpful, using purposeful headlines and a logical structure.
made your call to action on the pitch page enticing but sensible.
corrected any grammatical or spelling mistakes.
used a consistent tone and voice throughout the paper to keep it engaging and interesting.
kept any visuals you've used relevant and attractive.
Once you're happy with the content of the white paper and any design suggestions you have included, you're ready to send it to your client.
Chapter Summary
White papers can support a B2B company's marketing efforts by acting as desirable lead magnets and helping to establish the company's expertise in their field.
They can also be a fun — and highly lucrative — opportunity for B2B copywriters who enjoy researching and writing about concepts in more depth.
By following the steps outlined in this chapter, you'll be able to craft a valuable white paper with ease that will capture the attention of your target audience and help your client draw more prospects into their sales funnel.
To learn more about writing captivating white papers, check out our program How to Become a Professional White Paper Writer: Earn Big Pay for Papers that Bring in Quality Leads for your Clients.