Sales Enablement Copywriting for
the B2B Industry: The Incredible Opportunity You've Never Heard Of
As we've explored in this guide, B2B copywriting is an unparalleled opportunity for writers who want to establish a lucrative writing career from day one.
B2B companies are constantly searching for good copywriters, and they're willing to pay top dollar to those who can help them find more customers and drive more sales.
However, one area of B2B copywriting is growing much faster than the rest, and demand for writers specializing in this area is escalating at a breakneck pace.
This specialty is called sales enablement copywriting.
Now, the name may not sound exciting — but sales enablement copywriting is a $6.8 trillion industry… and online searches from companies looking for copywriters in this field are increasing by 51% per year.
Not only that, but sales enablement copywriting is so new that very few writers know about it — which means your competition is next to zero.
In this chapter, we'll discuss what sales enablement is, how it works, what types of materials sales enablement writers create, and finally — how much money they can expect to make.
What Is Sales Enablement Copywriting for B2B?
Sales enablement is the process of equipping a sales team at a company with everything they need to sell more products and services.
And more specifically, sales enablement copywriting is the creation of written materials that help support that process and allow a sales team to better educate and convert prospects into customers.
It's part of the final step of the B2B sales cycle, when all lead-generation efforts come to fruition and a company's sales team focuses on closing deals.
An important point to mention here is that written sales enablement materials do not actually involve any direct selling. Instead, they provide the sales team with factual information they can use in their own communications with prospects.
For example, salespeople typically use a lot of email as they reach out to leads and potential customers. But they're not writers, so they often use email templates to help them craft effective emails.
That's where sales enablement copywriters come in — they can write email templates that salespeople can customize for individual prospecting emails.
And email templates are only one of many in-demand sales enablement projects.
In fact, a survey done by the B2B analysis company G2 found that 84% of sales executives cited content as the top productivity improvement area. In other words… if their sales teams had better content to support their efforts, they could make more sales.
The same survey found that sales representatives spend an average of 440 hours each year trying to find the right content to share with their prospects and customers.
A sales enablement copywriter can help streamline this process by creating all the content a sales team needs. Then the sales team can get back to doing what they do best — selling.
How Does Sales Enablement Work?
We discussed how a B2B sales funnel works in the first chapter of this guide. And most of the writing projects we've explored throughout this guide focus on generating leads for a company at the top of the sales funnel:
B2B blogging, social media, and white papers are great ways to capture the attention of new leads and grow awareness of a company's offerings. Next, a company can nurture those leads and assist them through the consideration stage of the funnel with materials like case studies and ongoing newsletters.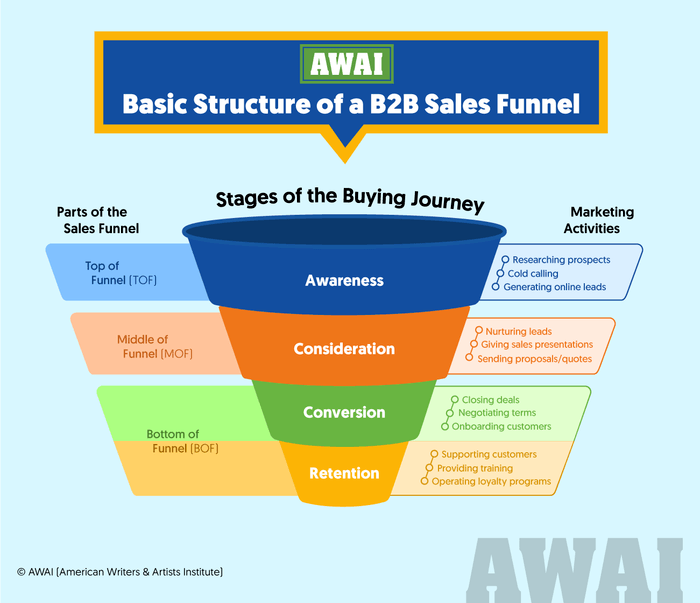 However, the conversion stage, where a company needs to convert prospects into paying customers, is essential for the business's survival. And most B2B companies have a dedicated sales team to do this.
Veteran B2B copywriter Steve Slaunwhite compares the B2B sales process to a baseball game that's divided into three distinct phases:
Discovery — where the prospect discovers the product or service a company is offering, and they're learning how it might solve their problems or challenges.
Assessment — the prospect is interested and starts reviewing information on how the product or service can benefit their company — and evaluating if the solution is a right fit.
Consideration — the prospect is very interested and is now wanting to know, "How much will we have to invest in this product or service?" It's at this stage the salesperson would present a proposal for the prospect to consider. In the B2B industry, some products may be well into the six and seven figures, so this stage needs to be handled skillfully.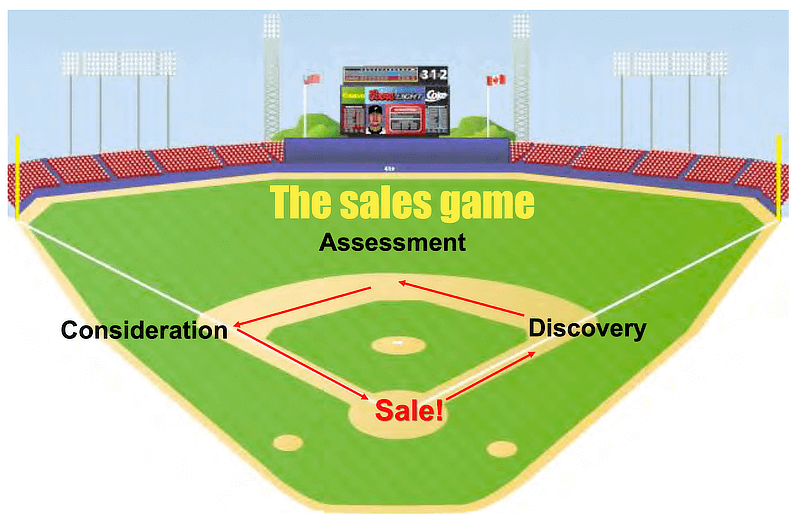 And if all goes well, the process results in a sale!
As a sales enablement copywriter, you won't be directly involved in this process. However, it's good to know how the overall sales process works so you understand exactly how the materials you'll be writing fit into the bigger picture.
FREE TRAINING:
Discover Why B2B Copywriting is the Absolute Best Niche for New Writers!
Sign up below to hear from the expert who's helped hundreds of writers launch lucrative careers in this niche where skilled writers are needed and respected.
What Do Sales Enablement Copywriters Write?
If you've never heard of sales enablement copywriting before, your first thought might be that it sounds difficult to do.
In fact, it's the exact opposite.
Similar to many other B2B writing projects, sales enablement materials tend to be quite formulaic. They often follow very clear templates and guidelines that are shown to work well for sales teams.
And as long as you learn these basic templates, you'll be ready to succeed as a sales enablement copywriter.
What follows are five of the most in-demand sales enablement copywriting projects, to give you an idea of what you can expect as a writer.
1. Battlecards
Average project fee: $1,000–$2,000
A battlecard helps sales representatives have more effective conversations with potential customers, whether face-to-face, over the phone, or via email.
Battlecards are typically two- to five-page-long documents that can include…
an elevator pitch or summary of the product,
profiles of the company's target customers,
features and benefits of the product or service,
customer success stories or testimonials,
answers to common questions, and
replies to common objections.
They're called battlecards because they're meant to "arm" a salesperson with helpful and persuasive details about a product that they can use in discussion with a prospect.
This is a template for a fictional battlecard: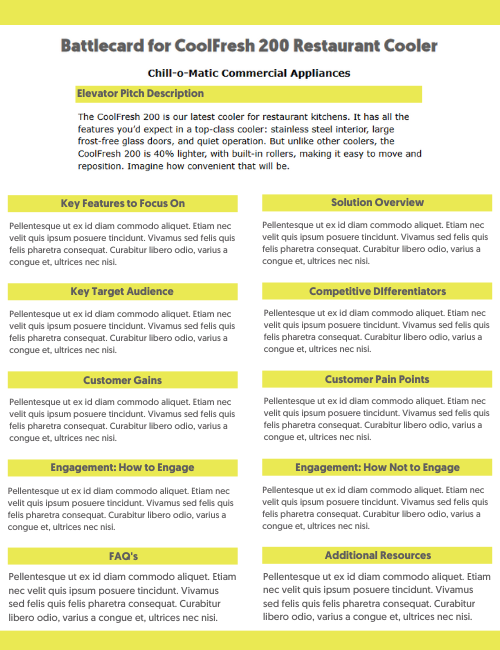 Battlecards summarize a product's main features and advantages, and how to discuss them with potential customers. Like most sales enablement content, they follow a clear and formulaic structure that you can see in the example above.
Notice how it's broken up into small chunks of copy. Each section is a key point for the salesperson to use, depending on the situation they find themselves in.
And this clear structure makes them very straightforward projects to write once you understand the basics.
2. One-Sheets
Average project fee: $1,000–$1,500
A one-sheet, also referred to as a sell sheet, is an informational document designed to fit on one or both sides of a standard, letter-sized page.
One-sheets can be created on many different topics, such as…
general product information,
industry-specific sheets,
"problem-solution" sheets that explain how a product solves a problem,
client references or testimonials,
"how it works" reference sheets,
technical specifications, or
FAQ sheets.
Most sales enablement copywriting projects, like battlecards, are used exclusively by the sales team. However, one-sheets are meant be shared with prospects either through email or by being printed and distributed at in-person meetings and trade shows.
This is a one-sheet from the content marketing agency Brafton: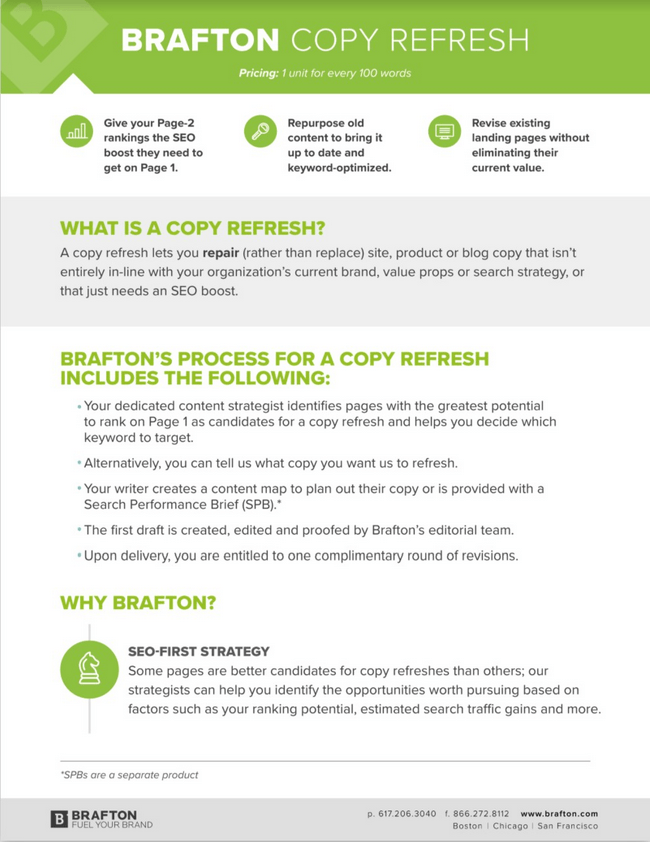 Brafton's one-sheet describes their "copy refresh" service. It includes some benefits of the service, how the service works, and what makes Brafton special.
Every one-sheet will be unique. But they all provide some form of factual and useful information about a product or service, similar to this example.
3. Email Templates
Average project fee: $1,500–$3,500 (for a package of 10 emails)
Salespeople will use email templates as a starting point for one-to-one emails with prospects. These are not broadcast emails sent to their entire email list. Instead, they'll be customizing your email template to use in one of their personal emails.
A salesperson might change the introduction or adjust it in other ways to suit an individual situation. But a good email template makes email prospecting much faster and easier.
This is a fictional example of an email template:
Hi Jill,
I just read about your promotion to VP, Logistics. Congratulations!
If you're like many new leaders in e-commerce distribution, you're feeling the pressure to reduce insurance costs.
Did you know that safer forklifts can help? In fact, our new line of forklifts (featuring our groundbreaking COB safety system) is cutting insurance costs for our clients 12–18%.
Would you be interested in finding out if you can get similar savings?
If so, here's a suggestion: Let's hop on a quick Zoom call where you can ask questions and get the answers you need.
Looking at my calendar, I have Thursday 2:15 p.m. and Friday 8:45 a.m. free. Or, use my handy Calendly link.
Ranjeet
This is a prospecting email template, sent to introduce the salesperson and their product to the prospect. However, you can create several different types of email templates. For example, salespeople can use email templates to follow up after a webinar or meeting, to send a prospect additional information, or to send a proposal or quote.
And for a sales enablement copywriter, each one of these types would be a separate project with a separate fee.
In addition, each project will typically include a package of at least 10 different emails. This gives the sales team a variety to choose from in different situations. Considering that an average email template is no more than 150 words long, you could likely complete a whole package of 10 in a day or two… then promptly collect your writing fee.
4. Call Scripts
Average project fee: $2,000–$2,500 (5 versions)
A call script provides prompts to help a salesperson stay on track during a sales call. This is why they're also sometimes called sales call tracks.
They're not meant to be a full script that a salesperson follows word-for-word. Instead, they usually include an opening for the call, a few key messages that could be discussed during the call, and a clear close. This helps a salesperson say the right things on the call and avoid getting flustered or being at a loss for words.
A script is typically only a couple of pages long and can be completed in less than a day. And similar to email templates, you'll often complete a package of at least five versions of call scripts for different situations.
5. Sales Decks
Average project fee: $2,000–$3,500 (for 20–25 slides, content only)
A sales deck is a set of slides that salespeople can draw from to create personalized sales presentations for potential customers.
As a sales enablement copywriter, you would only write the content for a sales deck. You would not be expected to do the design, unless you also offer graphic design services.
A sales deck is used near the end of the sales process, when a company makes a formal sales pitch to a prospect. It also typically follows a clear formula that shows how a product can help the prospect solve a problem they're facing, with each slide focused on one key point or message.
This is an example of the type of copy you would include in a slide: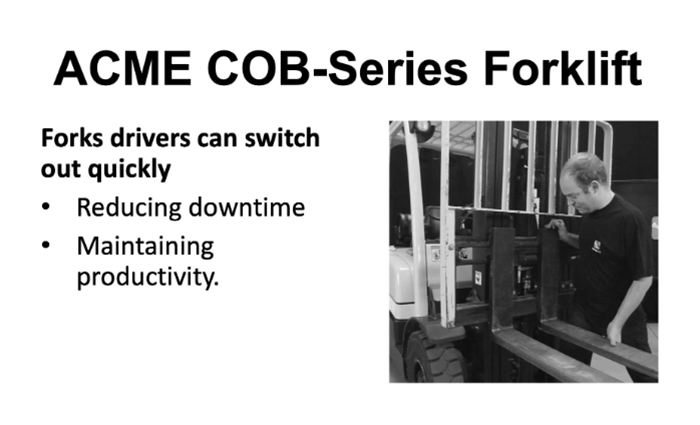 You can include a suggested image, like the one shown here. Or you could simply write a note describing the type of image you recommend.
But that's all the design you would ever need to do. Your job as a sales enablement copywriter is to determine the overall message of the series, then craft each slide to support that message.
How Much Can You Make as a Sales Enablement Copywriter?
As you can see in the examples above, sales enablement materials typically command high fees. You can check out the average fees for all of the top sales enablement projects (as well as many others) in AWAI's Copywriting Pricing Guide.
Also, keep in mind that sales enablement projects are generally very quick and straightforward to write.
How long would it take you to write a double-sided one-sheet that summarizes the key benefits and features of a product? You could likely get that done in a few hours. And when your fee for a one-sheet starts at $1,000… you can see the sizable earning potential here.
Most B2B sales enablement copywriters learn how to write all of the most common projects rather than specializing in only one type. This allows them to take on numerous projects with one client, and their fees can really add up.
In this guide, we've also talked about how many B2B copywriting projects can provide ongoing or repeating work. And sales enablement is no different.
Most companies have multiple products or services, and they'll need sales materials for all of them, as well as ongoing updates. One sales enablement copywriting client could provide a large volume of work over time, so you won't necessarily need to constantly search for new clients.
Sales enablement copywriting for the B2B industry can be a very lucrative and rewarding career. From crafting email templates to creating sales decks, you can make good money writing materials that help companies increase their sales.
You don't need any special qualifications or experience either — if you can follow a template, you can do this.
If you're interested in learning the hands-on skills you'll need to become a successful sales enablement copywriter, consider taking AWAI's Sales Enablement Copywriting Mastery & Certification.
Summary
We hope B2B Copywriting: A Comprehensive Guide has gotten you excited about the B2B copywriting industry and shown you the wealth of opportunities available to B2B copywriters.
The B2B industry is growing… along with demand for the specific types of content used in B2B sales and marketing.
Writers who know how to write these projects are also in high demand — which is why we believe B2B copywriting is one of the best ways to quickly build a good income as a writer.
The core B2B copywriting projects we've discussed in this guide are easy to learn. And once you've gotten the basics down, you can start charging professional fees from day one.
Many AWAI members have done exactly that, and we're confident you can do the same.
If you have any questions about B2B copywriting — or if you're ready to get started right now — contact us today to see how we can help accelerate your success as a B2B copywriter!