How to Write
B2B Newsletters to Boost Sales and Engagement
Are you looking for a B2B copywriting project that pays well and has consistent, ongoing work? Look no further than writing B2B newsletters!
Newsletters provide a fun and low-cost way to keep in touch with a company's prospects and customers over the traditionally long B2B sales cycle.
Also, newsletters are sent to subscribers who have agreed to receive them — which means they're already interested in what a company has to offer. And this is exactly who a B2B company should be talking to.
The majority of business newsletters are sent as emails — also known as e-newsletters. However, some may still be sent by mail or offered as PDF documents on the company's website.
All types of newsletters are sent on a regular schedule, and many B2B companies struggle to fill each newsletter with fresh and engaging content.
If you can solve this challenge for a company by writing a consistent supply of high-quality newsletters, you'll have a nearly endless amount of work as a B2B newsletter writer.
Not to mention, you can easily charge $800 and up for writing a single newsletter — which is usually no more than one day's work.
To get started, we'll take you through the steps to write successful B2B newsletters that appeal to your client's ideal customers and help generate sales.
1. Choose Your Newsletter's Focus and Format
Every newsletter is unique, and the overall content and appearance should be designed with a company's target audience in mind.
The first step is to consider what type of information you would like to focus on in each issue. Ask your client who the subscribers to that particular newsletter are. It's possible the company may have more than one newsletter, such as one version for new prospects and another for existing customers.
In a case like that, your focus for each newsletter would be different. With new prospects, you would want to provide content that helps build a relationship and establishes your client's authority in their field, whereas content for existing customers would focus on supporting customer retention and encouraging additional sales.
Newsletters from the same company may also be trying to reach completely different audiences. For instance, a medical equipment company may have separate newsletters relating to their different products, such as diagnostic equipment versus operating room equipment.
Another possible project might be an employee newsletter sent within an organization to promote community and a sense of company belonging.
Depending on the audience you're addressing, these are some possible approaches you could take with your overall content:
Provide short articles (ideally no more than 800 words) on relevant topics.
Share links to new or interesting content on the company's website.
Offer insights into current industry news and events.
Give updates on the company's latest products and innovations.
Answer readers' questions.
Share customer success stories.
Offer "curated" content from other related sources, like a weekly news roundup.
Many newsletters include a variety of these elements. The following snippets show how MarketingProfs, which provides training and consulting services on B2B marketing, has a few different sections in their e-newsletters: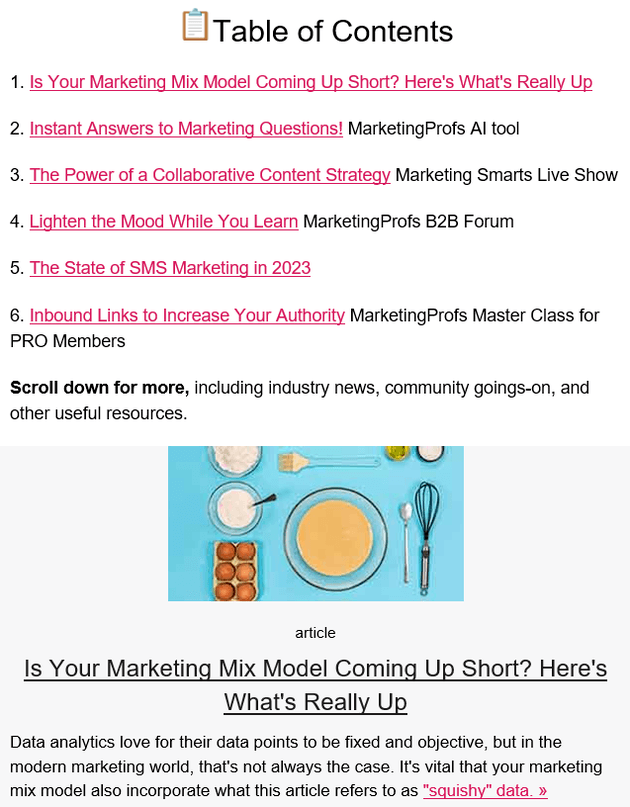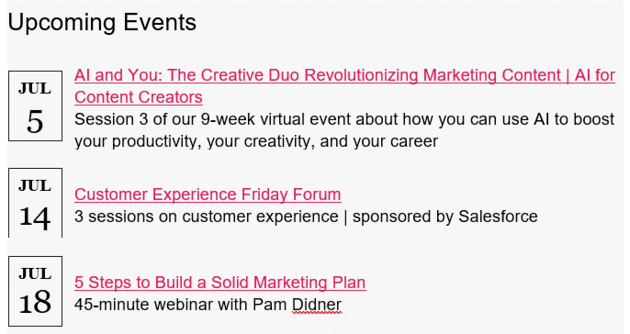 Including a mixture of content like MarketingProfs did in their newsletter is a good way to provide a range of helpful information while keeping it succinct and engaging.
The appearance of the newsletter should also be in keeping with your client's industry. For example, if a company is a furniture manufacturer, it may be more appropriate to publish a newsletter that has a lot of images to show the company's latest products and designs.
However, a more information-based newsletter might be preferable for subscribers who want to know the most current industry news and trends, such as in the technology or investing fields.
As a B2B copywriter, you'll typically provide only the written content for a newsletter. The design will be up to your client, unless you've agreed otherwise. However, it's beneficial to at least have a general idea of the format they'll be using so you can tailor your content to it appropriately.
FREE TRAINING:
Discover Why B2B Copywriting is the Absolute Best Niche for New Writers!
Sign up below to hear from the expert who's helped hundreds of writers launch lucrative careers in this niche where skilled writers are needed and respected.
2. Set Up a Publishing and Content Schedule
Your client may already have a clear publishing schedule for their newsletter. But even if they do, it can be helpful to review it with them and make sure it's meeting their needs.
It's recommended to publish a newsletter at least once a month. Some companies publish a weekly, or even daily, newsletter. And depending on your client's industry, a daily newsletter may be appropriate. However, this isn't necessary for a newsletter to be effective.
A company should aim to publish often enough that their readers don't forget about them between issues, and not so frequently that their newsletters become a nuisance to their readers. A good compromise is usually around once or twice a month.
Furthermore, remember that the goal of each newsletter should be to provide something new and valuable for your readers. You don't want them to become bored with the same content repeated over and over again.
Once you've determined the frequency of your publishing schedule, you can begin planning each newsletter in advance. This will help keep the content organized and ensure that deadlines are met for every issue.
You can set up a simple spreadsheet that lists the upcoming due dates when you need to submit your content to your client for each issue, as well as the main sections of the newsletter. It could look something like this:
And when you have your content schedule set up, the next step is to…
3. Fill Your Schedule with Riveting Topics
Content is what makes the difference between a successful newsletter and a flop. Subscribers will naturally want to read newsletters with fresh and captivating content. But if you don't deliver, you can expect a high unsubscribe rate.
And this is the step your client often has the most difficulty with. They're usually not writers, so creating new and compelling content month after month is a challenge for most people. However, as a copywriter, you're likely used to generating ideas on demand — a skill that's invaluable as a newsletter writer.
To start generating topic ideas for a client, research their industry and see what other companies and organizations are talking about on their websites and in trade publications. Subscribe to the newsletters of some of your client's competitors and study their content.
Also, get clear on your client's ideal prospects. Who is their target market, and what issues and topics are most important to them?
This should give you a good idea of the types of content to include in your own newsletters. If you ever get stuck, try brainstorming some of the following types of content:
Informational articles
"How-to" suggestions, shortcuts, tricks, and so on
Success stories and testimonials
Profiles of staff members or customers
Answering frequently asked questions
Detailing special promotions
Asking for reader responses with questions, quizzes, or other interactive content
Once you've done a few newsletters for one client and become more familiar with their business and industry, you'll almost certainly start tapping into a nearly endless supply of inspiring topic ideas to fill your schedule.
4. Writing Your B2B Newsletter: What to Include
If you haven't already, make a template for your newsletter based on the format you determined previously with your client. Outline all the main sections of the newsletter in your template and use this as a starting point for each issue.
Individual newsletters will all look a bit different, so customize your template to suit each one. However, these are the most common newsletter elements to include as a base point:
Email subject line (if it's an e-newsletter)
Short introduction or lead
Newsletter body
Call to action
Signoff
Let's go through a short example to see how these elements look in an e-newsletter from Content at Scale, an AI writing platform.
Their e-newsletter has a clear subject line that gives the name of the newsletter and an interest-building question:

The body of the e-newsletter starts with the newsletter's header and a short introduction that's personable and engaging: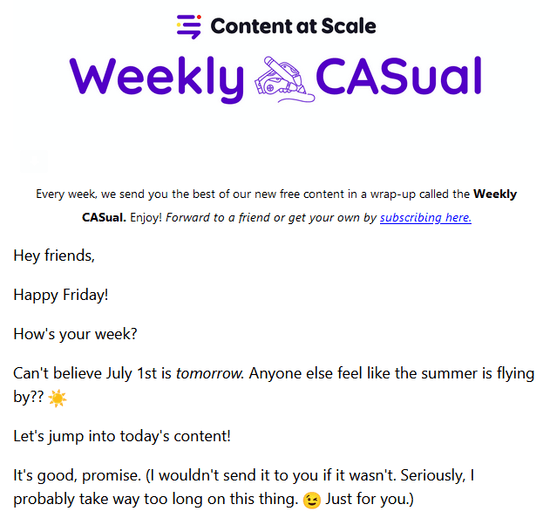 From there, the newsletter includes a few different sections with updates on their products and services, three case studies of successful customers, upcoming events they'll be participating in, and a contest they're holding for their affiliates.
The newsletter wraps up with a clear call to action and a signoff from the company president: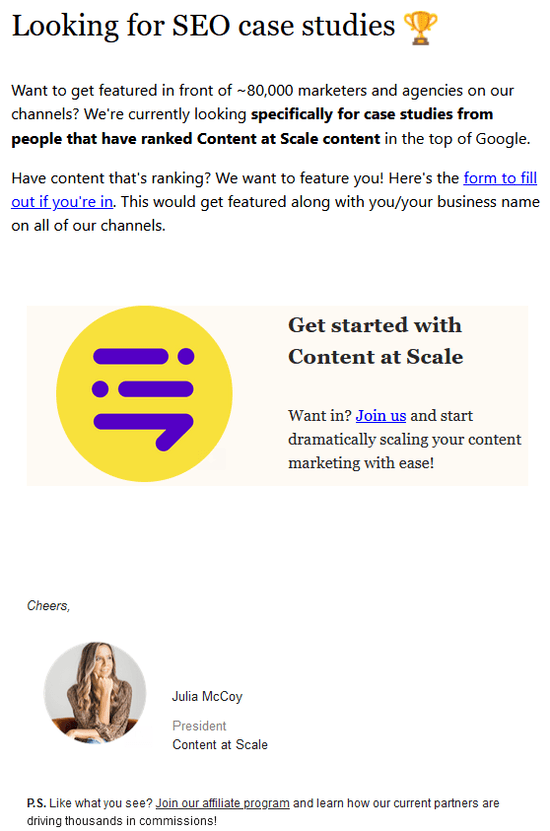 Setting up this type of basic newsletter structure in your template will make the writing process for each issue go much faster.
And on a final note, newsletters also tend to be fairly short. Most newsletters are less than 1,000 words long, so they're quick and easy to read. If they're much longer than that, readers may lose patience and move on.
So as you're writing your newsletter, keep it useful and compelling, but also get to the point as quickly as possible.