How to Create a Winning Social Media Strategy for B2B Companies
Social media is a powerful tool for B2B companies to connect with a large number of potential customers for a relatively small cost.
However, the sheer size and scope of social media can make it a difficult marketing channel to master.
This is why a successful social media campaign starts with developing a strategy first — rather than focusing on simply "putting stuff out there."
Creating content that resonates with your target audience and drives them to take action requires a well-thought-out plan of attack.
B2B copywriters are in a unique position to help companies with their social media strategy. As a writer, you understand how to create content that speaks to a specific audience.
And social media is just that — social. It's all about connecting and interacting with other people. You can help businesses do this in a meaningful way… while increasing their bottom line at the same time.
In this article, we'll discuss the key elements of crafting an effective social media strategy for B2B companies — from building awareness of your brand, to acquiring leads, to converting those leads into paying customers.
Setting Your B2B Social Media Strategy
As we discussed in the chapter on lead generation in this guide, the B2B sales cycle tends to follow a very specific pattern — also known as a sales funnel: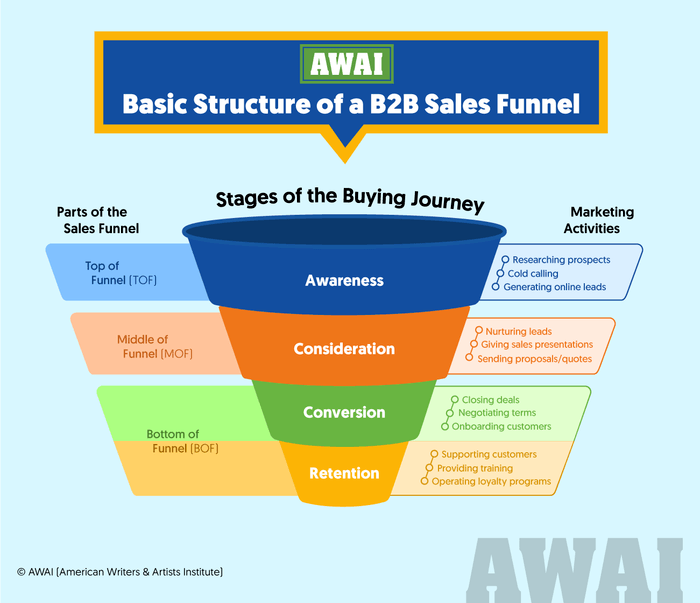 It starts by building awareness of a company's brand, then assisting potential customers as they consider what the company has to offer, then supporting them through the sales process and for the duration of their time as a customer.
Your social media strategy should reflect this overall B2B sales process and include ways to engage prospects and customers at each stage of their buyer's journey.
We recommend using the following steps to develop an all-encompassing social media strategy for yourself or for your clients.
1. Build Awareness of Your (Or Your Client's) Brand
The first step in any sales cycle is to let people know a company exists and to raise awareness of their products or services.
Social media can be great for this because popular channels like Facebook and TikTok each have over a billion active monthly users, which is a massive pool of potential customers.
LinkedIn is another important channel for B2B companies, because it's designed for networking within the B2B industry. And with over 800 million users worldwide, LinkedIn is also a good opportunity to reach a large audience.
To start an awareness campaign on social media, focus on creating content that will appeal to a company's ideal customers. We'll discuss how to create the content itself in the next section — but from a strategy standpoint, start thinking about what kind of conversations and topics a company's target audience is likely to be interested in.
Next, consider what types of elements you'd like in your social media strategy. You can create posts with videos or written content, host live webinars, start a group on a social platform, or partner with other industry experts or influencers. All these steps can help build a company's reach and exposure on social channels.
It's also beneficial at this stage to offer a free lead magnet or other incentive to promote lead generation. Any business activity on social media still has the purpose of generating leads and eventual sales, so it's important to focus on driving traffic into a company's sales funnel as well as creating engaging content.
2. Get Social with Your New Leads
As you build awareness of a company's brand and gain more quality leads, the next step is to focus on moving prospects toward becoming paying customers.
Look for opportunities to have meaningful interactions with potential customers through social media — such as conducting surveys or polls that get people thinking and talking about their needs.
Host live Q & A sessions where people can ask any specific questions they have about a company's products or services. Offer additional reports, guides, or other resources to help prospects solve problems they're currently facing.
Also include links in your social media content to landing pages where visitors can learn more about your company and its products or services, or access free lead magnets.
And lastly, stay active on social media to show that you care about your audience and genuinely want to interact with them.
3. Take Steps to Promote Sales
Particularly when it comes to B2B, a company will likely not be selling their products directly on social media platforms. Most B2B products and services are quite expensive and/or complex, so it takes a business customer much longer to assess a product and make a purchase decision.
However, it's good practice to include direct calls to action (CTAs) in the majority of your social posts. For example, this LinkedIn post from Wärtsilä Underwater Services (an underwater welding repair company) gives a clear CTA to learn more about what they have to offer, while providing useful, customer-focused information about exactly what they do: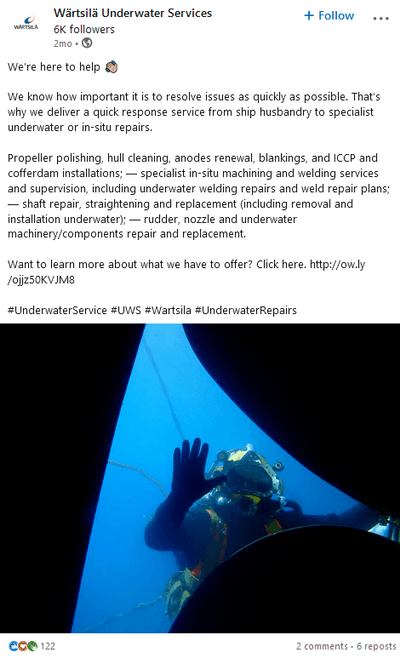 You can also include direct CTAs to sign up for a free consultation, receive a free trial, or attend an information session. These promotions may not sell a product directly, but they are designed to actively move a customer toward buying.
4. Keep Your Customers Happy
Once a prospect has become a paying customer, the relationship doesn't end there. It's important to nurture that relationship by engaging with them on an ongoing basis.
Use social media as a tool to thank customers for their business, share helpful advice related to the product or service they purchased, and keep them up to date on any changes or updates you make in your business.
Consider creating a customer-only private group on a social media channel like Facebook or LinkedIn where you can share exclusive deals and keep the conversation going.
Taking steps like these will help current customers feel appreciated and valued. In turn, they will be more likely to make another purchase in the future or recommend your company to others.
FREE TRAINING:
Discover Why B2B Copywriting is the Absolute Best Niche for New Writers!
Sign up below to hear from the expert who's helped hundreds of writers launch lucrative careers in this niche where skilled writers are needed and respected.
Creating Social Media Content for B2B
This should be done after — and only after — you've laid out your overall social media strategy as detailed in the previous section.
When you know exactly how you're going to get prospects into a company's sales funnel and convert them into loyal customers, then you're ready to start creating content.
As a starting point, these are some of the most popular types of social media content:
Educational — show a reader how to do something or explain how to solve a specific problem.
News or informational — give your insights into current news or a topic that's relevant to your audience.
Inspirational or entertaining — share uplifting stories from staff or customers, positive quotes or memes, or other content that brightens your reader's day.
Interactive — post polls, questions, or conversation starters that elicit a response from your readers.
Promotional — include exclusive promotions like special offers, giveaways, and discounts periodically.
Social content can take many different forms, with the primary forms being written and video content.
However, across nearly all social media platforms, video is consistently the most popular form of content. Which means video should be a primary focus throughout your social media strategy.
But this doesn't mean you need to create long or complicated videos. In fact, some of the most popular videos are less than 15 seconds.
And if you're a writer, don't assume you have no place in video creation — it's quite the opposite! Marketers don't have the time or knowledge to create engaging content for all the videos they need. As a writer, you can specialize in writing video scripts to fill this gap.
Video scripts detail two main things — what will be shown on the screen, and the sound that accompanies it, including both music and spoken words if applicable. Considering that short videos are the most popular, these projects don't take long to write. And they still command generous fees because of their high demand.
When it comes time to create the video itself, this can easily be outsourced to a professional video producer if you or your client don't have the skills or capacity to do it yourselves.
Whether you create written or video social content, your goal should be to create high-quality posts that have something useful or meaningful to share. This is the same goal you'll have with writing blog posts or any other type of content. You want to keep it relevant to your prospect and provide information that benefits them in some way.
That will increase your chances of creating content that gets liked and shared, increasing your reach on social media.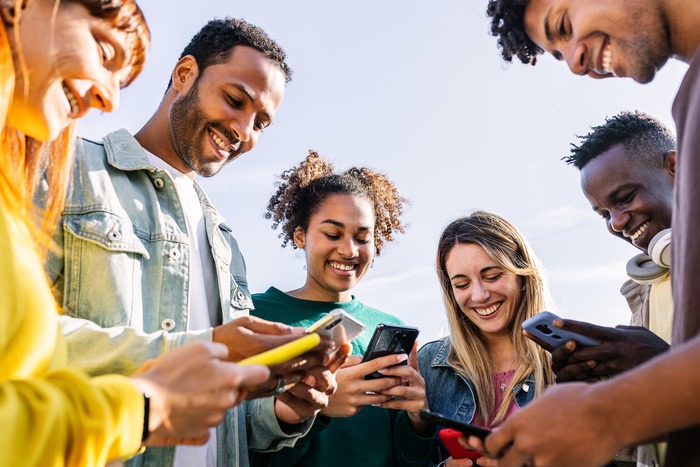 How Does Paid Advertising Fit Into Your B2B Social Media Strategy?
Paid advertising is another powerful element to include in your social media marketing strategy.
Paid ads allow a company to reach a much more targeted and specific audience than general posts do. This can help a business increase their visibility and start seeing results from their social media efforts faster.
Writing and managing paid advertising campaigns requires a very specialized skill set. If you're not interested in developing this skill as a B2B copywriter, it's best to outsource it to a professional paid advertising specialist.
However, if you'd like to learn how to write paid ads, this is a valuable skill and an in-demand service you can offer clients.
Paid ads are notoriously challenging to write because they need to strictly adhere to the guidelines and policies on an individual platform, such as Facebook or TikTok. But when they're done well, paid ads can be a very effective marketing tool.
If you're considering offering paid ad writing as a service, know that most copywriters do not manage paid advertising campaigns. They typically write the individual ads, and then deliver them to their clients to publish and manage.
Whether you write the ads yourself or get a specialist to do so, you should at least include paid ads in your overall social media strategy.
You'll want to start by setting the goals you want to achieve through paid advertising. Remember that the main advantage to paid ads is the ability to choose the types of people who see your ads.
Most social platforms allow you to select an audience based on demographics like age, gender, profession, or personal interests. So, who exactly would you want to reach? And what would be the most valuable content you could show them?
You can create ads with both written and video content, and with a variety of different CTAs. For example, you could create a campaign offering a free lead magnet or other incentive with the sole purpose of generating leads. You could promote an upcoming informational webinar a company is hosting. You could also encourage readers to sign up for a free consultation.
Whatever you decide to promote, define your objectives for the campaign. How many new sign-ups or leads do you want to generate? Based on your budget for the campaign, what would you consider a "successful" outcome and a good return on the investment?
If you're working with a paid advertising specialist, they can help you track various key metrics that are available in most social platforms, such as the number of people the ads are reaching, your click-through rate, and other measurable factors.
Chapter Summary
Social media can be a powerful tool to help B2B companies reach their target audiences and grow their businesses.
To maximize the effectiveness of your social media strategy, it's important to create content that resonates with prospects and leads, and focuses on building relationships with existing customers.
Additionally, consider leveraging paid advertising campaigns to further boost visibility and generate leads.
With these tips in mind, you can craft an effective plan that will help you build connections and convert more prospects into loyal customers over time.
If you're interested in learning more about social media opportunities as a writer, check out our program How to Make Money as a Social Media Marketing Expert to get all the details.