Why Lead Generation Is Critical for B2B Sales
(And How to Get It Right)
Every business needs to find an ongoing supply of new prospective customers — also known as leads.
A company's eventual goal will be to convert these leads into paying customers as they go through the company's sales process, or sales funnel.
But achieving more sales hinges on getting quality leads in the first place.
According to eMarketer, "finding new leads" is the No. 1 business challenge for marketing managers.
And a vital part of effective lead generation is creating content that's specifically designed to attract and engage new potential customers.
Not all writers know how to do this… but writers who understand lead generation are almost guaranteed to have long and successful careers as sought-after B2B copywriters.
Let's take a closer look at how lead generation works and your role in lead generation as a copywriter.
What Is Lead Generation?
Lead generation refers to the act of collecting a list of prospective clients who may buy from a company at some point. This process can also be called lead-gen.
The most common form of lead generation is offering some kind of special promotion in exchange for someone's email address.
Orientation Marketing, an agency that provides marketing services to the pharmaceutical industry, offers various free guides and reports on their website: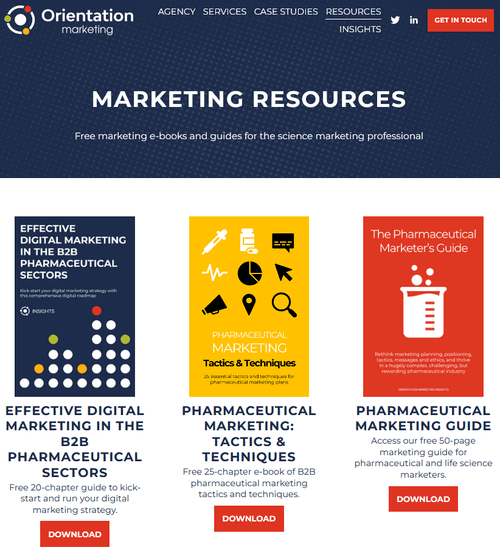 When a site visitor clicks on one of the reports, they're prompted to enter their name and email address to receive the download: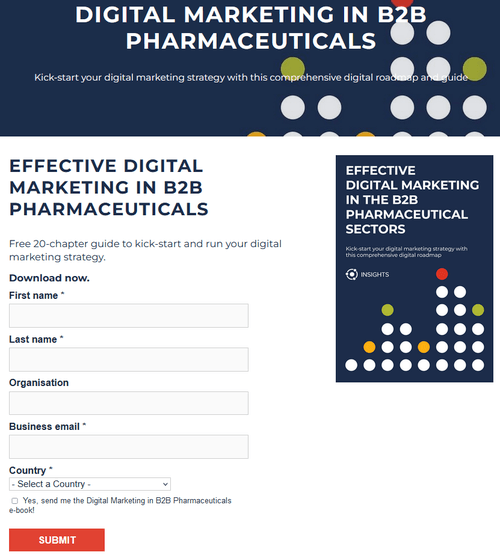 Offering free downloads like these, which are also called lead magnets, is a great way to identify people who might be interested in a company's products or services.
That prospect has already found a company's site either organically through an online search or through one of the company's marketing channels. So, the company knows the prospect is already interested in what they have to offer.
However, if the prospect is willing to provide their name and email to get a report or other lead magnet, it's a sign they may also be willing to consider a company's offerings more seriously. And that qualifies them as an excellent lead.
And when they become a lead, the prospect starts their journey through the company's sales funnel.
What Is a Sales Funnel?
A sales funnel is a marketing concept that allows businesses to identify and track the progress of potential customers as they interact with the company over time.
It refers to a customer journey from initial awareness of a company's products or services to converting those prospects into loyal customers. It consists of four distinct stages, as shown in the following diagram: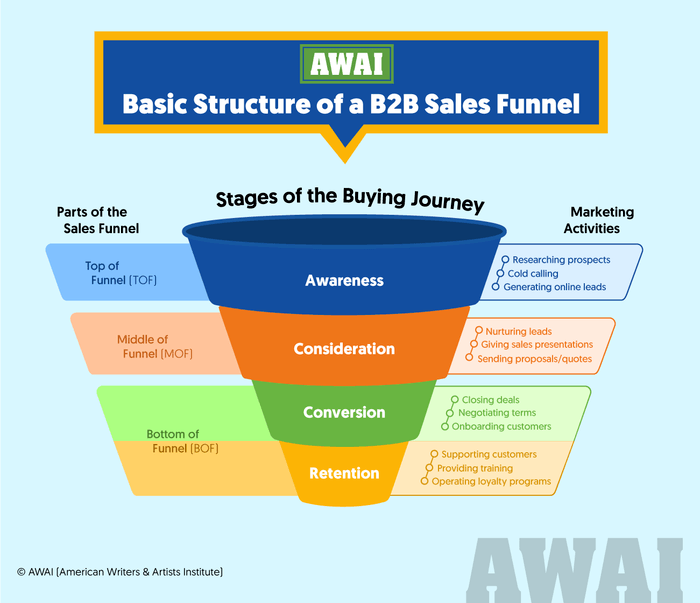 1. Awareness
At the top of the funnel (TOF), potential customers learn about a company's brand and become aware of what they offer. During this stage, they may engage with content such as case studies, blog posts, emails, or digital ads. They may also sign up to receive a free lead magnet or other promotion.
This is the stage where businesses need to reach as many people as possible in order to start narrowing their audience down to find their most ideal prospects.
2. Consideration
In the middle of the funnel (MOF), businesses provide potential buyers with more detailed information to help them make an informed purchase decision. Here, companies may use webinars, white papers, newsletters, or e-books to further educate prospects about their products and services.
A company will be interacting with fewer people during this stage than during the awareness stage. But prospects who are involved at this stage are much more valuable because they are actively investigating a company's products and deciding whether they're going to buy.
3. Conversion
Toward the bottom of the funnel (BOF), prospects have made their decision and are ready to purchase a product or service. Written content used at this stage is directly related to making sales, such as creating sales pages, online ads, catalog copy, video sales letters, and sell sheets.
Conversion is a vital part of the sales funnel because this is where companies actually make money. If a B2B company is unable to convert prospects into customers, they won't be able to sustain their business.
4. Retention
Finally, companies should strive to retain customers who have already made a purchase. Some of the best ways to do this are by providing excellent customer service, customer training and support through social media and other outlets, and opportunities for repeat purchases through loyalty programs or incentives.
Customers in this phase have already shown that they believe in the business and could be key promoters of a company's brand if treated well.
FREE TRAINING:
Discover Why B2B Copywriting is the Absolute Best Niche for New Writers!
Sign up below to hear from the expert who's helped hundreds of writers launch lucrative careers in this niche where skilled writers are needed and respected.
Why Is Lead Generation So Important for B2B Sales?
B2B products and services are usually designed for very specific buyers — which means B2B companies need to find and connect with those exact buyers to have any success.
In addition, B2B sales cycles are typically longer than those of business-to-consumer, because business buyers need to carefully evaluate numerous factors before committing to a purchase.
For example, when a commercial food manufacturer is considering replacing their food packaging equipment, they may need to consider how the equipment will integrate with their existing infrastructure, the vendor's policies on repairs and replacements, or any other factors that might be important.
Gathering and evaluating all of this information takes time. That's why B2B sales cycles often take weeks or even months to complete.
During that time, it's essential for B2B businesses to nurture leads by providing them with useful resources and content that can help them make better purchase decisions. This also helps build relationships with potential buyers and demonstrates a company's integrity and expertise in their field.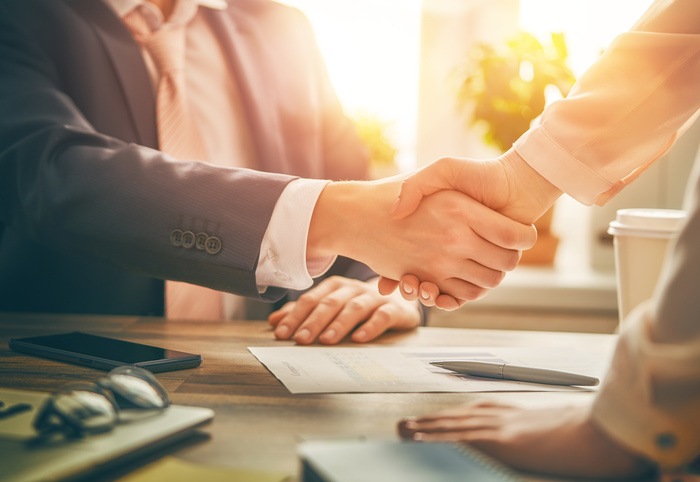 The Role of B2B Copywriting in Lead Generation
The purpose of copywriting in lead generation is at first to draw potential leads into a company's sales funnel. Then, it can help support prospects as they progress through the sales cycle.
At each stage of the funnel, written content should be tailored to where a prospect is in their buyer's journey.
For example, at the top of the funnel (TOF), the content you create needs to be engaging and informative enough to encourage prospects to continue their relationship with the company in some way.
In the middle of the funnel (MOF), you should focus on delivering relevant, practical information that addresses buyers' questions and pain points, as well as on providing evidence of how the company stands out from their competition.
At the bottom of the funnel (BOF), copy should be persuasive and drive conversions with calls to action (CTAs). Then, post-purchase content should support a customer's success with the company's products.
By tailoring your copywriting to each stage of the sales funnel, you can help a company find new leads and gradually turn them into satisfied customers — who, in turn, are more likely to become repeat customers.
Chapter Summary
Effective lead generation is essential in the B2B industry because B2B companies often need to target very specific customers.
By creating content that resonates with these potential customers, B2B copywriters can help generate interest in a company and attract more leads.
Then, content can be used strategically throughout the B2B sales cycle to nurture leads and convert those prospects into long-term customers.
For a deeper dive into how you can support lead generation as a writer, check out our program Become a Lead-Gen Specialist: Earn Top Fees Writing B2B Emails, Landing Pages, and Ads That Sell.
And if you'd like to learn more about writing the 12 most in-demand B2B copywriting projects, we share all the details in our Crash Course in B2B Content.