Writing Case Studies:


Help Companies Tell Their Stories … Collect $125 – $300 an Hour.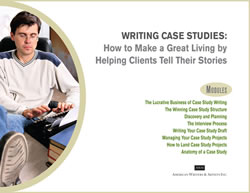 It's hard to resist a great story.
That's why we love a good novel, movie or play. And why we'll watch a classic film over and over again.
But tales do far more than entertain us. Neuroscientists have proven that stories can deeply influence our beliefs and decisions. Mainly because stories appeal to our emotions and our capacity for empathy.
Businesses have caught on to this in a BIG way. They understand the huge role stories play in their sales process. This explains why they're willing to pay writers $1,250 — $2,000 to draft short stories for them.
With AWAI's new program Writing Case Studies: How to Make a Great Living by Helping Clients Tell Their Stories you'll discover a system for completing these projects in 5 — 7 hours. Which means you'll earn a cool $200 – $300 PER HOUR every time you write one.
Here's what Writing Case Studies teaches you:
The basics of case studies—what they are, what they're used for, who reads them and why they're effective.
How to structure of an effective case study, what elements to include and what purpose they each serve.
How to gather the information you'll need and the steps you must take to ensure a smooth project.
How to conduct a tightly focused interview that will reveal the inside information you need to write the most powerful story possible.
The actual step-by-step process you should use to get your draft down in a document and what you can do to make the flow of copy as effective and persuasive as possible.
Everything from how to market yourself as a case study writer … to how to price them … what questions to ask before you quote … how to price your projects profitably … and how to increase your chances of landing the work.
And much more.
When you complete Writing Case Studies: How to Make a Great Living by Helping Clients Tell Their Stories, you'll be able to command top dollar for case study assignments that you'll breeze through. You'll deliver work your clients will love and keep them coming back for more.
Writing Case Studies: How to Make a Great Living by Helping Clients Tell Their Stories $497.00
For More Information, click here …