Here's how you can live the writer's life by writing short, simple projects for high-value clients.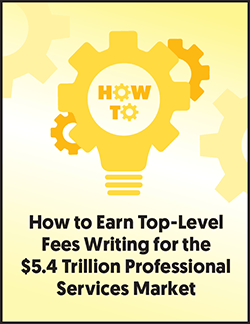 Imagine fully enjoying the writer's life — the freedom, the pay, and the satisfaction of helping businesses — while writing short, fun content.
You can, when you discover the little-known-but-extremely-profitable niche of writing email newsletters. This is quite possibly the best way to make a consistent, predictable income as a writer while having fiercely loyal clients who pay you every month — year after year.
In AWAI's How to Earn Top-Level Fees Writing for the $5.4 Trillion Professional Services Market, you'll discover this often overlooked niche that happens to be one of the most stress-free paths to freelance success. Inside, you'll learn all this…
what a professional service provider is and why they're considered "high-value" clients…
the foundation for writing a core project every provider needs…
how to capture your client's voice and connect with their target audience…
how to position your client as an expert…
how to price your services…
and so much more…
Your instructor for this training will be Michael Katz… an author, renowned speaker, consultant, and owner of Blue Penguin Development, a company well known for its unique approach for helping companies stand out in their niche — through content that builds connections!
Over the course of 10 dynamic self-paced learning sessions featuring written and video training from Michael, you'll discover everything you need to know to go out there and start earning $1,200 to $2,000 each and every month from clients who need your help with email newsletters that will resonate with their customers.
You'll also receive exercises and quizzes at the end of each session, a ton of real-world examples pulled from Michael's private library, bonuses to help you get paid even faster, and professional feedback on your final assignment.
If you're ready to live the writer's life and looking for a niche where you can write fun, non-sales-y content, and receive dependable, lucrative payment for your efforts, writing email newsletters for professional service providers is your ticket.
How to Earn Top-Level Fees Writing for the $5.4 Trillion Professional Services Market: $497.00
For More Information, Click Here…