How to Build a Magnetic Freelance Writer Website that Attracts Your Ideal Clients
Do you have a freelance writing website yet?
When you're a freelance writer, your website is vital for showcasing your writing skills and attracting clients. But if you've never built a website before, the process can feel intimidating.
And even if you already have your own site … it's easy to second-guess yourself and question its quality or value.
Don't let these doubts hold you back from creating a standout freelance writer website that brings in more clients and leads.
This article will take you through everything you need to know to either launch or update your freelance website, including …
why having your own freelance writing website is a must,
how to delight clients when they see your website,
what to say in your content so they'll want to hire you, and
a six-step plan to get your website up and running.
The sooner you can get your website on track, the sooner you can start enjoying the benefits.
9 Reasons Why Having Your Own Website Is a MUST for Freelancers
At AWAI, we often get the question — Do I need to have a website as a freelance writer?
In short, yes.
Your website is your online presence. It shows you're a professional, and it provides a hub you can use to promote your services.
If you're still not convinced … here are nine reasons why one of your first tasks as a freelance writer should be setting up your own website.
1. It's the Face of Your Business
Social platforms, such as LinkedIn or Facebook, are good for expanding your network and communicating with other professionals. But you have no control over these platforms, and they can change on a whim — and sometimes do!
They also have limited options for individualizing your profile. You can write a compelling description of yourself, but there's little else you can do to truly make yourself stand out on an existing platform.
On the other hand, the sky's the limit on your own website. You can create your own design and copy, highlighting your background and what makes you unique as a copywriter.
Your site becomes a face for your business, rather than being simply another page on a larger platform.
As an example, this is copywriter Celsea Jenkins' site: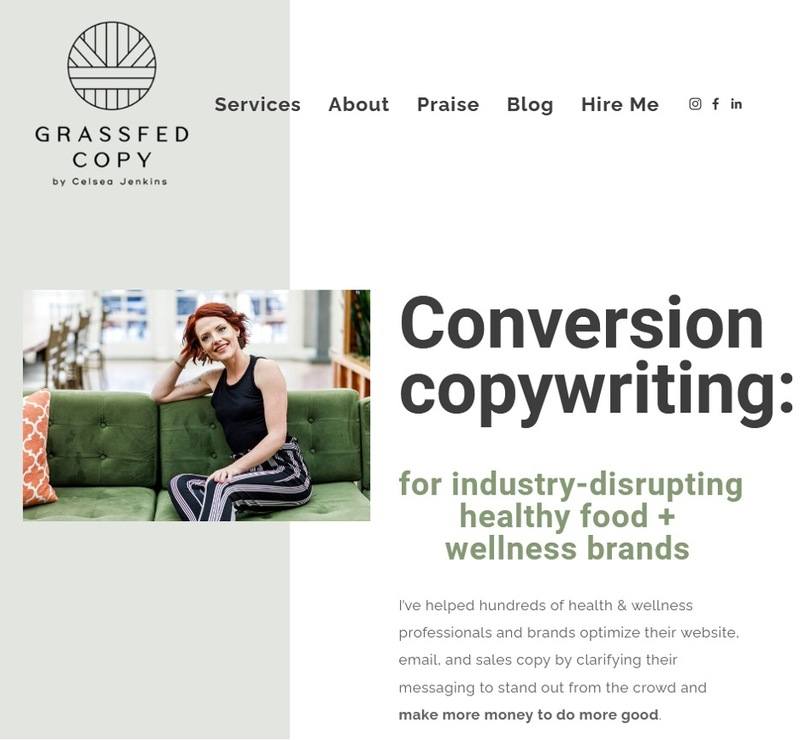 The design of her site shows her individual style, and her copy clearly expresses what she does and whom she serves. Celsea also includes pages on her site for more details about her qualifications and services, as well as testimonials and her blog.
All these elements highlight her skills as a professional copywriter and why a potential client would want to hire her.
This level of personalization and depth isn't possible on a social platform.
If you're just starting out, it's good to create your LinkedIn profile just to get the ball rolling. But your next step should be creating your own website.
2. It's the Best Way to Brand Yourself
The fact that your site can be so personalized also lets you create a distinct brand for yourself.
Your website can express your value as a writer better than anything else. A potential client only has to visit your site, and it will do all the talking and promotion for you.
They can see your skills, writing samples, and what other clients have said about you. And if you specialize in a certain niche, you can explain why you're the most qualified person to write for that niche.
For example, AWAI member Liz Farr used to work as a certified public accountant (CPA) before she became a copywriter. She took advantage of her previous experience to build a successful career writing for the accounting industry: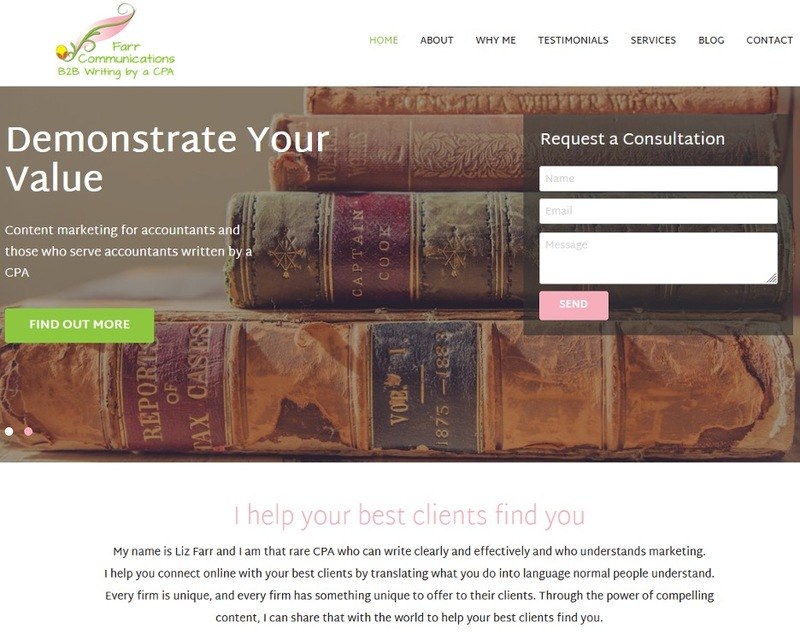 A well-branded website like Liz's will let potential clients know exactly what you can do for them — and why you're qualified to do it.
3. It Helps You Establish Credibility
Your website is the best place to demonstrate your expertise as a writer, which in turn establishes your credibility.
For example, if you specialize in content marketing, you should include a lot of content on your site to showcase your skills. If your specialty is email marketing, make sure you're building your own subscriber list and sending out regular emails.
All these elements will show a potential client that you know what you're doing and can do the same for them.
AWAI member Steve Maurer specializes in writing for business-to-business (B2B) industrial manufacturing companies: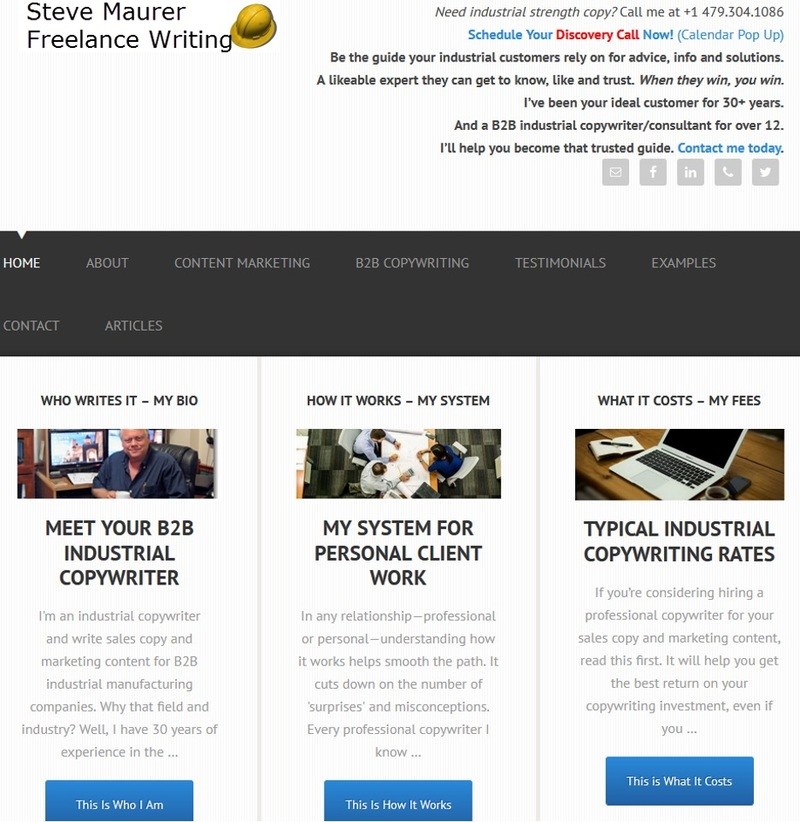 Steve clearly explains on his site why he's qualified to write for industrial manufacturing companies — because he's worked in the industry for over 30 years. He also publishes articles about industrial copywriting.
The content on Steve's site gives him instant credibility and shows potential clients he's a professional who has the skills and experience to do the work they need.
4. It's Your Online Base
Your website acts as a hub for all your self-marketing efforts.
You can include links to your website everywhere, such as on your …
social media channels,
email signature,
business cards and other marketing materials,
professional online profiles (such as on freelance writing platforms),
personal online groups you belong to, and
anywhere else you can think of!
Also remember to mention your website when you're at networking or other social events. If someone asks you what you do, offer to share your website address so they can see what you do firsthand.
Having a website you're proud to show off makes it easy to put yourself out there. And the more people who see your site, the higher your chances will be of finding your first — or your next — client.
5. It Establishes Your Authority
As we've mentioned, your website can showcase your talents and qualifications as a writer. But it can also establish your authority in your chosen specialty.
Maintaining a blog on your site is a great way to do this. You can share your knowledge with your site visitors in a reader-friendly way. A blog will also help you get found on search engines and bring more traffic to your site.
Sending out regular emails or e-newsletters will also highlight how much you know about the industry or the type of writing you specialize in.
Copywriter Roy Furr is a good example. His writing business is called Breakthrough Marketing Secrets: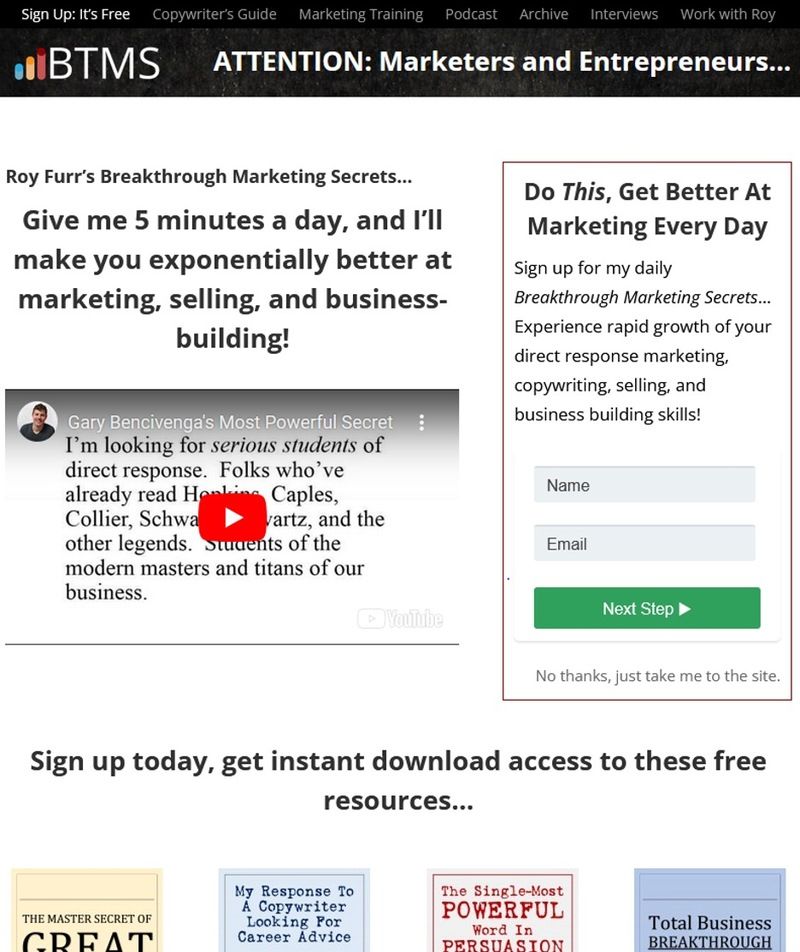 Roy's email sign-up form is prominent on his homepage. And the simple fact that he emails his list daily with breakthrough marketing secrets already makes him sound like a marketing expert.
But he also provides a short video describing his background and the benefits of signing up for his newsletter. In addition, anyone who signs up will receive four books on marketing and copywriting that he's personally written.
After a website visitor sees all of that … there's no doubt in their mind that Roy is an expert in his field and knows exactly what he's talking about.
You can do the same on your site. By providing useful content that highlights your knowledge, you'll quickly establish yourself as an authority far above your competition.
6. It's Professional
The appearance of your site says a lot about what it would be like to work with you.
Your site is often a client's first impression of you, and it gives them a good idea of the type of person you are and what you can offer them.
B2B technical copywriter Julia Borgini has created a very clean and readable site that exemplifies her professionalism:
The site design is very minimal, which projects quality and value. Julia has even included a logo for her business, further increasing her professional appearance.
A site like Julia's shows that you're serious about your business and you're here to stay. This instantly helps build trust with potential clients because they can see you're someone they can rely on, now and in the future.
7. It Brings Your Portfolio to Life
Your website is a great writing sample in itself.
But you can also include a designated page for additional samples of your work, as Susan Greene has done here: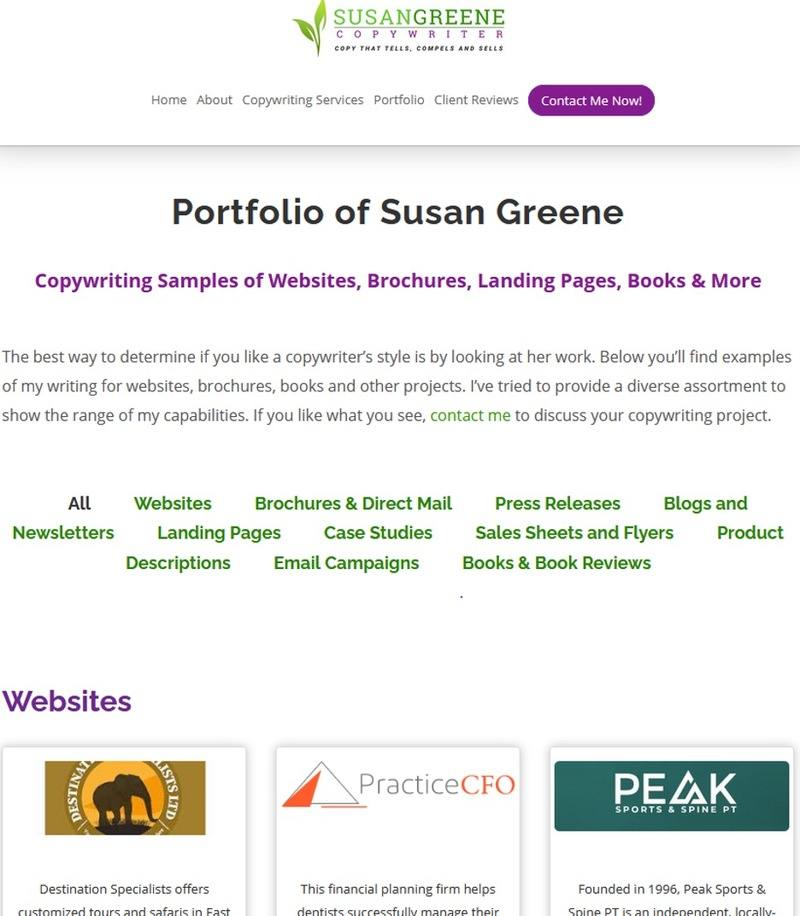 Having a page like this makes it easy to share your samples with potential clients. You'll never have to scramble to put something together when a client asks you for a writing sample.
And when they see you have samples and relevant experience, it provides further proof of your professionalism and skills as a writer.
Also, don't assume you need a ton of samples on your website. Susan Greene has been a copywriter for over 25 years, which is why she can include such an extensive list of writing samples.
But if you're just getting started, including a handful of well-chosen samples is more than enough. If you want some help getting your first samples done quickly, check out our free webinar How to Create a Winning Portfolio of Samples.
8. It Helps You Connect with Referrals
Creating a profile on networking sites like LinkedIn or Alignable is a great way to connect with potential colleagues and clients.
But … if one of your connections wants to talk further about the possibility of working together, their next logical step is to contact you directly.
And if a link to your website is on your profile — voilà! It gives your connection a quick and easy way to get in touch with you.
Heather Robson's LinkedIn profile is a good example of this: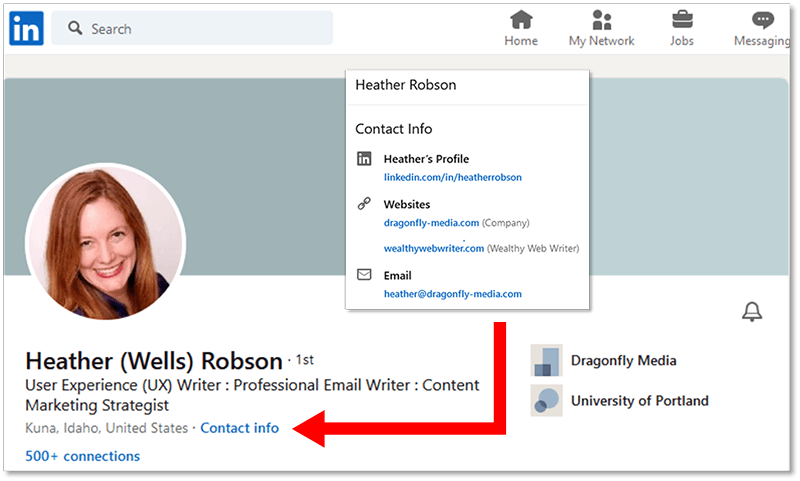 You can also share your website when you do any networking in person. Include your website address on your business cards, and verbally let people know the name of your site during conversations.
Choosing an easy-to-remember website domain name will help with this. For example, veteran copywriter Bob Bly's website is simply Bly.com. Or you could include your first and last name like AnaPalombini.com. Another option is to focus on your niche or specialty, such as PetCopywriter.com or GardenCopywriter.com.
Whether you share your website online or in person, it makes connecting with others a much easier process.
9. It's a Moneymaking Opportunity
You don't have to limit yourself to selling only your copywriting services …
You can also use your site to generate additional income streams.
Many copywriters write and sell their own e-books and printed books. For example, Casey Hibbard specializes in writing case studies, so she wrote a book about it that she sells on her site: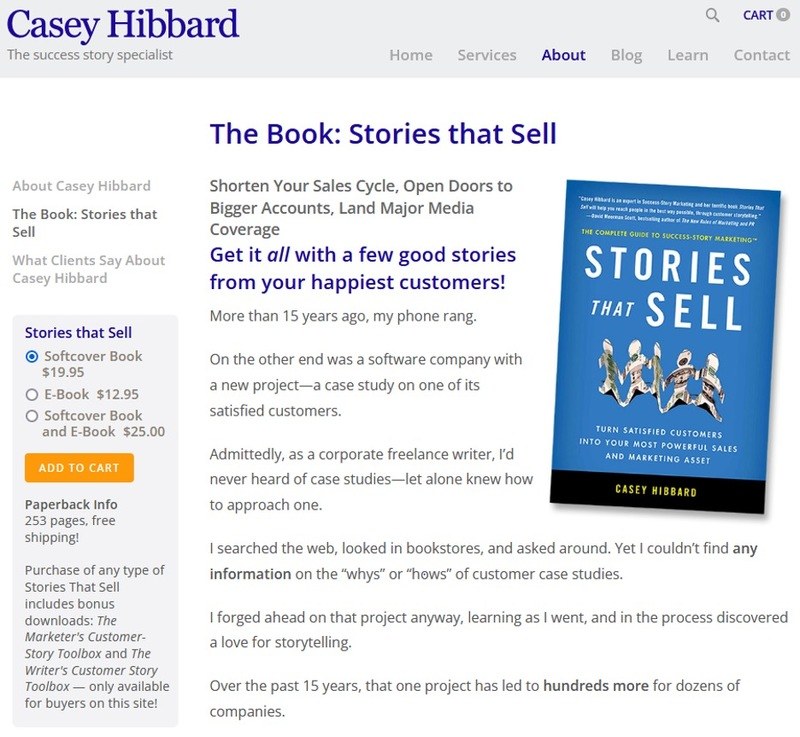 Other possibilities for making money directly from your website include selling retail or affiliate products, offering advertising on your site, teaching courses, or providing coaching services.
Another related option is to partner with other professionals, such as web designers or advertising agencies. They may need you for projects they don't have the staff or the skills to do themselves.
Your website can help you take advantage of these extra income sources.
How to Attract and Delight Clients with Your Freelance Website
Now that you know why you should have a freelance website, let's look at how to start setting it up.
1. Identify WHOM You Want to Attract
Writers who choose a niche are often more successful in the long run than writers who remain generalists.
This is because specialists offer a higher level of skill and knowledge, which makes them more valuable to clients. Your specialty will also make you stand out from the "writer-for-hire" competition.
The most common niches are to either focus on a specific type of writing, such as writing emails or sales letters … or to focus on a certain industry, such as technology, personal fitness, or real estate.
As you consider who your ideal clients might be, ask yourself questions like these:
What types of businesses do I want to work with — small start-ups, midsized businesses, or Fortune 500 companies?
Do I want to work as a freelancer or find a staff position?
Would I like to work on substantial projects, like white papers, or shorter projects, like emails?
For example, Susan Vincent specializes in writing for small businesses: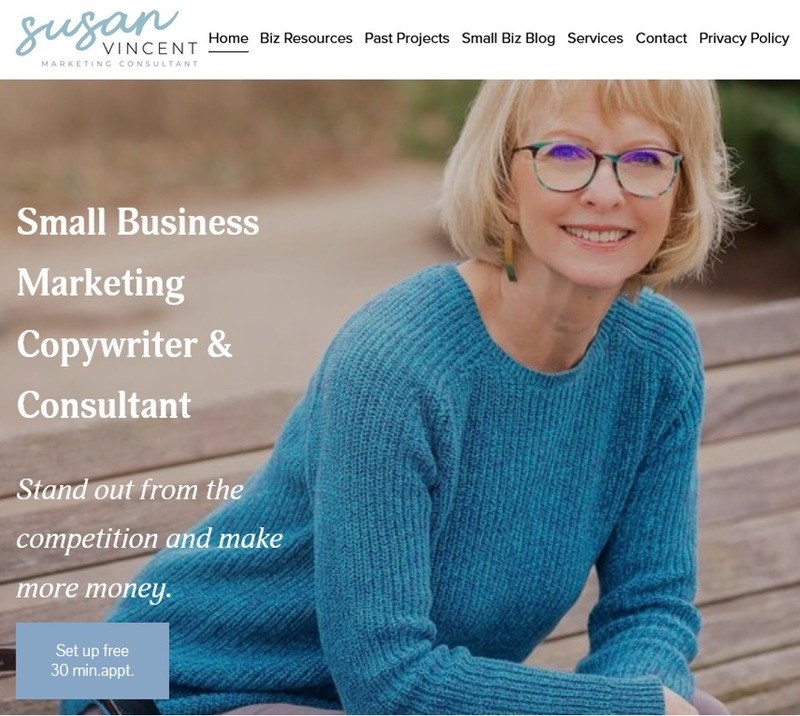 Knowing the type of clients you want to attract makes the process of creating your website much easier. You'll be able to write content that speaks to your ideal clients and addresses issues relevant to them.
You'll also know where to focus your prospecting and networking efforts. Instead of looking for anyone who needs a writer, you can search for potential clients and networking opportunities in a specific industry.
This makes it easier to connect with the people who would most appreciate your skills — and would be willing to pay you generously for them.
2. Identify WHAT You Offer Them
If you want to specialize in a certain area of writing, decide which one and make this clear on your website.
For example, Gordon Graham specializes in writing white papers, and that's the focus of his website: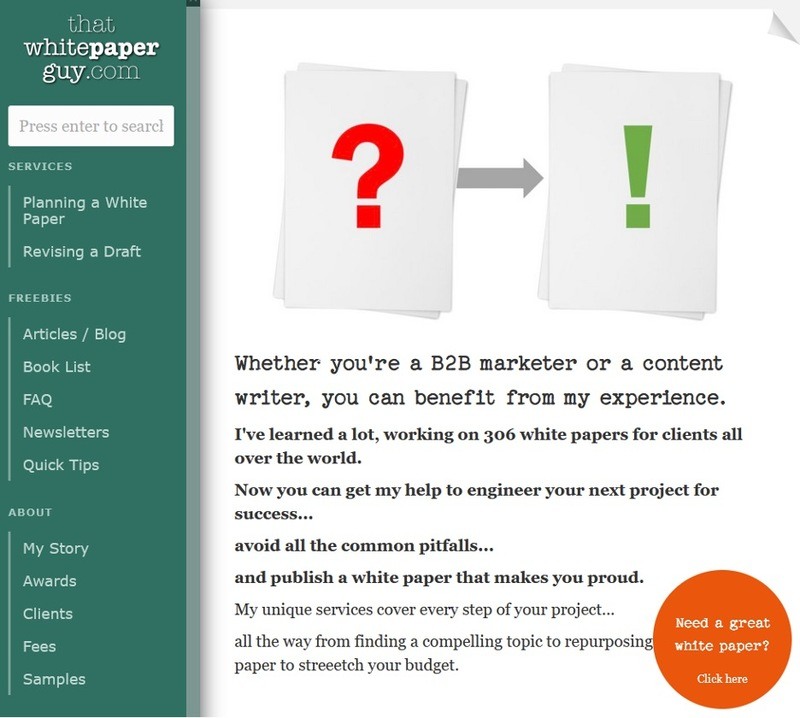 If you don't want to specialize in one specific project, you could focus on an area like content marketing or search engine optimization (SEO). This would give you the opportunity to work on various projects while still maintaining a clear specialty.
Another approach is to focus on writing for a specific industry. We've looked at some websites previously in this article from writers who focus on the accounting, industrial manufacturing, and technology industries.
Whichever direction you choose, highlight why you're qualified to write for that specialty on your website. Do you have significant work experience in a related field? Have you taken specialized training? Gotten any awards or certifications? Or are you involved with relevant volunteer or hobby groups?
Your website is the ideal platform to tell your reader why they should choose YOU to write for them. So don't hold back!
3. Make It Professional
It's worth spending some extra time making your website look professional — or, if you're not technically inclined, investing a small amount to hire a web designer to do it for you.
Consider the following elements as you craft your website design:
Business name — This can be your personal name or a business name you create. Either way, make sure a domain is available for it.
Logo — A logo adds a nice touch to your website, business cards, and other marketing materials.
Website theme — There are so many beautiful themes available as you build your site, it won't be hard finding one you like.
Host — Sign up for a reliable hosting service for your website to ensure it's available when you need it.
Alternative-health copywriter Megan Marolf has blended all these elements well on her website: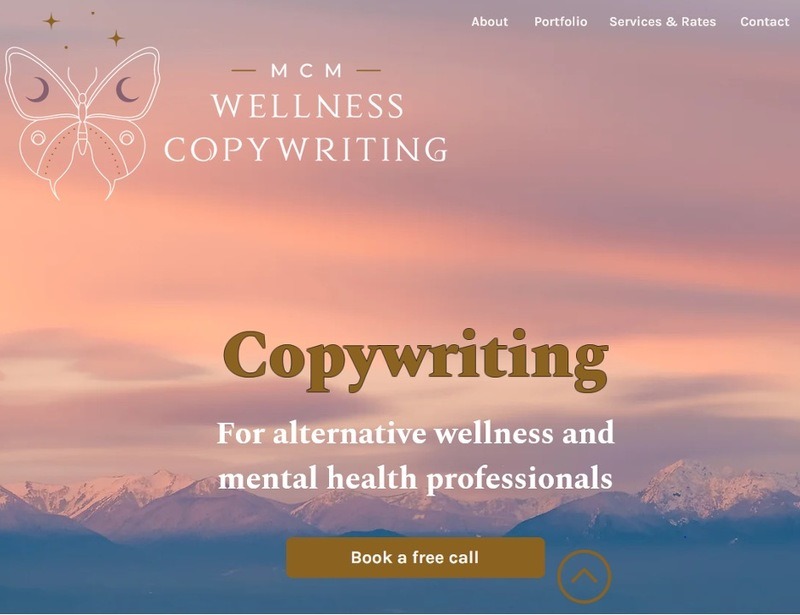 Megan's design is simple and eye-catching, yet it still includes all the information a site visitor needs to know.
4. Map Out and Write the Content
Once you've decided on the focus of your writing business and the overall appearance of your site, it's time to start creating the content.
Here are the core pages you'll need on your site:
Home — a snapshot of what you do and whom you serve
About — an overview of how you can help a potential client (not a personal biography)
Services — starting with just one or two if necessary, and built over time
Samples — a curated collection of your best work
Contact — consisting of all the ways someone can contact you, not just a blank form
Those are the only pages you'll need to get your site up and running. In the future, you may want to add a blog, an e-newsletter, or other features. But keep it simple when you're first launching your site, and focus on those five pages.
Eddie Stephens writes for the dental industry, and he's kept his website content fairly minimal: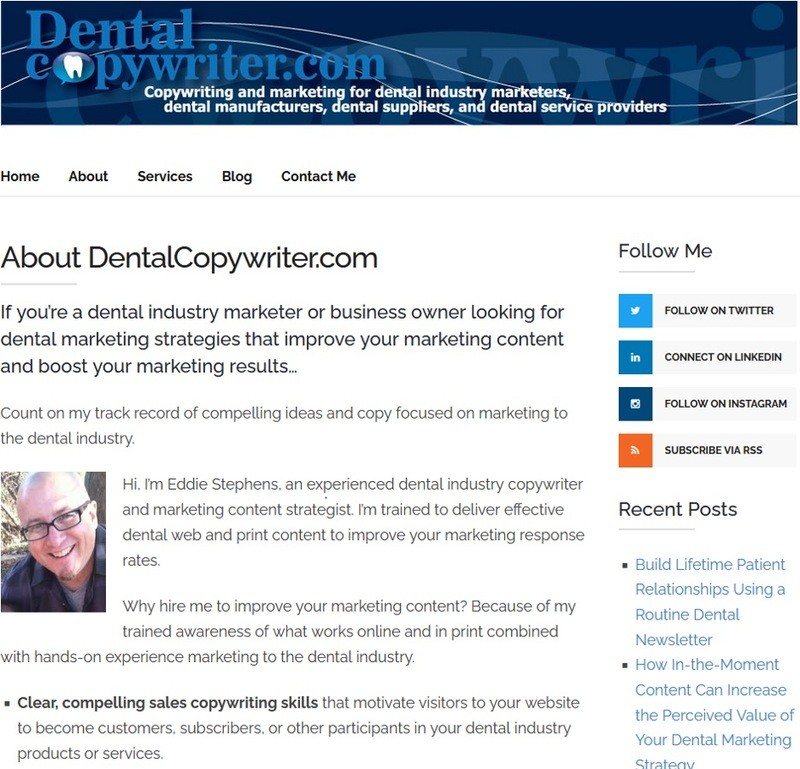 He has his core pages and a blog, but he doesn't have an e-newsletter or even a samples page. Despite this, his website serves him well, and he's built a very successful copywriting business.
Also notice how his About page pictured above focuses on what he can do for a potential client. He describes his skills and qualifications, but he doesn't include any irrelevant personal details.
As you craft your own website pages, make sure you're always writing with your reader in mind. They want to know what you do and why they should hire you — so make this front and center.
5. Use Keywords in Your Copy
Keywords are a vital part of search engine optimization (SEO).
You don't need to be an expert in SEO to create your own website. But a basic knowledge of keywords will definitely help.
Keywords are single words or short phrases that tell Google and other search engines what your page is about.
Including clear keywords in your website copy will improve your chances of getting found on search engines.
For example, Jason Unrau has used the keyword "automotive copywriter" for his homepage: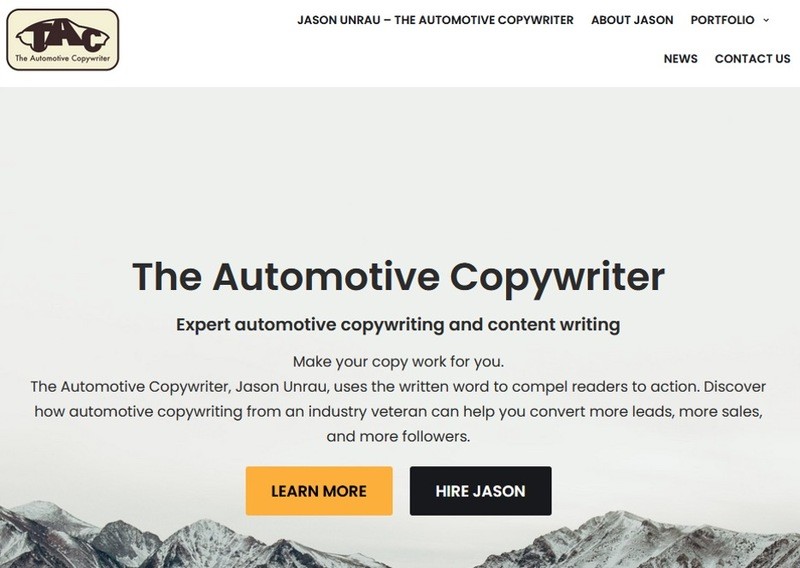 Jason has clearly included "automotive copywriter" multiple times in his headlines and copy, as well as in his logo and his domain name AutomotiveCopywriter.com.
It's also no coincidence that Jason's site ranks near the top of search results for the search term "automotive copywriter."
If you want to delve a bit more into SEO, check out our free resource The Ultimate Guide to SEO Content Writing.
6. Test and Launch!
When your site is ready to go, it's always a good idea to get a second opinion before your official launch.
Many writers struggle to write about themselves. We can write about our clients with gusto, but when it comes to promoting ourselves … not so much.
This is why it's ideal to team up with another writer and proofread each other's site. You may even want to swap writing the content, so each of you writes about the other person.
It can also be helpful to get a non-writer's opinion from friends or family members to see if your website makes logical sense.
And then comes the most important step — launch your site!
The saying "it's better done than perfect" applies here. Your site will never be perfect, and you can always make changes and adjustments to your site as your career matures.
But you can't start experiencing all the benefits we've discussed here of having your own site until you actually hit the "publish" button.
Final Thoughts
A well-done freelance website can supercharge your copywriting career. It's an essential part of your self-marketing plan, and you'll almost certainly get back far more than you ever put into it.
We've shown you examples of websites from a wide range of different writers in this article. Use these as inspiration as you craft your own site. Of course, don't ever copy another writer's work. But we hope these examples will counteract any "blank page" syndrome as you plan and write your site.
Remember, your website is an opportunity to put your best self forward and present what you have to share with the world. Approach it with confidence and make your freelance website your own.
If you'd like some support along the way, consider taking our Build Your Freelance Website in Four Days program. AWAI President Rebecca Matter delves into the nuts and bolts of creating your own website, and how to get it ready to publish in just four days.
Webinar Materials
Bonus Resources
The Anatomy of a Well-Niched Freelance Website
How to Plan Out Your Freelance Website Content in Under an Hour
Take a Selfie of Your Freelance Website to Attract Web-Copywriting Clients
A Freelance Website Leads to More Paying Clients
WealthyWebWriter.com (Many great articles and resources!)
How to Create a Winning Portfolio of Samples
The Ultimate Guide to SEO Content Writing
Programs Mentioned During the Webinar
Build Your Freelance Website in Four Days
Access the Inside AWAI archives here.