How to Take Advantage of Local SEO Content Writing Opportunities
Be the Well-Paid Local Hero for Writing Clients in Your Own Backyard!
Did you know there are all kinds of potential writing clients in your area who need help getting found on Google and other search engines?
As a trained writer, you're in the ideal position to help by creating high-quality web content that is optimized to gain the attention of search engines and helpful to prospects.
The process of making sure website content is easily found by search engines is called Search Engine Optimization (SEO) …
And SEO is huge for local businesses.
According to Google's own data, local queries account for almost half of their two trillion searches per year. Not to mention the fact that over 50% of "near me" searches result in a physical store visit.
Appearing at the top of a local search is vital for companies that rely on getting people in their doors — like restaurants, gyms, chiropractors, or any other businesses that serve their local area.
In this article and the accompanying webinar, we expose all the details on this often-overlooked gold mine for writers, including:
What SEO content writing can do for local businesses.
Your power as a freelance writer.
How to find clients located near you.
What they need for SEO content.
Resources to get started right away.
It's time to tap into the giant pool of clients just down the street from you!
What Is SEO Content and Why Is It So Valuable?
SEO content is high-quality content that's relevant and helpful to your readers.
Naturally, Google and other search engines want to provide the best search results possible to their users. That's why creating high-quality content is always the main focus for any kind of SEO. Quality content provides the best information available on a searcher's query — which, in turn, will improve a company's chances of ranking well on search engines.
The top three results listed on a search results page get more than 75% of all clicks. So helping a local business rank better on search engines is almost guaranteed to bring in more customers and increase their bottom line.
This is true for all local businesses, regardless of their target customers.
Whether it's a Business-to-Business (B2B) company that manufactures office furniture … or a Business-to-Consumer (B2C) company that sells artisan teas … all businesses will benefit from getting more local exposure on search engines.
This is where you can help them — by creating high-quality SEO content.
Local SEO Content Writing Opportunities
Nearly any type of web content can be optimized for SEO — from the homepage, to blog posts, to videos and webinars, to FAQ and other pages.
There are almost certainly hundreds, if not thousands, of companies in your local area who need help with any and all of these writing projects.
So, who are these local clients?
Let's take a closer look at the types of businesses and organizations that need your services, and what you can do for them as an SEO content writer.
1. Help Small Businesses Thrive
The majority of small businesses are run by professionals who are not marketers. They excel at their chosen line of work — such as home renovation or dog grooming — but they aren't necessarily familiar with the best ways to market their businesses.
You can help bridge this gap by making sure they get found on local searches. And it's not as hard as you might guess.
The core elements you'll need to include on their website are simple things like:
The company's name, address, and phone number (N.A.P.) in multiple locations on the site.
Their physical location, such as the name of their city, town, or region, and the geographic areas they serve.
A clear community focus that describes the products and services they provide, and how they help their customers.
Google and other search engines can find a searcher's location based on their IP address (for desktop) or geolocation (for mobile). So, if a company prominently includes their location in their website content, a search engine can easily match a local searcher's query with that company's site.
A good example is the Dathan Hunter Salon in Portland, Maine. This is their website's homepage: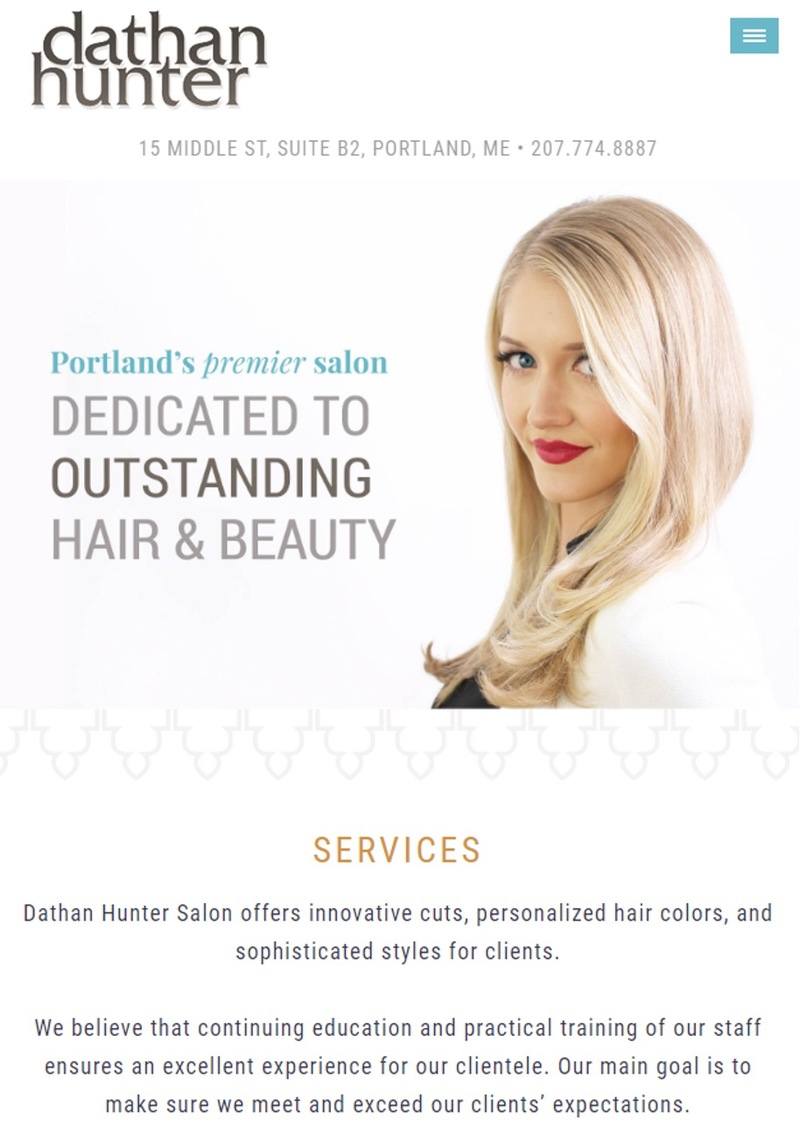 Why is this a great web page for local SEO?
First, they have their name, address, and phone number prominently displayed at the top of the page …
Next, they've included their city (Portland) in the main headline …
And lastly, their services are clearly explained up-front in a very customer-focused way.
All these components come together to make the salon easily found on search engines, which is reflected in their local search result on Google: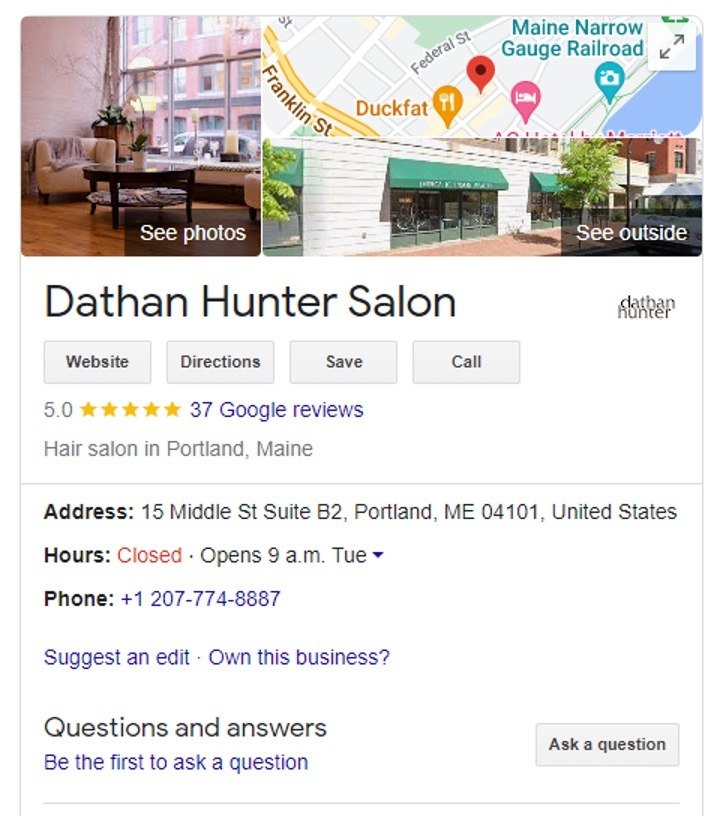 Because the salon hits all the key points for local SEO, Google is able to quickly recognize the company's location and other core details to include in their results.
Now, these factors may seem obvious to include on a site … but a lot of businesses overlook them simply because they're not familiar with copywriting and SEO.
As a freelancer, you have the perfect vantage point to see the SEO opportunities they're missing. And, of course, help write the SEO content they'll need to fix the problem.
2. Boost the Reach of Local Organizations
Nonprofit organizations and other local groups always need help reaching the people they serve. And optimizing their websites for local SEO is a great way to support your local community.
But don't assume that nonprofits and other groups don't have any money to pay you. In fact, most organizations are skilled at raising funds from a variety of sources, such as government grants, general donations, or partnerships with other groups or businesses.
If a particular organization is active in your community, there's a good chance they have enough funding in place to pay your professional fees as an SEO content writer.
What types of local organizations might need your help? Consider approaching any or all of the following:
Chambers of Commerce
Tourism bureaus
Business networking groups
Nonprofit organizations, including the symphony and other arts
Charities
Community colleges
Local "shopper guides"
And any other club or group you may already be involved with
Helping any of these organizations get found on local search is especially rewarding because you know you're also helping to support a worthy cause.
3. Bring Leads and Sales to National or Global Companies
Local outlets of much larger companies may be operating in your hometown.
And the opportunity here is twofold …
Those businesses need to be found locally, but they're also part of a larger business that needs to be found within its overall industry.
For example, Chief Buildings has two different plants in the United States that manufacture components for metal-framed buildings: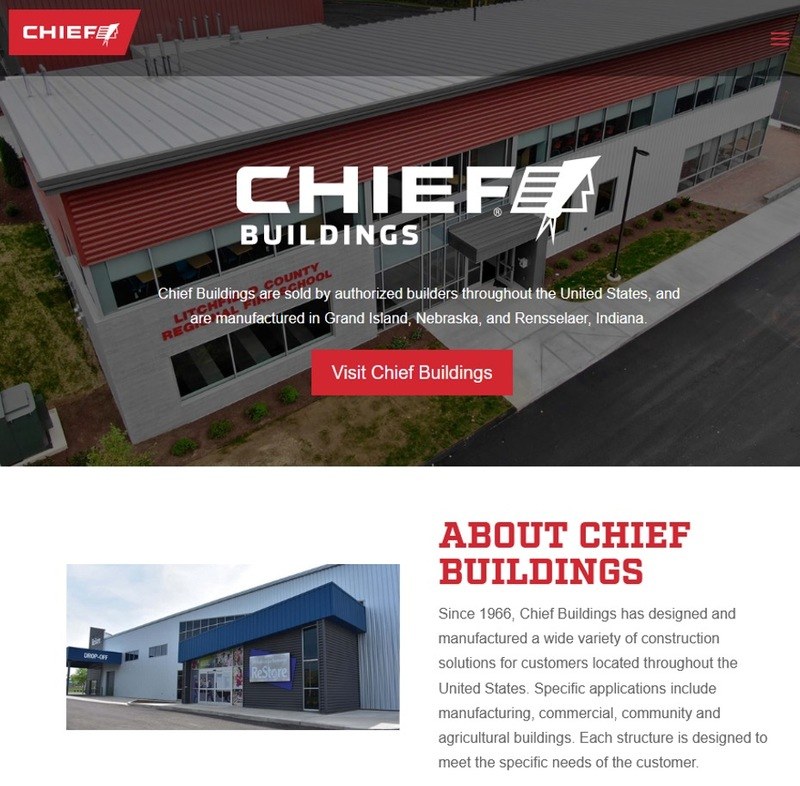 Chief Buildings has clearly stated on their homepage where their two manufacturing plants are — Grand Island, Nebraska and Rensselaer, Indiana. So, if you live in either of these communities, you could approach them directly to help with their local SEO.
But Chief Buildings also sells their products to customers around the U.S. This means the company as a whole needs to have strong SEO to be found by potential customers throughout the country searching for metal-framed buildings.
Many large companies in both the B2B and B2C industries have the same issue — they need to be found on both local and general searches. And this is excellent news for you as an SEO content writer.
When you start writing for a local outlet and they like your work, it could easily lead to much larger projects with their parent company.
Your Superpowers as a Local SEO Content Writer
Never underestimate how much value you can bring to local businesses.
As we've mentioned, they're busy focusing on what they do best — which isn't SEO. Your ability to help them get found on search and bring more customers through their doors is priceless.
The following are some of your biggest superpowers as an SEO content writer.
1. Help Businesses Overcome Their Biggest Marketing Challenges
Ruler Analytics recently surveyed over 200 marketers to find out the main challenges they're facing in their businesses.
Some of their top 10 challenges included:
Generating high-quality leads.
Reaching the right audiences.
Creating mass content.
Creating quality content.
These challenges all have one thing in common … they're all related to SEO content writing!
Improving your clients' rankings on search will help them get quality leads. It will also help them reach the right audience, because if the content you write is a good match for their target audience, search engines will naturally show it to them.
And many companies do not have staff dedicated to writing content. It's often done off the side of someone's desk, which makes it difficult to maintain quality and consistency.
As a freelance SEO content writer, you can fill that gap and make your clients jobs much easier.
2. Provide Your Clients with Content that Works
Not only can you create the content your clients don't have time to write themselves, but you can also create more effective content.
What makes SEO content effective?
It's content that can help a business …
Drive more traffic to their website — your content will help attract visitors to their site, which is vital for acquiring more leads and potential customers.
Get their prospects to take action — every good piece of content includes a call-to-action of some kind for the reader to take the next step with a company. This can be to find out more, sign up for a free download, or maybe make a purchase.
Bring more customers through their doors — if they have brick-and-mortar businesses that rely on actual foot traffic, optimizing their site for local SEO will be a life-saver.
Your SEO content can do all of this for a business. And their revenue should start to reflect it.
3. Provide Content that's Useful to Searchers
A recent Google update prioritizes content that's clearly written for people first, rather than only for search engines. This has also been called the "Helpful Content" update.
Writing quality content isn't as simple as adding a bunch of keywords to a page so it gets found by search engines. Instead, your focus for any piece of content should be to provide information that people are actually looking for.
And Google has identified four types of moments when people typically search for information online — moments when the searcher wants to know, go, do, or buy something: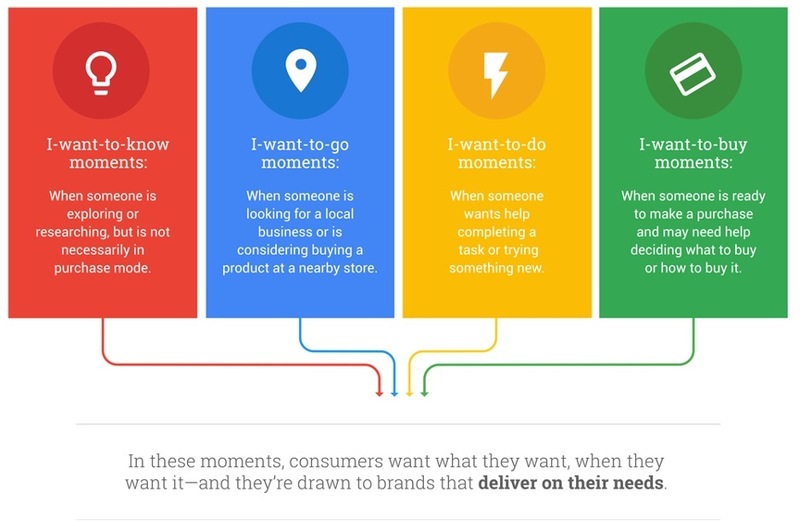 The searcher has a different intent for each of these moments, and an SEO content writer's job is to be able to match that intent with the copy you write.
This is essentially what Google's latest update looks at — how well a piece of content addresses the searcher's intent.
Search Engine Journal identified seven main things to prioritize as an SEO writer in order to meet Google's new update:
Don't stray from the main topic.
Demonstrate firsthand experience.
Don't combine multiple topics.
Provide sufficient answers.
Don't neglect reader experience.
Publish only confirmed answers.
Stick with Google guidelines.
You can see how meeting all these factors will automatically make your content better quality and more reader-focused. And that's exactly what's going to rank better on Google and other search engines.
How to Open the Door with Local SEO Writing Clients
An amazing part of working with local clients is that you can actually speak to them face-to-face. This is becoming a rarity as more and more business is being done online and through virtual communications.
And not only is it nice to deal with people directly — it'll also make you stand out from your competition. Most potential clients would likely choose a local writer over one at a distance.
Try some of the following suggestions to kick-start your local SEO content writing career.
1. Start with Who You Know Locally
Think of the businesses you go to on a regular basis. Do you have a favorite gym, bakery, or car repair shop you really like?
These are often the best places to start your client search. Next time you're there on a slow day, strike up a conversation with them about their business.
A few great opening questions to start these conversations could be:
How's your website working for you these days?
Are you showing up on Page 1 of Google?
Are you getting lots of search traffic?
Are your site visitors becoming leads or making purchases, reservations, donations for charities, or stopping by?
If they say they've been struggling in any of these areas, you can mention what you do and how you could help.
You could also do a quick search on your phone and show them how they're ranking on search, as well as what their competition is doing. If they're interested in discussing it a bit further, you could quickly evaluate their current content and share some suggestions on how their local SEO could be improved.
When they see firsthand what you can do as an SEO content writer, they'll be able to better understand your value and what your services would be worth for their business.
2. Attend Local Business Networking Events
Most regions have some kind of business networking events you can get involved with, such as local Chambers of Commerce, Rotary Clubs, or Business Network International (BNI) meetings.
When you go to a networking event, introduce yourself with a clear benefit statement, such as, "I'm a web content writer who helps businesses thrive." You can also add a statement like this to your name tag.
And when you're talking to other professionals, make sure you focus on taking their business cards rather than handing out your own. This will give you the opportunity to follow up with them afterwards to see if they're interested in developing your professional relationship any further.
If there aren't any business networking opportunities near you, try getting involved in other local groups, such as sports teams, volunteer groups, or your place of worship.
And don't get involved just to sell yourself — join groups you're genuinely interested in being part of. It will make the whole process a lot more fun.
3. Tell Anyone and Everyone in Town!
Don't hesitate to talk about what you do whenever the opportunity arises — no matter who's listening!
Have your elevator pitch ready if someone asks you what you do for a living, such as when you're waiting in line, attending a sports event, or other social occasion.
Also keep an eye out for any new businesses that open in your local area. Make sure you stop by and ask them if they have their website set up yet. If not … let them know what you do and how you could help.
Many AWAI members have gotten their first writing client by striking up simple conversations like these with local businesses or people they meet in their community. You never know when a casual conversation like this can turn into paid work.
Final Thoughts
Local SEO content writing is an excellent opportunity for freelance writers that often gets overlooked.
Most local businesses aren't familiar with Search Engine Optimization or how to write effective website content. As an SEO content writer, you can help them overcome these challenges and get found on search engines.
This will bring more customers through their doors … which sets them up to thrive for years to come.
Connecting with local clients is also one of the easiest ways to get started as a writer. These are often people you already know. And if you don't, it's an easy topic to bring up in a casual conversation.
By developing your local relationships and recognizing your superpowers as a local SEO content writer, you can set yourself up for freelance writing success in no time.
If you're interested in learning the hands-on skills of SEO content writing in more depth, check out our SEO Copywriting Mastery & Certification program. It's taught by SEO expert Russ Henneberry, who takes you through the fundamentals behind SEO, how to write different types of SEO content, and the best ways to find SEO content writing clients.
You can also learn the strategies, principles, and formulas you need to write effective SEO content from our brand-new, self-paced training program, How to Become a Go-To SEO Content Writer. With the proper training, you can get paid $250 to $1,000 per page writing "discoverable content" Google LOVES.
Webinar Materials
Helpful Resources
Inside AWAI: Top 10 Places to Find Freelance Writing Clients
The Ultimate Guide to SEO Content Writing
AWAI's SEO Copywriting Mastery & Certification Training
AWAI's How to Become a Go-To SEO Content Writer
Access the Inside AWAI archives here.