5 Practical Steps to Start Content Writing for Beginners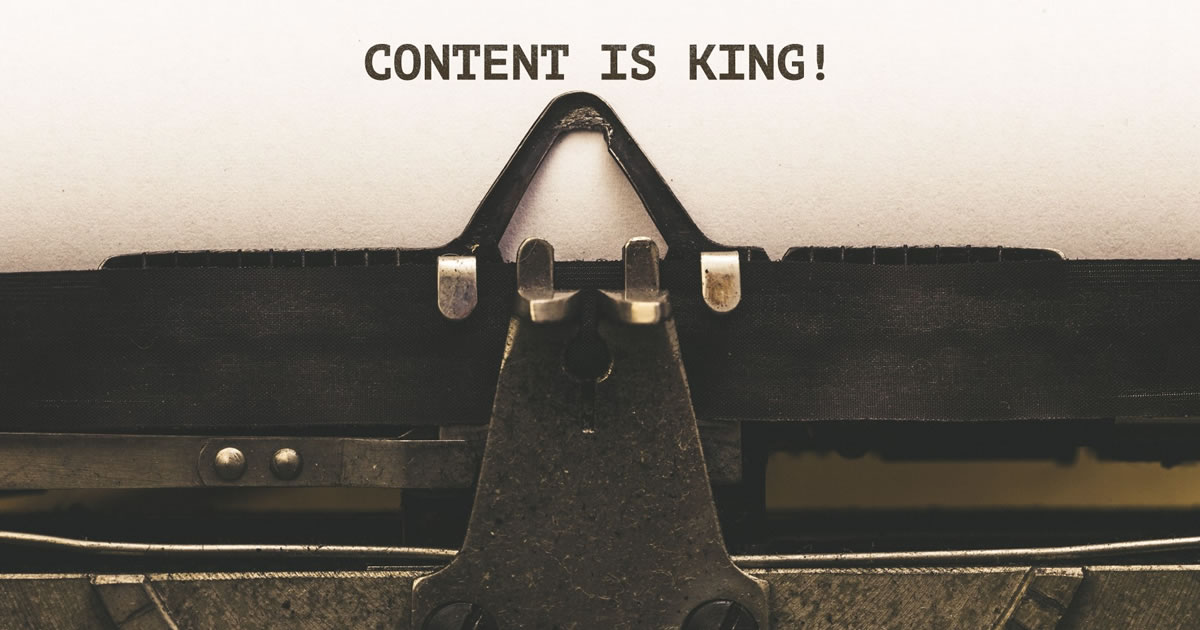 As a beginner writer, it can be hard to know the best writing opportunity to focus on. One to consider – one with lots of benefits for new writers – is content writing.
Content writing refers to written materials that are more informational – such as blog posts or e-newsletters – rather than promotional sales letters.
If you don't like the idea of writing sales copy, content writing is the perfect alternative.
Every business with a website needs content. From articles … to white papers … to customer success stories … content helps to attract new customers and support more sales.
This is why many companies are willing to pay top dollar for skilled content writers. And, content writing lends itself well to retainer work, because most companies will need an ongoing supply of content, like blog posts or social media posts.
Specializing in content writing allows you to hone your writing skills and build a strong portfolio … all while making a good income writing about topics you enjoy.
If you're ready to start content writing, but don't know where to begin, here are five practical steps to help you get started.
Step 1: Read as Much Content as Possible
One of the best ways to learn about content writing is to familiarize yourself with the types of content businesses are currently using.
Start by reading whatever content you can. Browse lots of websites, sign up for email lists, and download any special reports companies might be offering.
Get a good idea of the different types of content out there and how they're written.
If you come across a piece of content you really enjoy, take some time to analyze it. What made it enjoyable? What was the writing style? Why do you think it was more engaging than other similar pieces of content?
Answering these questions will help you understand what works well and how you can incorporate those elements into your own writing.
It can also be helpful to start what's known as a swipe file. This is simply a collection of written materials you can keep and use for reference.
If any pieces of content stand out to you, keep these in a designated email folder, bookmark the webpage, or save any downloads in a specific folder on your desktop.
Then, if you need to write something similar in the future, you'll already have some high-quality examples ready.
For more details on the best content-writing projects for both established writers and beginners, check out our free webinar, 12 Ways to Get Paid to Write Content.
Step 2: Decide Which Type or Types of Content You Want to Write
As you continue to read a variety of content, take note of which types you might want to try writing yourself.
Would you enjoy writing short pieces, such as emails or social media posts?
Or, would you prefer writing longer, more in-depth projects, such as white papers or e-books?
Also consider if there's a specific niche or industry you might want to write for.
For example, if you're an avid photographer, writing for the photography industry might be perfect for you. Or, if you love animals, you could consider writing for the pet industry.
When you're passionate about the topic you're writing about, it shows in your work. So it's well worth taking some time to decide what area you want to specialize in as a content writer.
Choosing a specialty will also help you stand out when you start marketing yourself. You'll be seen as an expert in your chosen field, rather than as a generalist writer. This higher level of expertise also makes you more valuable to a client and leads to higher fees.
Pam Foster, AWAI's Learning Chief, breaks down exactly how to narrow in on your specialty in her webinar, How to Choose a Copywriting Niche.
Step 3: Learn Fundamental Content-Writing Skills
Once you're familiar with some common types of content, and you know what you might want to start writing first, it's time to start practicing.
This will help you expand your writing skills and gain confidence, as you prepare to start finding your first clients.
While it's important to know the fundamentals of your chosen area of content writing, keep in mind you don't need to be an expert before you start your client search.
You can easily start learning the fundamentals by writing some of your own practice pieces of content. If you've decided to specialize in writing emails, try writing some practice emails for a company you admire.
Or, write a few blog posts on topics related to your chosen niche.
You can go back to the swipe file you started building in Step 1 of this article for topic ideas and examples of how to structure each piece of writing.
Another good option is to take some formal content-writing training.
At AWAI, all of our programs are designed to teach you the fundamentals of specific content-writing projects as quickly as possible. Then, we always include a module at the end on how to find writing clients, to make sure you're ready to start earning as soon as you've finished the program.
We created our core program called The AWAI Method™ for Becoming a Skilled, In-Demand Copywriter with the sole intent of teaching writers all the skills you'll need in order to write the most in-demand types of content and build a successful writing business.
You can check out the program here.
Step 4: Prepare Your Best Content-Writing Samples
After you've written some practice content, you can start preparing some writing samples to share with potential clients.
As a beginner writer, you might not have any published work yet. That's okay – you can still put together a strong portfolio of your best writing samples.
Start by going through all the pieces you've written so far and choose your favorites. These can be pieces you've written on your own or as part of a course.
Then, edit and revise them until they're polished and ready to show off to possible clients.
Once you have a few solid writing samples you're proud of, you can post them on your website, if you have one. You can also simply keep them handy to include with any job applications or at the request of potential clients.
For more tips on assembling a knock-out portfolio, take a look at our webinar on How to Create a Winning Portfolio of Writing Samples.
Step 5: Start Finding Clients!
Please keep in mind, you do not need to master the previous four steps in this article before you start looking for writing clients.
As long as you're familiar with the types of content you want to write, and you understand the basics of how to write them, you're ready to find paid writing work.
So, where to start?
Overall, we've found AWAI members have had the greatest success finding clients through LinkedIn, which is a website that allows you to connect with other professionals.
It's free to set up a profile for yourself on LinkedIn. There is a paid version of LinkedIn that offers more services, but you don't need it to start connecting with others and using the platform.
When you're setting up your profile, make it clear what type of writing or industry you specialize in, as well as what makes you qualified in that area.
For example, this is the LinkedIn profile for freelance writer Christina Haviland: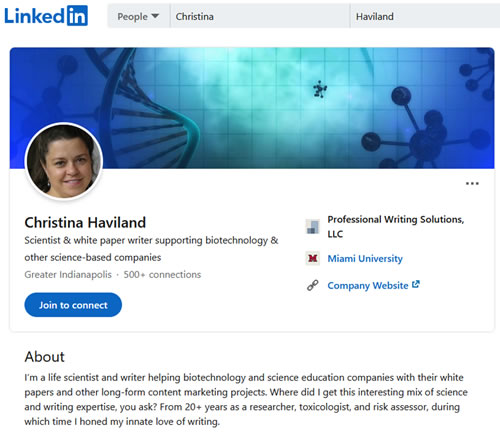 You can see Christina has clearly explained what she does (writes white papers) and who she serves (biotechnology and other science-based companies).
Once you have your profile set up, the next step is to start connecting with people related to your niche. Self-marketing expert Ilise Benun explains how to do this in more detail in her free webinar, LinkedIn Now: Best Practices for Getting Great Writing Clients.
In addition to LinkedIn, we also recommend starting your own writer's website. It doesn't have to be fancy, but establishing your professional presence on the web is important as a content writer.
Our free webinar, How to Attract Freelance Writing Clients Via a Magnetic Website, explains how to set up your site as quickly as possible and start using it to find clients.
Another great source of potential clients is AWAI's job board, called Writers Wanted, where our team personally vets every job listing. Writers Wanted has a wide range of opportunities suitable for both beginners and experienced writers, from freelance contracts to full-time positions.
And for more client-getting ideas, feel free to check out our webinar on the Top 10 Places to Find Freelance Writing Clients.
Persistence Pays Off When You're Starting Your Content-Writing Career
Any new endeavor, including building a content-writing career, takes time and persistence.
But, if you continue practicing your craft and taking steps to find good clients, we're confident you can go from beginner to high-earning professional fairly quickly.
Just remember to keep having fun along the way, and you'll be living the writer's life before you know it!

The AWAI Method™ for Becoming a Skilled, In-Demand Copywriter
The AWAI Method™ combines the most up-to-date strategies, insights, and teaching methods with the tried-and-true copywriting fundamentals so you can take on ANY project — not just sales letters. Learn More »

Published: June 11, 2022